Raspberry Kale Smoothie for Weight Loss
Disclosure: This post may contain affiliate links, meaning I get a commission if you decide to make a purchase through my links, at no cost to you.
Looking for a quick and easy breakfast or snack that's also healthy? Look no further than this raspberry kale smoothie! It only takes a few minutes to make and uses simple ingredients.
Plus, it's loaded with nutrients that will help power you through the day. So why not give it a try today?
Why we Love This Easy Raspberry Kale Smoothie Recipe
Our family loves green smoothies, and this raspberry smoothie is delicious, even if it's not super green in color! It only uses four simple ingredients so it's easy to make in the morning on-the-go or whenever the kids want a quick snack.
Why fill up on empty calories or fattening foods when you can make a delicious smoothie any time of day? I've been on a weight loss journey recently (35 pounds down so far!) and these easy smoothies have really helped me stay on track.
Ingredients in Our Smoothie Recipe
Raspberries
Raspberries are such wonderful fruits. We grow them in our garden and use them fresh whenever possible, but their growing season isn't very long. You can still get fresh raspberries year round at the grocery store, or you can buy frozen raspberries.
Raspberries are great sources of fiber, vitamins, and antioxidants. They're also low in calories and have a high water content, so they'll help keep you hydrated.
_________________
Kale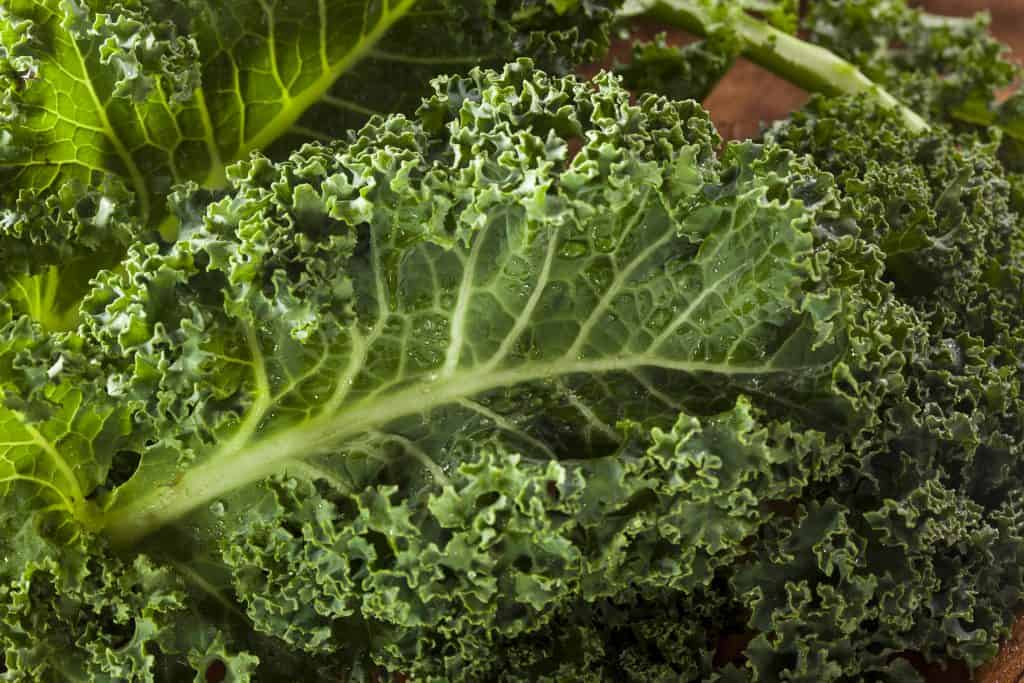 Kale is a nutrient-rich leafy green that's packed with vitamins A, C, and K. It also has calcium, iron, and fiber. We love to add kale to our smoothies because it gives them a little extra nutrition and a nice green color (well, most of the time unless other fruits/vegetables beat it out like in this one!).
Kale is another thing we grow in our garden, but it's a cool season vegetable it isn't ready when the raspberries are, so we buy it at the store. Kale even grows in the winter here with just a little plastic over it to protect it on the coldest night, so we grow from September-April. Purple kale would be especially neat in this recipe.
_________________
Kiwi
Kiwis are small, fuzzy fruits that pack a big nutritional punch. They're an excellent source of vitamins C and E, potassium, and fiber.
We like to add kiwi to our smoothies for a little sweetness and creaminess. And since they're so small, they're easy to add without having to cut them up first. I've even blended them with the peels on with no issues – but I did cut off the tough ends.
_________________
Coconut Milk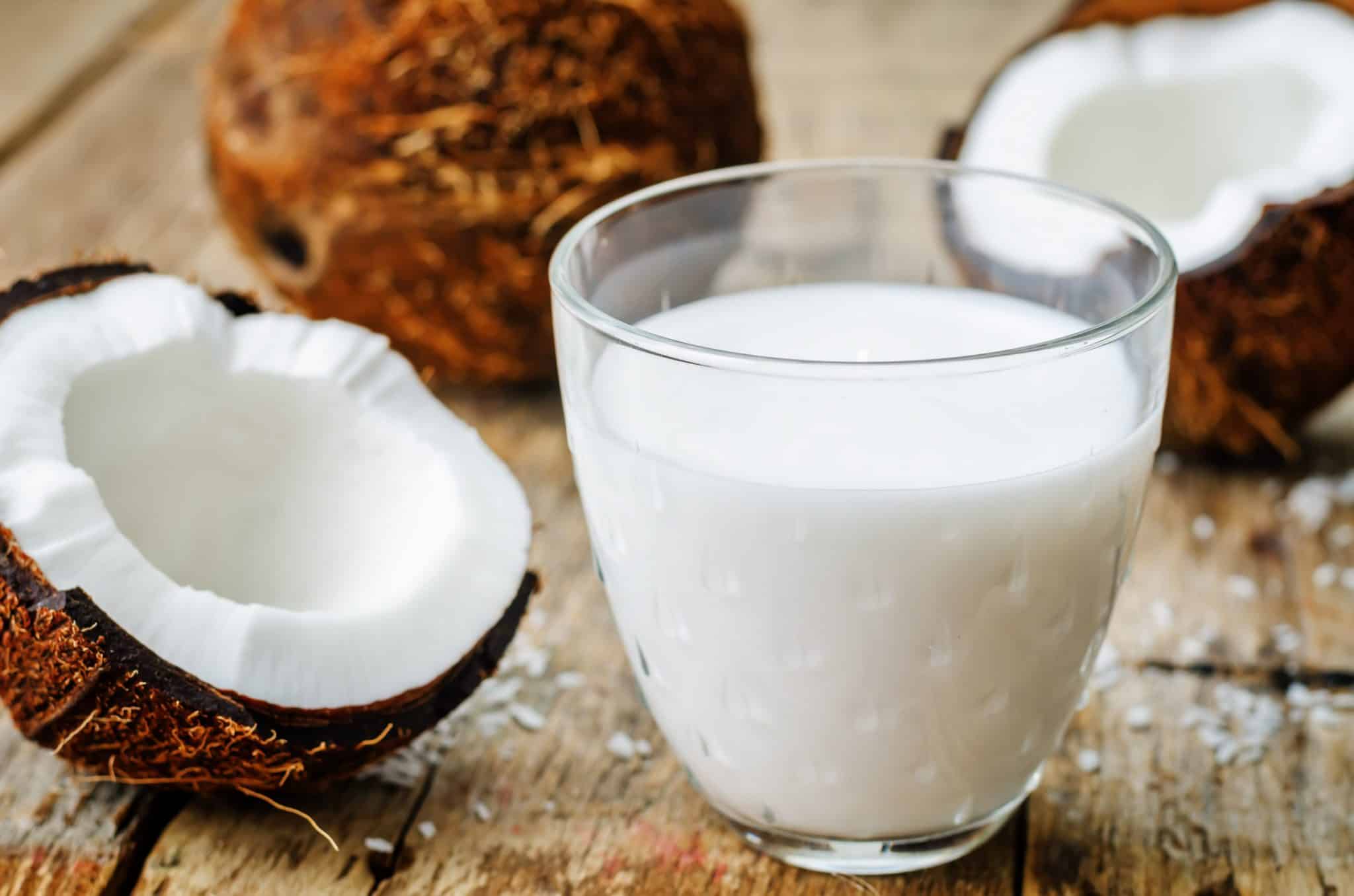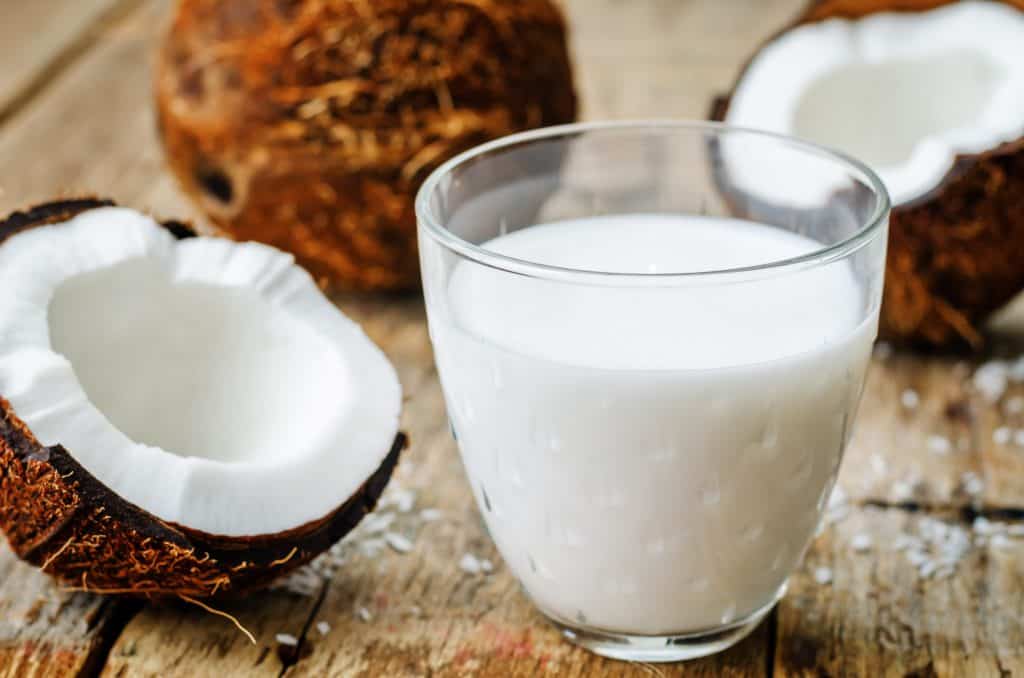 Coconut milk is a wonderful dairy-free alternative to cow's milk. It's creamy and has a slightly sweet flavor that goes well with the other ingredients in this smoothie.
It's also a good source of vitamins C and E. (source)
Check out great non dairy milks for smoothies here.
_________________
How to Make This Healthy Smoothie Recipe
Making this raspberry kale smoothie is so easy! Just add all of the ingredients to a blender and blend until smooth.
If you're using frozen raspberries, you may need to add a little extra liquid to get the blender going. I just add a little water, milk, or juice until it's the right consistency.
You can also adjust the amount of kale to taste. I usually add about 2-3 large leaves (with the stems removed), but you can add more or less depending on how green you want your smoothie to be.
This recipe makes enough for two small servings or one large serving. If you're making it for one, you can always save the other half in the fridge for later.
Top with shredded coconut and fresh berries for a delicious and nutritious treat.
Other Delicious Weight Loss Smoothies You'll Love:
How to Customize This Easy Raspberry Kale Smoothie
There are so many ways you can customize this smoothie to make it your own. Here are a few ideas:
Add a scoop of protein powder for an extra energy boost
Use spinach or swiss chard instead of kale (or mix the two)
Add a banana or avocado for creaminess (especially frozen fruit – yum!)
Try different fruits like strawberries, blueberries, or blackberries for a mixed berry smoothie
Add in nut butter such as almond butter or peanut butter for extra protein and healthy fat
Use a different milk like almond milk, oat milk, cashew milk, or soy milk, or even coconut water and greek yogurt
Add a tiny bit of honey, maple syrup or agave if you like it sweeter
Add in a superfood or two such as chia seed, hemp seeds, goji berries, acai or a superfood powder blend (see how to use superfood powder in smoothies)
The possibilities are endless! So have fun and experiment until you find a combination that you love.
Common Questions about Raspberry Kale Smoothies
How does this raspberry kale smoothie help with weight loss?
This smoothie is great for weight loss because it's low in calories but high in fiber and nutrients. The raspberries and kale are especially good for weight loss since they're both low in calories but high in fiber.
Is this smoothie vegan?
Yes, this smoothie is vegan as long as you use a vegan milk like almond milk, cashew milk, or soy milk.
Do I need to use frozen berries?
No, you don't need to use frozen raspberries. You can use fresh berries, but the smoothie will be thinner since they have a higher water content. If you use frozen raspberries, you may need to add a little extra liquid to get the blender going.
Can I use a different type of milk?
Yes, you can use any type of milk you like in this smoothie. Cow's milk, almond milk, cashew milk, and soy milk are all great options.
Is kale good in a berry smoothie?
Yes, kale is a great addition to this smoothie because it's low in calories but high in fiber and nutrients. The taste of kale blends well with berries, so it doesn't taste too "green".
Raspberry Kale Smoothie
Enjoy a delicious raspberry kale smoothie with only four simple ingredients!
Ingredients
1

cup

raspberries

fresh or frozen

1

handful

kale

2

kiwi

1/2

cup

coconut milk

adjust as needed for desired consistency
Instructions
Combine raspberries, kale, kiwi and coconut milk in blender.

Blend until smooth, adjusting amount of liquid if necessary for desired consistency.

Top with desired toppings and enjoy!
Conclusion
This easy raspberry kale smoothie is a delicious and healthy way to start your day or have a quick snack. It's packed with nutrition from the raspberries, kale, kiwi, and coconut milk and only takes minutes to make.
It's a nice change from a typical green smoothie recipe in that the raspberries color it much darker and it tastes fruity, not "green".
So what are you waiting for? Give it a try and enjoy a delicious and healthy drink.