Spinach Oatmeal Smoothie (Easy Recipe)
Disclosure: This post may contain affiliate links, meaning I get a commission if you decide to make a purchase through my links, at no cost to you.
Starting your day with a healthy smoothie is a great way to get your day started on the right foot. This spinach oatmeal smoothie is low in sugar and contains very little fruit, making it perfect for those looking for a healthy breakfast option that won't cause a blood sugar spike.
In addition to being healthy, this smoothie is also easy to make. Simply combine spinach, oatmeal, flax seed, olive oil, water, cucumber, green apple and lemon juice in a blender and blend until smooth.
So if you're looking for an easy and healthy breakfast option, give this spinach oatmeal smoothie a try. You'll love how delicious and filling it is!
Why We Love This Easy Oatmeal and Spinach Smoothie
Our family is big on smoothies, as you can tell, so we tend to try out new ones all the time. My boys really love the super sweet smoothies, so we use a lot of banana, mango and other sweet fruit, but I have to watch my blood sugar carefully as I'm in the prediabetic range.
Because of this I created this smoothie that contains ingredients that don't cause a big blood sugar spike. In fact, the oatmeal, flax seed and olive oil help to slow down the absorption of what sugar is in the smoothie.
So if you are looking for a delicious smoothie that won't spike your blood sugar, give this smoothie recipe a try! It's perfect as a breakfast smoothie.
Ingredients in Our Oatmeal Spinach Smoothie Recipe
Spinach
Spinach is one of my favorite leafy greens, as it tends to blend easily and you can't really taste the "green" as you can with some other leafy green vegetables. I like to use fresh spinach, but frozen works, too.
Spinach is a great source of vitamin A, vitamin C, vitamin K, iron, folate and potassium, so you get a ton of nutrients in your diet with this simple drink. (source)
Learn how to measure spinach here and how to freeze spinach for smoothies.
_________________
Oatmeal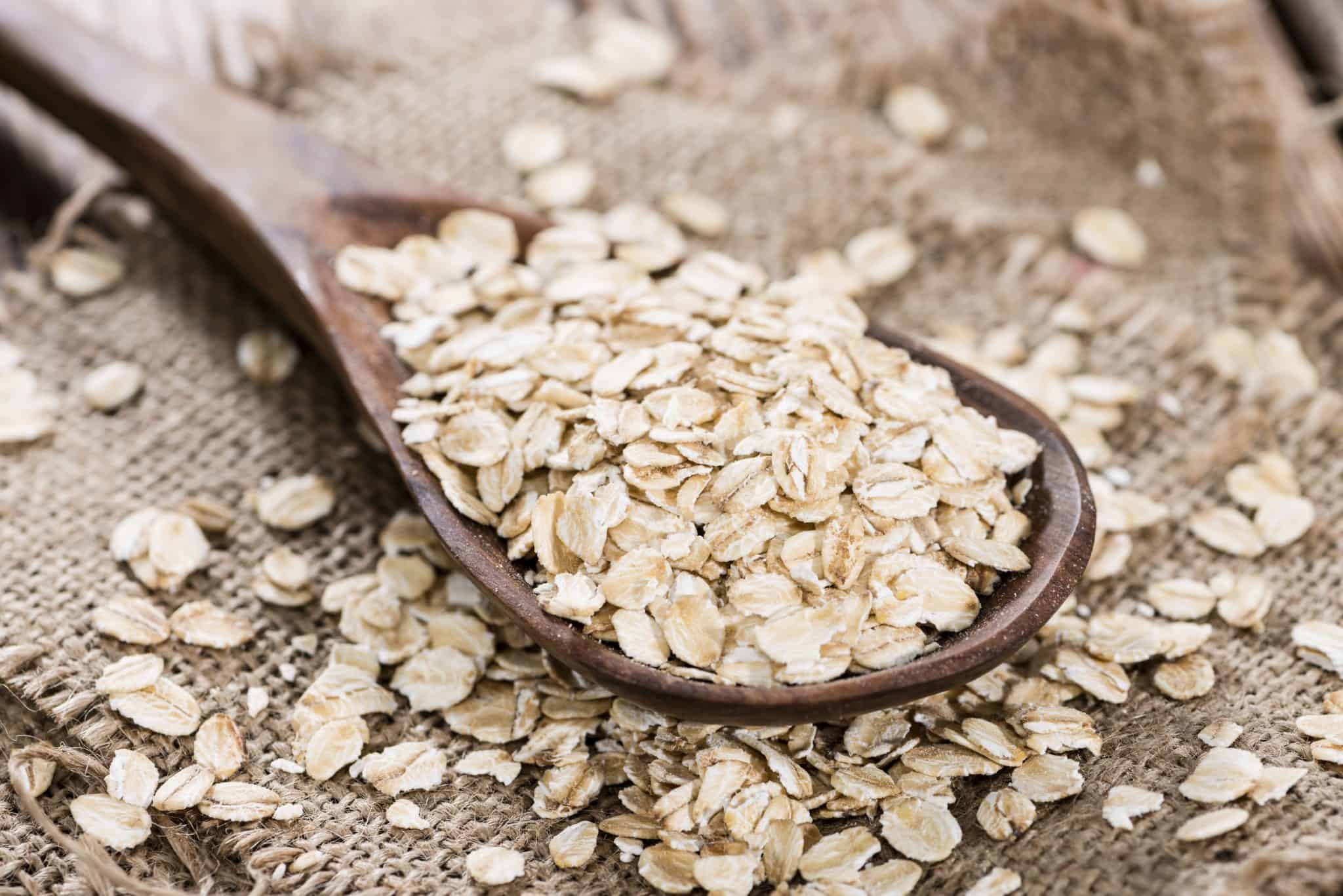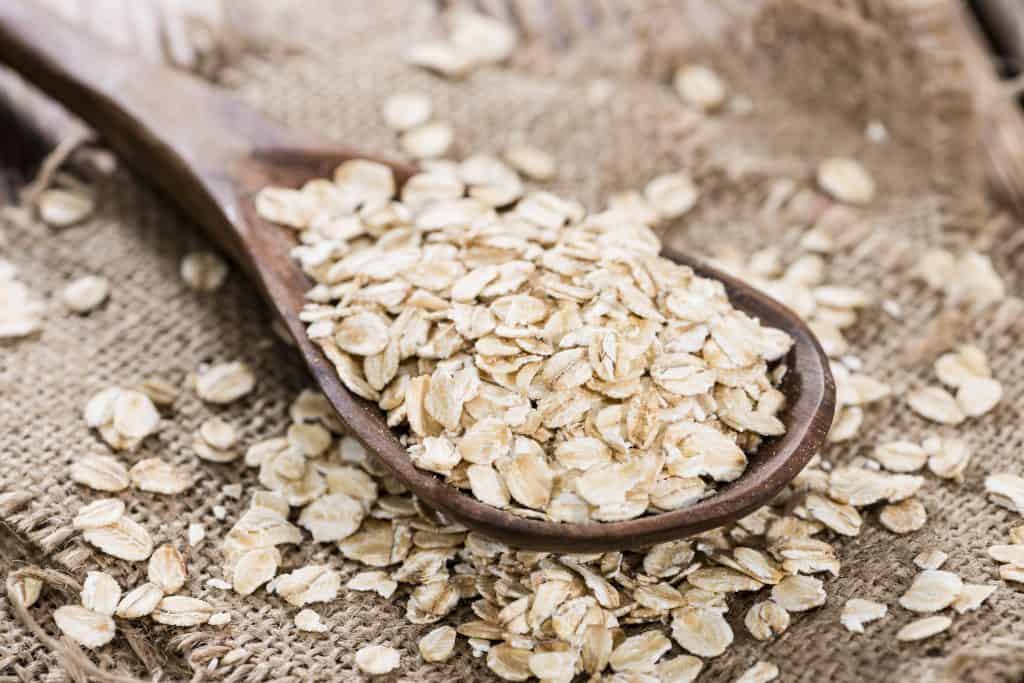 Oatmeal is a great source of fiber and protein, both of which help to keep you feeling full and satisfied after drinking this smoothie. The fiber in oats is soluble fiber, which is great for you. (source)
I like to use rolled oats in my smoothies as they tend to blend up better, but you can use steel cuts oats if that's what you have on hand, although I would suggest a high speed blender if you use these.
_________________
Flax Seed
Flax seed is a great source of fiber, as well as omega-3 fatty acids. It's also a good plant-based source of protein. (source)
I like to add flax seed to my smoothies for the extra fiber and nutrients, but if you don't have any on hand you can leave it out, or feel free to substitute chia seeds or hemp seeds (both of which I also love!).
________________
Olive Oil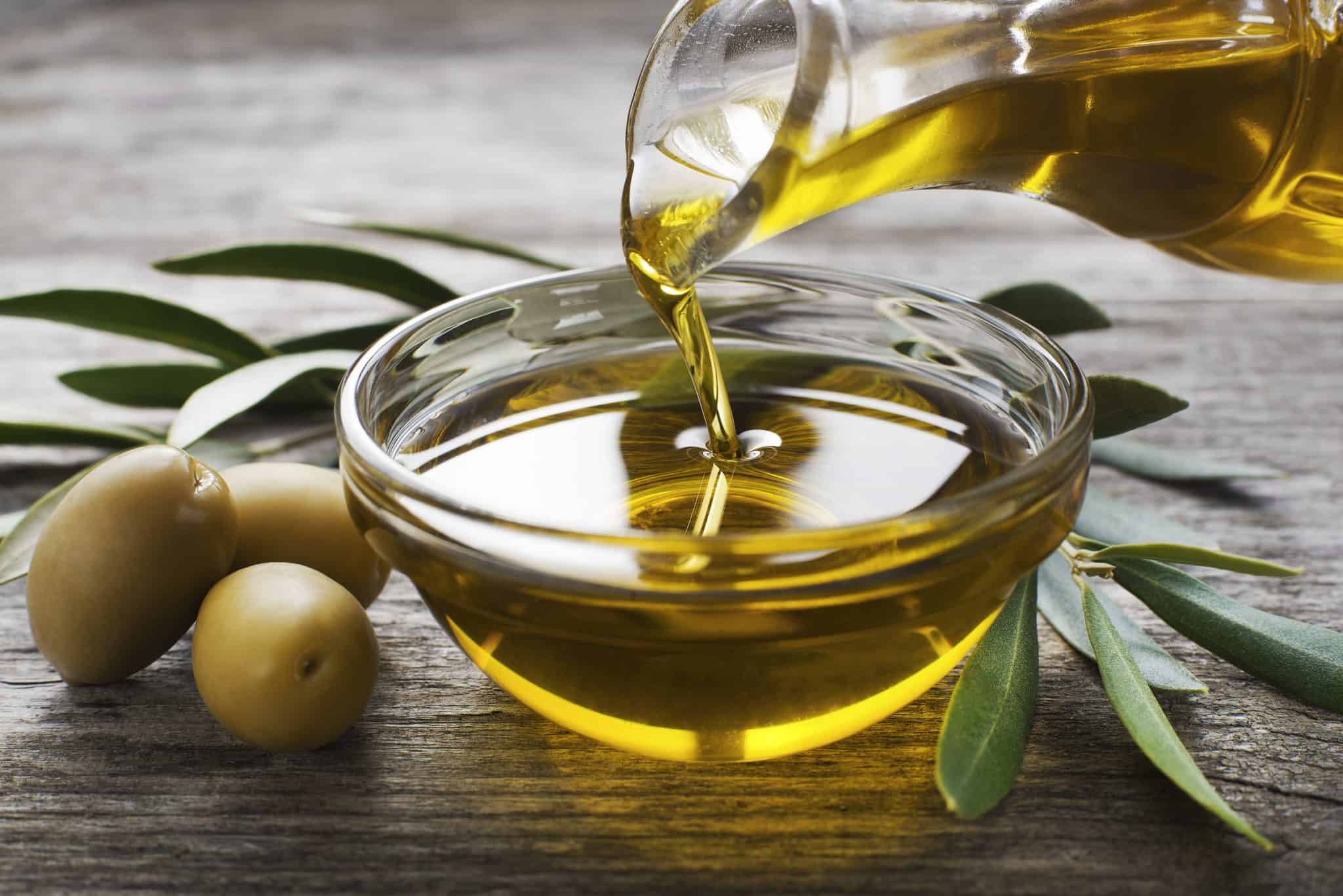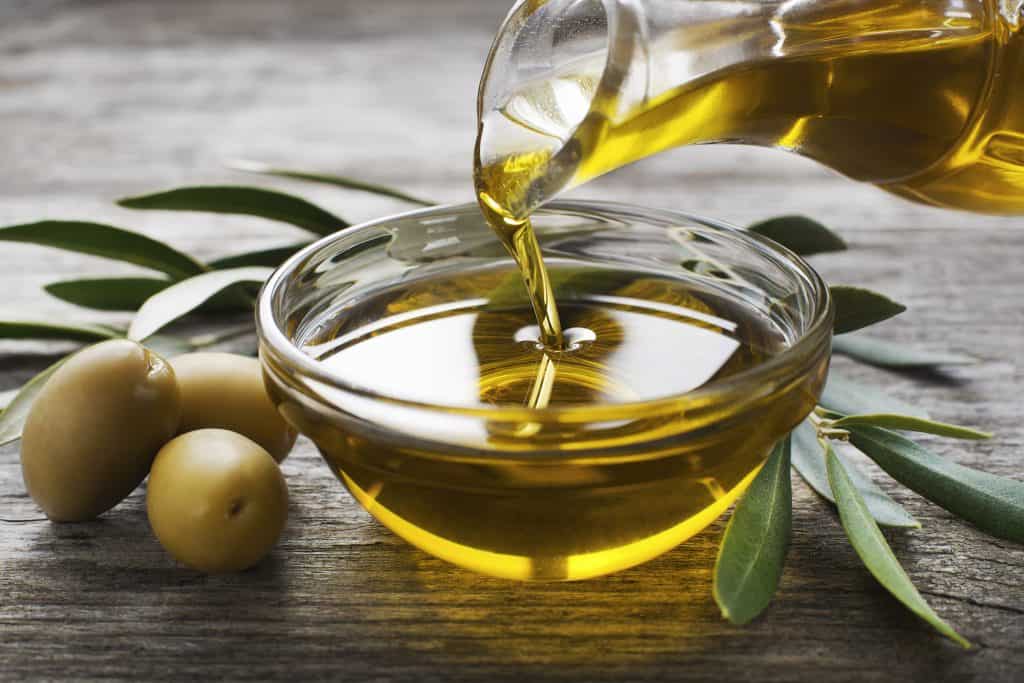 Now, I know what you're thinking – olive oil in a smoothie?? Yes! Olive oil is known for being heart-healthy, and what better way to get more olive oil in your diet than in a simple smoothie?
Plus, the olive oil helps to make this smoothie extra creamy and satisfying. I use a light extra virgin olive oil, but you can use whatever type of olive oil you have on hand.
Just make sure to add it in slowly as too much olive oil can make your smoothie taste "off".
_________________
Filtered Water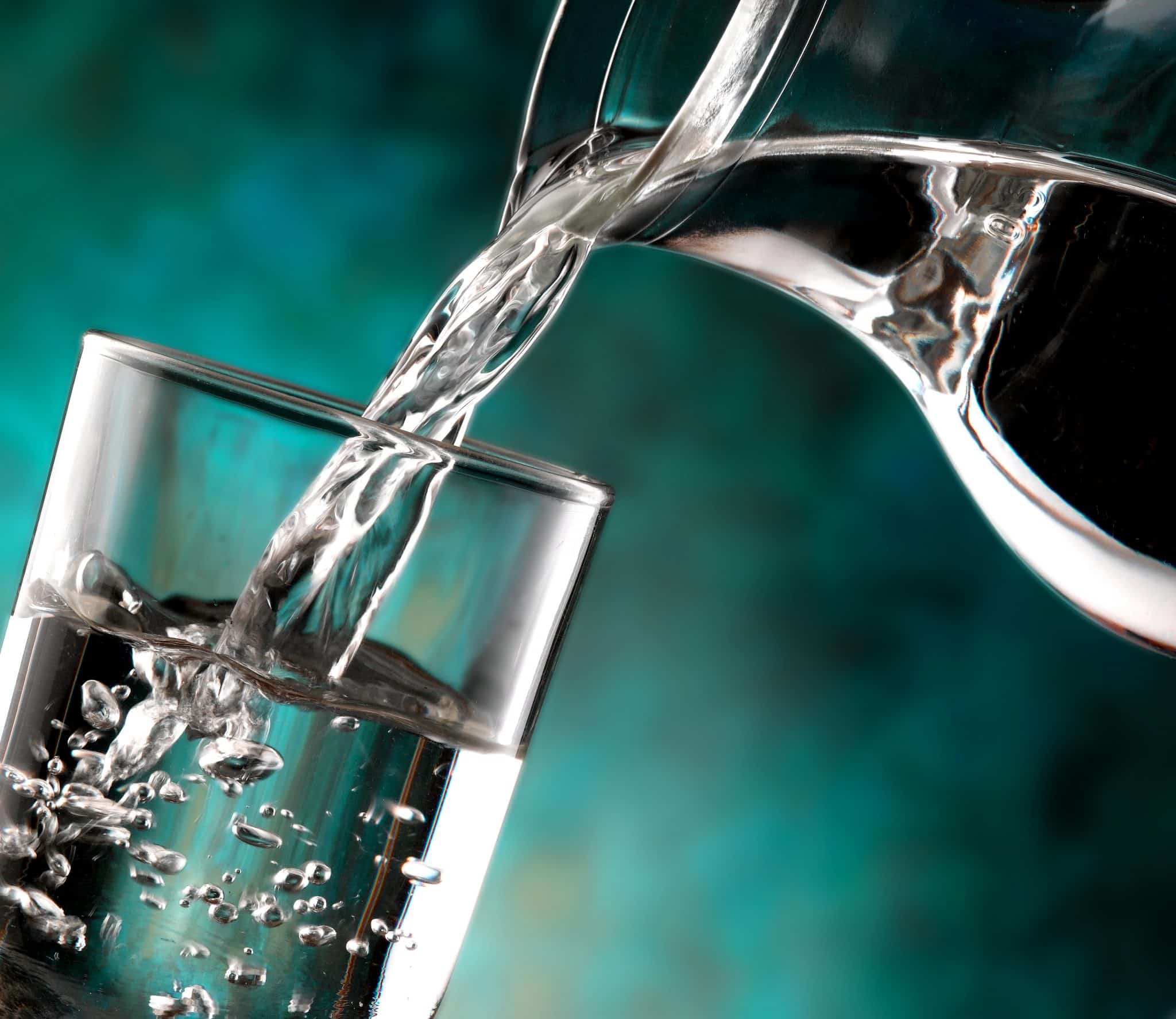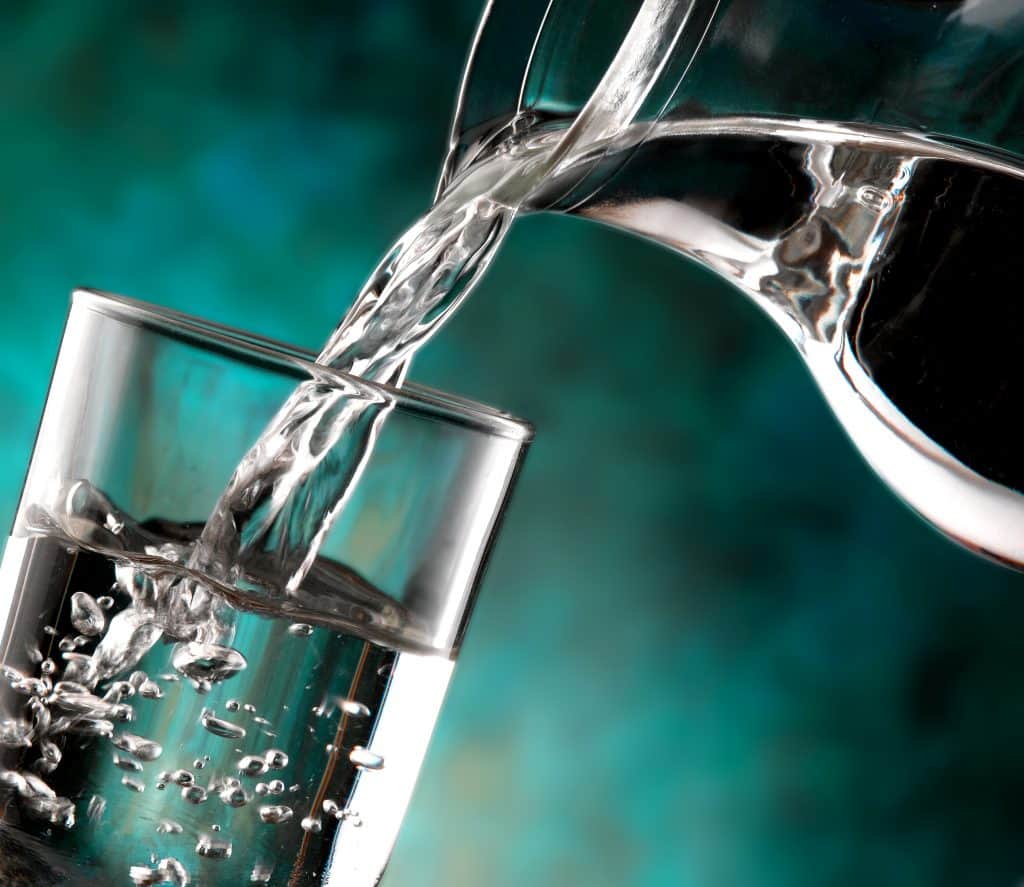 I like to add water to my smoothies to help thin them out a bit and make them easier to drink. You can also use milk (dairy or non-dairy), nut milk or juice, but I find that water works just fine and doesn't add any unnecessary calories or sugar.
Start with less water and add more if needed, as this smoothie gets thin easily withou the addition of frozen fruit or ice cubes. Coconut water is also an amazing choice.
_________________
Cucumber
Cucumber is a great addition to this smoothie as it helps to add more volume without adding a lot of calories. Cucumber is also a good source of vitamins A and C, as well as potassium. (source)
Cucumber has a light, refreshing taste that adds just a hint of summertime to this smoothie.
_________________
Green Apple
I like to use green apples in my smoothies as they are less sweet than red apples and don't cause as big of a blood sugar spike. However, feel free to use whatever type of apple you have on hand.
Green apples are a good source of fiber and vitamins A and C and add just a hint of sweetness to this recipe.
_________________
Lemon Juice
I like to add a bit of lemon juice to this smoothie for some extra flavor, but it's not necessary. If you do add it, start with just a little bit and add more to taste.
You'll Love These Other Delicious Smoothies:
How to Make Our Oatmeal Spinach Smoothie Recipe
This smoothie couldn't be easier to make! Simply add all of the ingredients into a blender and blend until smooth.
If your smoothie is too thick, add a little bit more water or milk until it reaches the desired consistency. If your smoothie is too thin, add a little more spinach or cucumber.
Taste and adjust as necessary, then drink immediately!
This recipe makes two servings. I like to make a big batch and enjoy half now and save the other half for later. I do like to blend it again the second time, or if I'm away from my blender I take it in a shaker cup so it gets mixed again. It does tend to settle.
How to Customize this Easy Smoothie Recipe
This recipe is pretty customizable depending on what you have on hand or what you're in the mood for. Here are some ideas:-Try adding a banana for some extra sweetness and creaminess. A frozen banana is even better.
Not a fan of cucumber? Try subbing in zucchini or even kale!
If you don't have green apples, feel free to use red apples or even pears.
If you want a little bit of a crunch in your smoothie, add some unblended oats or chia seeds.
Try different types of olive oil for different flavors. I like to use a light extra virgin olive oil, but you could also use avocado oil or even coconut oil.
Add a scoop of protein powder, nut butter (such as almond butter or peanut butter, or Greek yogurt for an extra protein boost. Nut butters also add healthy fats.
This smoothie is pretty low in sugar, but if you want it to be completely sugar free you can omit the green apple and add a sweetener such as monk fruit or stevia instead.
If you don't have flax seed, feel free to use chia seeds or even hemp seeds.
If you want a cold smoothie, add some frozen spinach and/or frozen cucumber. You can also add some ice cubes if needed.
Not a fan of oatmeal? Try subbing in quinoa flakes instead!
For a creamier smoothie, use almond milk, coconut milk, oat milk or any other type of milk in place of the water.
Want it sweeter? Try monk fruit, stevia, honey or even maple syrup.
As you can see, this recipe is pretty versatile. So, if you don't have all of the ingredients on hand, don't worry! Just use what you have and make it work for you.
Easy Spinach Oatmeal Smoothie
Just a few simple ingredients make this low-sugar smoothie that's a great way to start your day.
Equipment
Measuring Equipment
Ingredients
1 3/4

cup

spinach

3

Tbsp

oats

1

Tbsp

flax seed

1

Tbsp

olive oil

1

cup

water or coconut water

2

cups

cucumber

1

green apple

1

Tbsp

lemon juice
Instructions
Add all ingredients to blender.
Conclusion
This easy spinach oatmeal smoothie is the perfect way to start your day! It's low in sugar, high in fiber and packed with nutrients. And, it only takes a few minutes to make. So, what are you waiting for? Give it a try today!