Peach Pineapple Smoothie (Easy Recipe)
Disclosure: This post may contain affiliate links, meaning I get a commission if you decide to make a purchase through my links, at no cost to you.
If you're looking for a delicious and healthy smoothie, look no further than this peach pineapple smoothie recipe! It's simple to make and uses only a few ingredients that you probably have on hand. Plus, it's full of antioxidants and other health benefits from the fruit and the green tea. So why not give it a try today?
Why We Love This Pineapple Peach Smoothie Recipe
We are huge smoothie lovers in our house, and my kids and I are crazy about this one, especially when fresh peaches are in season! When they aren't we use frozen peaches, which are also amazingly delicious in this recipe.
The simple combination of fruit with green tea and just a hint of cinnamon is really refreshing and I love the way it leaves me feeling satisfied without feeling bloated or overly full.
My kids really enjoy this delicious smoothie, too!
Ingredients in Our Peach Pineapple Smoothie Recipe
Pineapple
Pineapple is a great source of bromelain and vitamin C and chock full of fiber and other vitamins and minerals. It's sweetness makes it a perfect smoothie fruit.
You can use fresh pineapple or frozen pineapple in this recipe, and even canned in a pinch (either drain or use the juice instead of the green tea).
Peach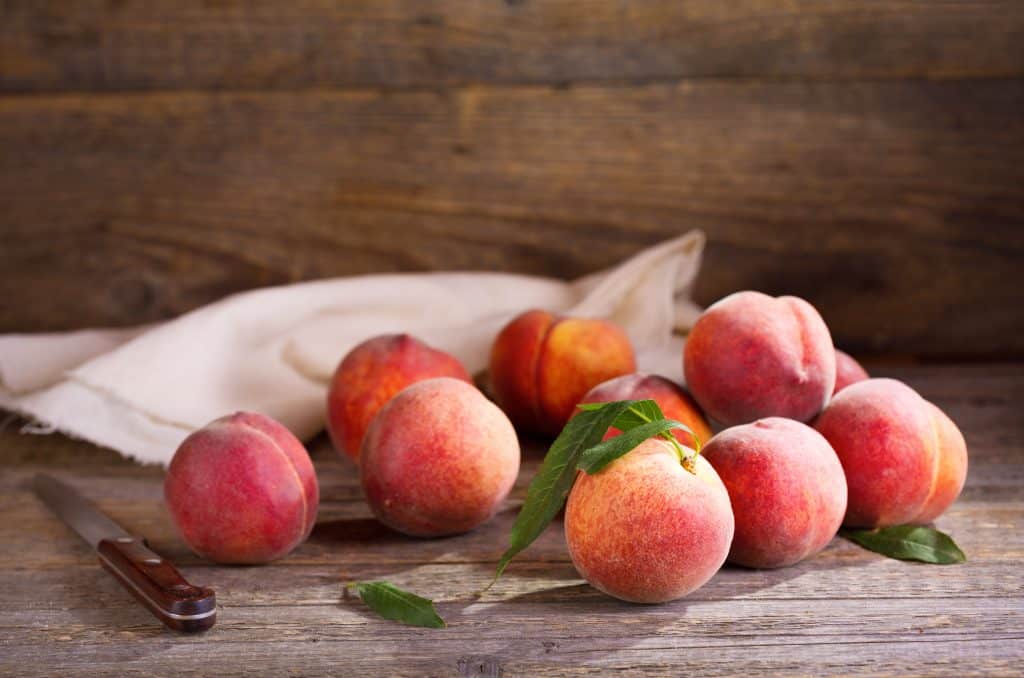 Peaches are also a great source of fiber, vitamins C and A, and potassium. They add a lovely sweetness and flavor to this smoothie.
As with the pineapple, you can use fresh or frozen peaches in this recipe. For us, it depends on when peaches are in season. In our area, peaches are plentiful in July so we use fresh peach then and frozen peach the rest of the year. Canned peaches can also be used, but like the pineapple make sure to drain or use the juice in place of green tea.
Orange
Oranges are not only a delicious addition to this smoothie, but they're also a good source of vitamins C and B6, as well as potassium and fiber.
I prefer fresh oranges in this recipe because I love the way they taste, but you can use 100% orange juice if you prefer, replacing the green tea. You can also use canned mandarin oranges, but again, either drain or use the juice in place of the green tea.
Green Tea
Green tea is not only delicious, but it's also full of antioxidants and other health benefits. It's a great addition to this smoothie for an extra boost of energy and nutrition. Green tea is wonderful for both weight loss and detoxing!
You can use any kind of green tea you like in this recipe. I usually use a flavored green tea, like peach or mango, but you can use plain green tea if you prefer.
Simply brew the tea according to the package directions and allow to cool completely. I like to make it ahead of time and keep it in the refrigerator.
Cinnamon
Cinnamon is a delicious spice that adds a bit of flavor to this smoothie. It's also a great source of manganese, iron, and calcium.
How to Make This Healthy Smoothie Recipe
This peach pineapple smoothie recipe is so easy to make! Just add all of the ingredients to a blender and blend until smooth. If you find that it's too thick, you can add a little more green tea or water until it reaches the desired consistency.
And that's it! Enjoy as is or pour into glasses and enjoy.
Leftovers can be stored in the refrigerator for up to 24 hours, although it's best when fresh. If you're making it for later, simply give it a good shake or stir before drinking.
You'll Also Love These Other Healthy Smoothie Recipes
How to Customize This Easy Smoothie Recipe
Add greens: We love greens, so we often add a handful of kale, swiss chard, spinach or even romaine to this recipe. Leafy greens are some of the most nutritious foods on the planet, and this is the easiest way to eat them, or should we say drink them!
Make it sweeter: If you find that this smoothie isn't sweet enough for your liking, you can add a little honey, agave nectar or even a pitted date or two. This usually isn't necessary as it has several sweet fruits, but one of the best things about smoothies is the ability to easily adjust to individual taste.
Use different fruit: This recipe is also delicious with mango, berries, or even kiwi. Feel free to get creative and use whatever fruits you like or have on hand. Just keep in mind that some fruits, like berries, will change the color of the smoothie. I love to get a mixed bag of frozen fruit to use in smoothies. You can also add a banana for a pineapple banana peach smoothie.
Add protein: Add a scoop of protein powder such as vanilla or banana flavored, or you can add greek yogurt or nut butter. Vanilla yogurt works well, especially if you add frozen bananas.
Omit the green tea: If you don't want to use green tea, you can replace it with water or 100% fruit juice. Orange juice or pineapple juice would be delicious in this recipe! You can also use a dairy free milk such as unsweetened almond milk, oat milk, coconut milk or even dairy milk, or just plain water or coconut water.
Make it a smoothie bowl: If you want to make this recipe into a smoothie bowl, simply blend with less liquid than directed and then pour into a bowl. Top with your favorite toppings, such as fresh fruit, granola, nuts or seeds. Enjoy with a spoon!
Add superfoods: If you want to give this smoothie a nutritional boost, you can add a scoop of protein powder, ground flaxseed or chia seeds. You could also add a spoonful of nut butter or a ripe avocado. Just be sure to add a little extra liquid if you're adding any of these ingredients.
As you can see, there are endless ways to customize this easy peach pineapple smoothie recipe.
Experiment and make it your own!
Peach Pineapple Smoothie
Enjoy a bit of the tropics with this delicious peach pineapple smoothie.
Ingredients
2

large

ripe peaches

(or equivalent amount of frozen)

1

cup

pineapple

(fresh or frozen)

1/2

medium

orange

(peeled and seeded)

1/2

cup

brewed green tea

(any flavor)

pinch

cinnamon

(optional)
Instructions
Add all ingredients to blender.

Blend on high speed until smooth.
Final Thoughts on This Recipe
This healthy peach pineapple smoothie recipe is simple, delicious and perfect for a quick breakfast or snack. It's also great for weight loss or detox because of the green tea. You can customize it to your own taste by adding different fruits, greens, superfoods or protein powder. So go ahead and give it a try!
Happy Blending!
Amanda