How to Freeze Smoothies (Four Ways)
Disclosure: This post may contain affiliate links, meaning I get a commission if you decide to make a purchase through my links, at no cost to you.
We all know that smoothies are a great way to get in our daily fruits and vegetables, but what happens when we want one on the go? That's where freezing comes in.
You can batch blend smoothies just for freezing, or just freeze as a way to use up leftover smoothie. It's a great way to have a quick, convenient smoothie ready to go!
Blending your smoothie ingredients and freezing them in a container or bag is an easy way to have a healthy snack or meal ready to go.
In this article, we'll show you how to freeze smoothies three different ways – so you can choose the method that works best for you.
Can Smoothies be Frozen and Thawed?
Absolutely! This is something that we love to do at our house, because some mornings are so hectic we don't even have time to pull out the blender!
To freeze and thaw your smoothies, simply blend all of your ingredients together (without any liquid), pour into a freezer-safe container or ice cube trays, and pop it in the freezer.
When you're ready to drink it, remove it from the freezer and let it thaw for about 15 minutes, sometimes more depending upon how cold your freezer is.
Smoothies that are frozen and thawed are still delicious and work really well to take to work or even pack in a lunch box.
How Long do Frozen Smoothies Last?
Frozen smoothies will last in the freezer for up to 3 months, so they're perfect for meal prep!
When you're ready to eat one, simply remove it from the freezer and let it thaw for about 15 minutes.
Make sure you get freezer safe containers and that they are sealed tightly for best results.
What are Some of the Best Ingredients for Freezer Smoothies?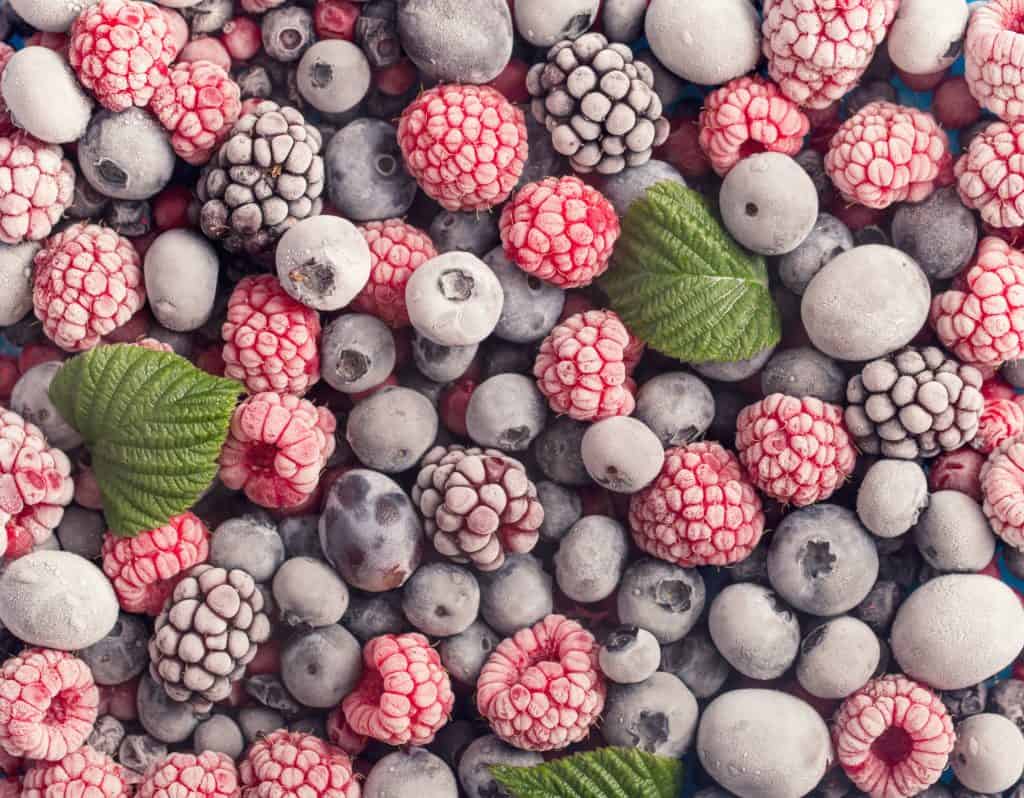 You can turn just about any smoothie into a freezer smoothie, so you don't necessarily need a special recipe, but here are some of the best ingredients for make ahead smoothies:
Ripe bananas (these work super well for smoothie packs or make ahead smoothies)
Frozen Fruit (you can also buy fresh fruit and freeze it yourself)
Frozen spinach (or any green such as kale, swiss chard, etc – it's okay to also buy fresh spinach and freeze it yourself)
Frozen mango or pineapple
Almond milk
Coconut milk
Greek yogurt
Berries such as blueberry or strawberry
Citrus fruits
Yogurt
Nut butter such as almond butter or peanut butter
Veggies such as cauliflower, sweet potato, pumpkin or broccoli
How to Freeze Smoothies in Bags (Smoothie Bags Method) – 1
If you want to make individual servings of smoothies that you can grab and go, then freezing them in bags is the way to go.
To do this, simply add all of your ingredients (without any liquid) to a freezer bag, seal it up, and toss it in the freezer.
When you're ready to make your smoothie, add the contents of the bag to your blender, add your liquid of choice, and blend until smooth.
This method is perfect if you're short on time in the mornings or if you want to be able to make a quick smoothie without any cleanup.
How to Freeze Smoothies in Ice Cube Trays – 2
If you don't have any freezer safe containers on hand and you want to freeze a pre-blended smoothie, you can also freeze your smoothies in ice cube trays.
To do this, simply add all of your ingredients to your blender and blend just like you were making a fresh smoothie, then add it evenly to an ice cube tray and freeze. Once the smoothie cubes are frozen you can pop them out and place them in ziptop bags for longer term storage.
When you're ready to make your smoothie, add the desired number of smoothie cubes to your blender, add your liquid of choice, and blend until smooth. You can also just allow the cubes to thaw and give them a good stir, but I love the way they work when they are blended with liquid.
This is the way the frozen cubes from Bumpin' Blends works. You receive the frozen cubes in the mail packed in dry ice, and when you are ready to make your smoothie you pop the cubes in the blender with liquid and blend. Super convenient and SO easy!
How to Freeze Smoothies in Containers – 3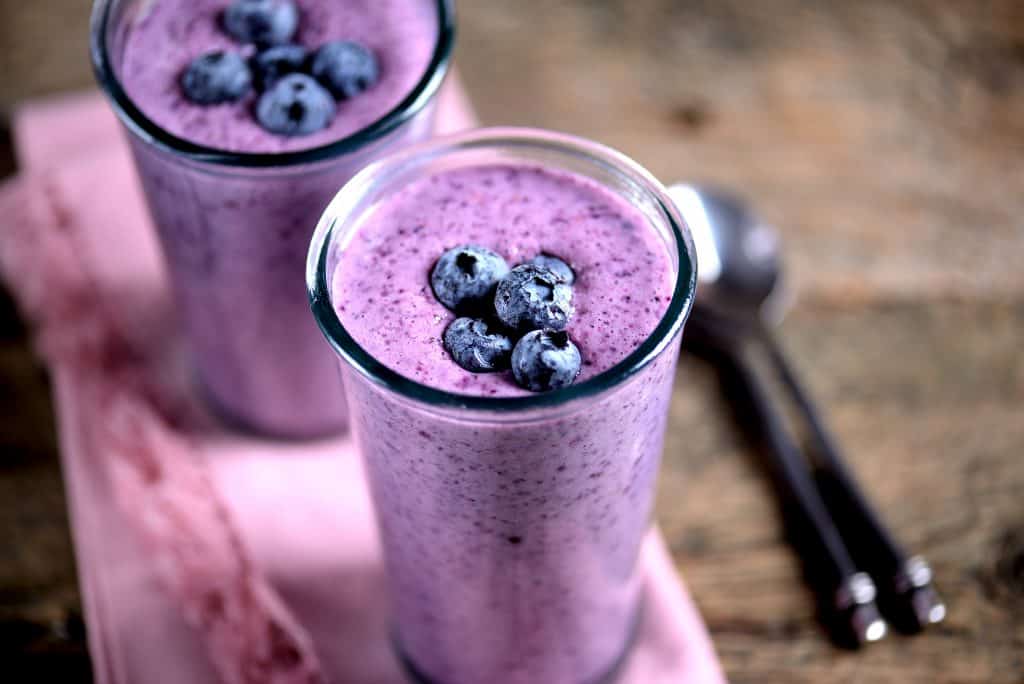 This is probably the most common way to freeze smoothies, and it's really simple. Just add all of your ingredients to your blender and blend until smooth, then pour into freezer safe containers.
I like to use a mason jar for this, but I have had problems before with the glass so you could also use plastic freezer safe containers if you prefer like the ones below.
Make sure you leave some head room in your jar as the smoothie will expand when frozen and you want it to have some space so you don't break your container.
Once your smoothie is in the container with the extra room for expansion, just seal it up and pop it in the freezer.
When you're ready to drink your frozen smoothie, remove it from the freezer and let it thaw for about 15 minutes before giving it a good stir or blending again.
If you're not sure about using mason jars in the freezer, get the plastics made for freezer jam or soup like these:
Freeze into Smoothie Pops – 4
This is a huge hit in our house! This is our go-to method for any leftover smoothie. For the kids I often will make up a huge batch of smoothie and if they don't go through it I will make it into smoothie pops.
You can pour into regular popsicle molds or get really inexpensive disposable containers. I love these:
Frozip 125 Disposable Ice Popsicle Mold Bags| BPA Free Freezer Tubes With Zip Seals | For Healthy Snacks, Yogurt Sticks, Juice & Fruit Smoothies, Ice Candy Pops| Comes With A Funnel (8×2″)
➢ PREPARE HEALTHY & YUMMY TREATS: Worrying about your kid's poor snacking habits? If so, then our 125 disposable popsicle bags are here for you. Prepare the most delicious and healthiest snacks for your little ones starting from today. Experiment with ingredients, flavors and colors. You and your children are going to love them.
➢ SNACK ON THE GO: If you are running errands or are always on the move, these freezer tube bags will be a time and energy saviour. Chop the fruit, prepare the smoothies, add any ingredients you want, fill the bags and store. Keep in the freezer and snack on the spot. Stop wasting your precious time and spend more quality time with your beloved ones.
➢ 100% SAFE POPSICLE TUBES: Made with your best interest at heart, these disposable mold bags are 100% BPA and Phthalates free. They are non-toxic and comply with the safety regulations of the USDA Certified Food Grade and Freezer Product. No more worries about cheaply made and unsafe ice popsicle bags. You and your kids are safe!
➢ NO SPILLING, NO MESS: These disposable popsicle bags can be zip sealed for your extra convenience. Forget about spilling, messy freezers and sticky backpacks. Enjoy the healthiest homemade snack popsicles no matter where you go. Our bags can hold either thick or liquid form fluids. Just lay them flat in the freezer, wait for a few hours and taste!
➢ GET THESE POPSICLE BAGS & FUNNEL RISK FREE: Since your satisfaction is our top priority, this product is backed by our 100% money back guarantee policy. It comes along with a funnel to make pouring a breeze. Make delicious yogurt sticks, fruit and vegetable pops, iced popsicles, otter pops, candy treats, party favors, and so much more.
Can You Freeze a Smoothie in a Ziploc Bag?
You can! Of course, you'll need to transfer it to a container you can drink from once it has thawed, but it is okay to freeze blended smoothies in Ziploc bags.
Simply blend the smoothie, pour the desired amount into the plastic bag and seal tightly. Then place the bag flat on a baking sheet or cookie sheet (as many bags as you like) and freeze with them lying flat. This will help with storage.
Then, when you want your smoothie, simply thaw, stir, and pour into a drinking container. I guess this could technically be method number 5!
Can You Freeze Smoothies with Protein Powder?
Protein powder is fine to freeze. In fact, that's where I often stored my opened containers of protein powder.
So, whether you choose to make a smoothie pack and pour the loose powder in or if you want protein powder in your blended smoothie, it is fine to freeze smoothies with protein powder.
Tips and Tricks for Perfect Frozen Smoothies
Make sure to freeze a blended smoothie immediately. Smoothies tend to separate, so to minimize separation it's best to freeze as soon as possible after blending.
Make sure to stir or shake your thawed smoothie before drinking. Again, some separation can occur, so to get it blended up well again it's best to stir it or even shake it if it's in a good sealed container.
Make sure you are using a truly airtight container. Smoothies can pick up on any odors in the freezer and you don't want some funky smells so seal up those ingredients tightly!
Final Thoughts on How to Freeze Smoothies
So, whether you choose to blend your smoothies first or make freezer packs, you're sure to find that freezing smoothies is a really convenient way to store them.
This guide offers three ways on how to freeze smoothies – either pour into a freezer safe container and freeze after blending, freeze the smoothie into ice cube trays or put the ingredients in a bag minus the liquid and freeze. I hope you try freezing smoothies!
Happy Blending!
Amanda