Strawberry Coconut Cheesecake Fat Bomb Smoothie
Disclosure: This post may contain affiliate links, meaning I get a commission if you decide to make a purchase through my links, at no cost to you.
A fat bomb smoothie can be a great way to stay on a low carb or keto diet. It can fill you up between meals, give you the fat you need in your daily diet, and it can satisfy a sweet tooth (which can be hard to do when you're low carb!).
This low carb smoothie tastes like strawberry coconut cheesecake! It's seriously rich and creamy and low in net carbs. You really have to try it for yourself to believe how delicious it is.
What is a Fat Bomb?
A fat bomb is a high fat, low carb food. It's usually used as a snack or dessert on a low carb diet. Fat bombs can be made with different combinations of fats, but they typically contain coconut oil, butter, cream cheese, and/or nuts.
Read more about fat bombs here.
Why Eat Fat Bombs?
Fat bombs are a great way to get more fat into your diet. When you're following a low carb or keto diet, you need to eat more fat than you would on a standard diet. This is because your body uses fat for energy instead of carbs. Fat bombs can help you reach your daily fat intake goals.
In addition to being high in fat, fat bombs are also low in carbs. This makes them a great choice for people who are trying to lose weight or manage their blood sugar levels.
Why We Love This Fat Bomb Keto Smoothie Recipe
We love all thing smoothies here, but sometimes I try to watch my carb intake. Let's face it, smoothies with a lot of fruit naturally have a lot of carbs. If you're not watching your carbohydrate intake, a fruit smoothie is a wonderful way to take in your daily 5 of fruits and vegetables, but what are you to do when you're on a keto diet?
That's where this smoothie comes in. It's high in fat, low in sugar and net carbs and absolutely delicious. It's my favorite fat bomb smoothie recipe out there!
Ingredients in Our Fat Bomb Smoothie Recipe
Strawberries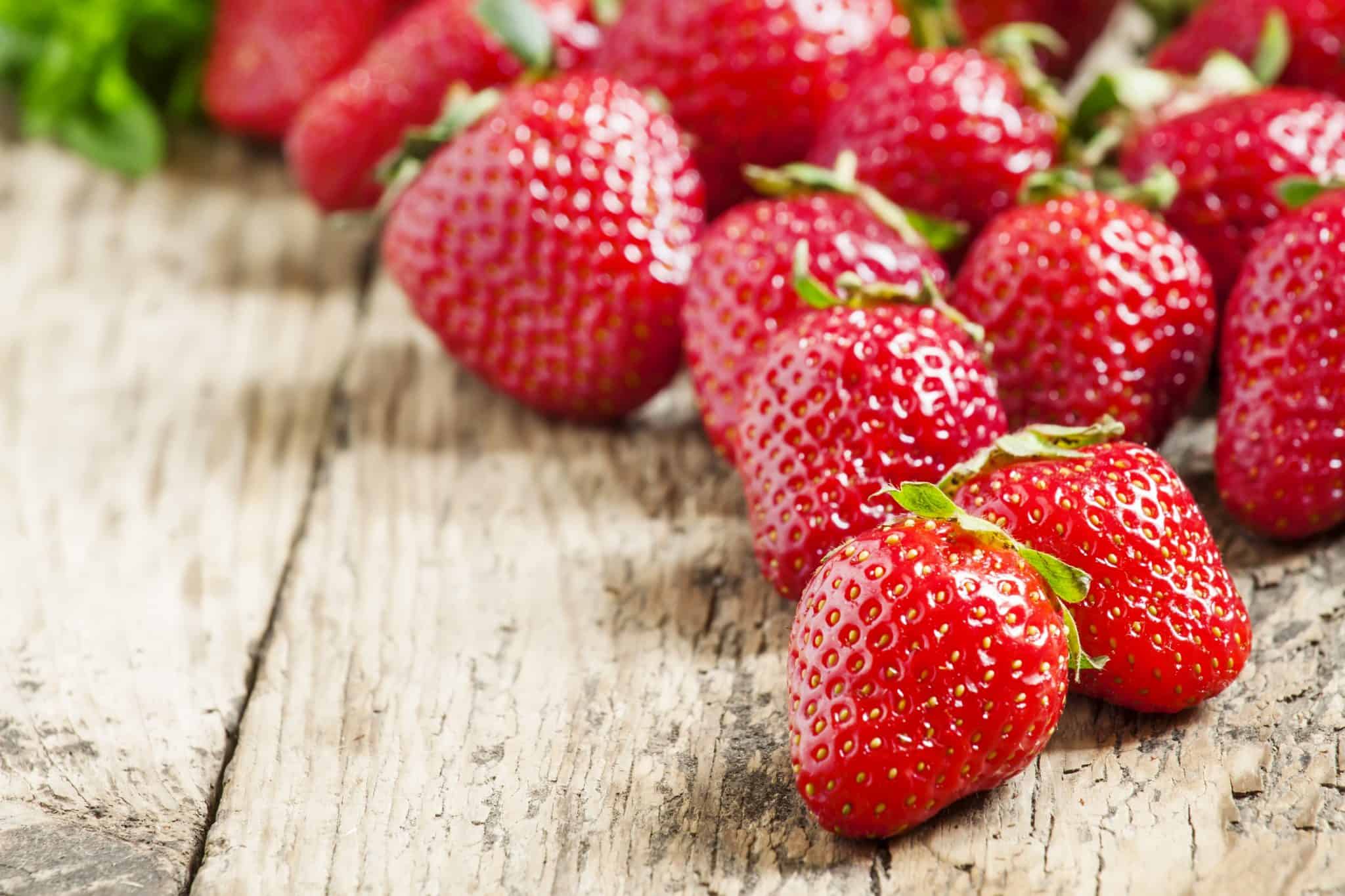 Strawberries are low in carbs and calories and high in fiber. They're also a good source of antioxidants and vitamins C and K.
You can use fresh or frozen strawberries for this recipe. If you're buying frozen, just be sure that they don't have any added sugar.
Full-Fat Coconut Milk
Coconut milk is a great source of healthy fats. It's also dairy-free, making it a great choice for those who are lactose intolerant or have trouble digesting dairy products.
You'll need to use canned coconut milk to get the full richness with all the fat. Coconut milk in the carton isn't as good for the keto diet, and you'll want to drain off the thin liquid at the top.
You can use coconut cream, but you might have to add a bit of liquid to get it to a smoothie consistency. It would make a great fat bomb smoothie bowl, though!
Cream Cheese
Cream cheese is another source of healthy fats. It's also a good source of protein and calcium.
You'll need to use full-fat cream cheese for this recipe, which is easy to find at any grocery store.
Coconut Oil
Coconut oil is a great source of healthy fats, especially medium chain triglycerides.
It's also easy to find at any grocery store, just be sure you are getting a good quality, unrefined coconut oil such as extra virgin. You can also use MCT oil if you prefer.
Low Carb Granulated Sweetener
You'll need a low carb sweetener for this recipe to keep the net carbs down. We like to use erythritol or stevia, but any low carb granulated sweetener will work.
I also really enjoy monk fruit sweetener. Your choice will depend upon your dietary restrictions as some diets are lower in carbs than others.
Lemon Zest
Lemon zest adds a little bit of tartness and depth of flavor to the smoothie. You could also use lime zest if you prefer.
Unsweetened Coconut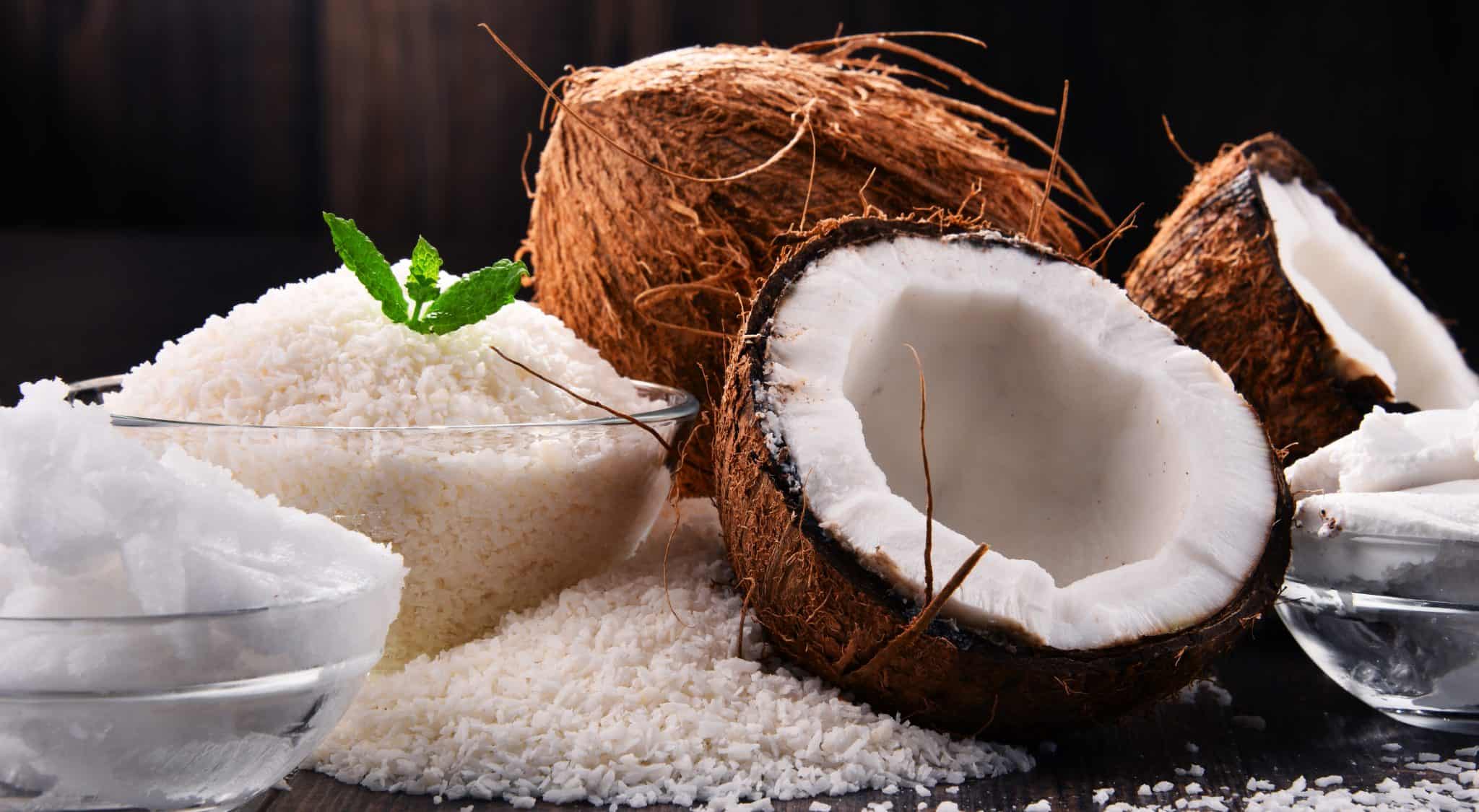 Unsweetened coconut is a great source of healthy fats and fiber. It's also a good source of manganese and copper.
You can find unsweetened coconut in the baking aisle of most grocery stores, or you can buy it online. If you don't want the texture of the coconut in the smoothie, just sprinkle a little on top after you blend. I like to buy the finely shredded coconut.
How to Blend a Perfect Keto Fat Bomb Smoothie
Now that we've gone over all the ingredients, it's time to talk about how to blend the perfect keto fat bomb smoothie.
First, start by adding the full-fat coconut milk and cream cheese to your blender. I like to use an personal blender for this as it's quick and easy, but any blender will do (I have the Nutribullet Pro and I love it). If you are making a larger quantity you will need a larger blender, like when I make a batch for myself and my four boys.
Next, add in the frozen strawberries, coconut oil, low carb sweetener, and lemon zest. If you're using fresh strawberries, add a little ice to the mix.
Blend on high until smooth and creamy. If you want a thinner consistency, add a little more coconut milk, heavy cream, unsweetened almond milk or even water until you reach your desired thickness.
Pour into glasses and enjoy immediately. If you're not serving all of it right away, store in the fridge for up to 24 hours. You may need to add a little more coconut milk before serving as it will thicken up as it sits.
This recipe makes two small servings or one large serving.
Related: How to Make Low Carb Smoothies
How to Customize This Easy Keto Smoothie Recipe
There are so many ways that you can customize this recipe to make it your own. Here are a few ideas:
Add a scoop of protein powder for an extra boost. Make sure it's low carb!
Swap out the strawberries for raspberries, blueberries, or blackberries. A keto raspberry smoothie is delicious.
Use lime zest instead of lemon zest.
Add a handful of spinach or kale for extra nutrition. You won't even taste it, I promise! Green smoothies are amazing (and still low carb).
Try different flavors of unsweetened coconut such as chocolate or vanilla.
Make it into a smoothie bowl and top with your favorite keto toppings.
Add chocolate for a keto chocolate smoothie. You can add cocoa powder, cacao powder or chocolate protein powder for an amazing chocolate fat bomb smoothie recipe.
Leave out the strawberries and add a scoop of vanilla protein powder for a fat burning vanilla smoothie.
Add chia seed for another dose of protein and healthy fat in your keto drink.
Add half an avocado for even more healthy fat.
No matter how you make it, this strawberry coconut cheesecake fat bomb smoothie is sure to become a new favorite! It's the perfect healthy snack, keto breakfast or dessert that satisfies those sweet cravings without all the sugar.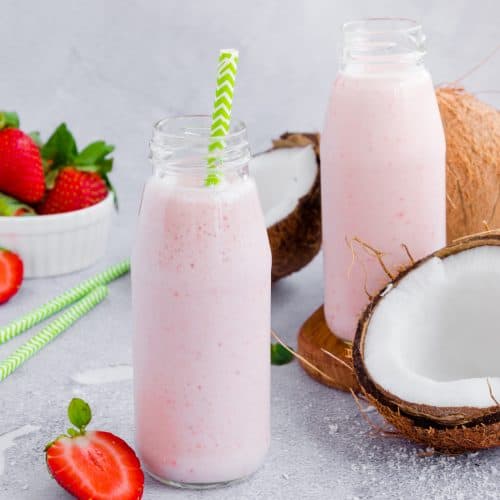 Strawberry Coconut Cheesecake Fat Bomb Smoothie
Enjoy a delicious fat bomb any time of day with this fat bomb smoothie recipe.
Ingredients
1/2

cup

strawberries

(fresh or frozen)

4

oz

cream cheese

1

Tbsp

coconut oil

1

Tbsp

low carb sweetener (like Swerve)

1

tsp

lemon zest

1/4

cup

unsweetened coconut

1

cup

full fat coconut milk

(canned, extra liquid drained)
Instructions
Add all ingredients to blender.

Blend on high speed until smooth.
Nutrition
Calories:
528
kcal
Carbohydrates:
17.2
g
Protein:
6.9
g
Fat:
54
g
Saturated Fat:
42.7
g
Cholesterol:
62
mg
Sodium:
185
mg
Potassium:
355
mg
Fiber:
1.7
g
Sugar:
10.5
g
Calcium:
71
mg
Iron:
6
mg
Final Thoughts on Our Healthy Smoothie Recipe
This strawberry coconut cheesecake fat bomb smoothie is a delicious and easy way to enjoy a low carb dessert or snack. It's high in healthy fats and has no added sugar, making it the perfect treat for those on a keto or low carb diet. And with just a few simple ingredients, it's easy to make at home in just a few minutes.
Whether you're looking for a quick snack or a satisfying dessert, this smoothie is sure to hit the spot. So give it a try!
Happy Blending!
Amanda