Why You Should Be Adding Coconut Oil to Smoothies
Disclosure: This post may contain affiliate links, meaning I get a commission if you decide to make a purchase through my links, at no cost to you.
Have you ever added coconut oil to your smoothie recipe? It's a great way to get the benefits of coconut oil without having it solidify. Here are some tips for getting the most out of this natural product in your food and drink.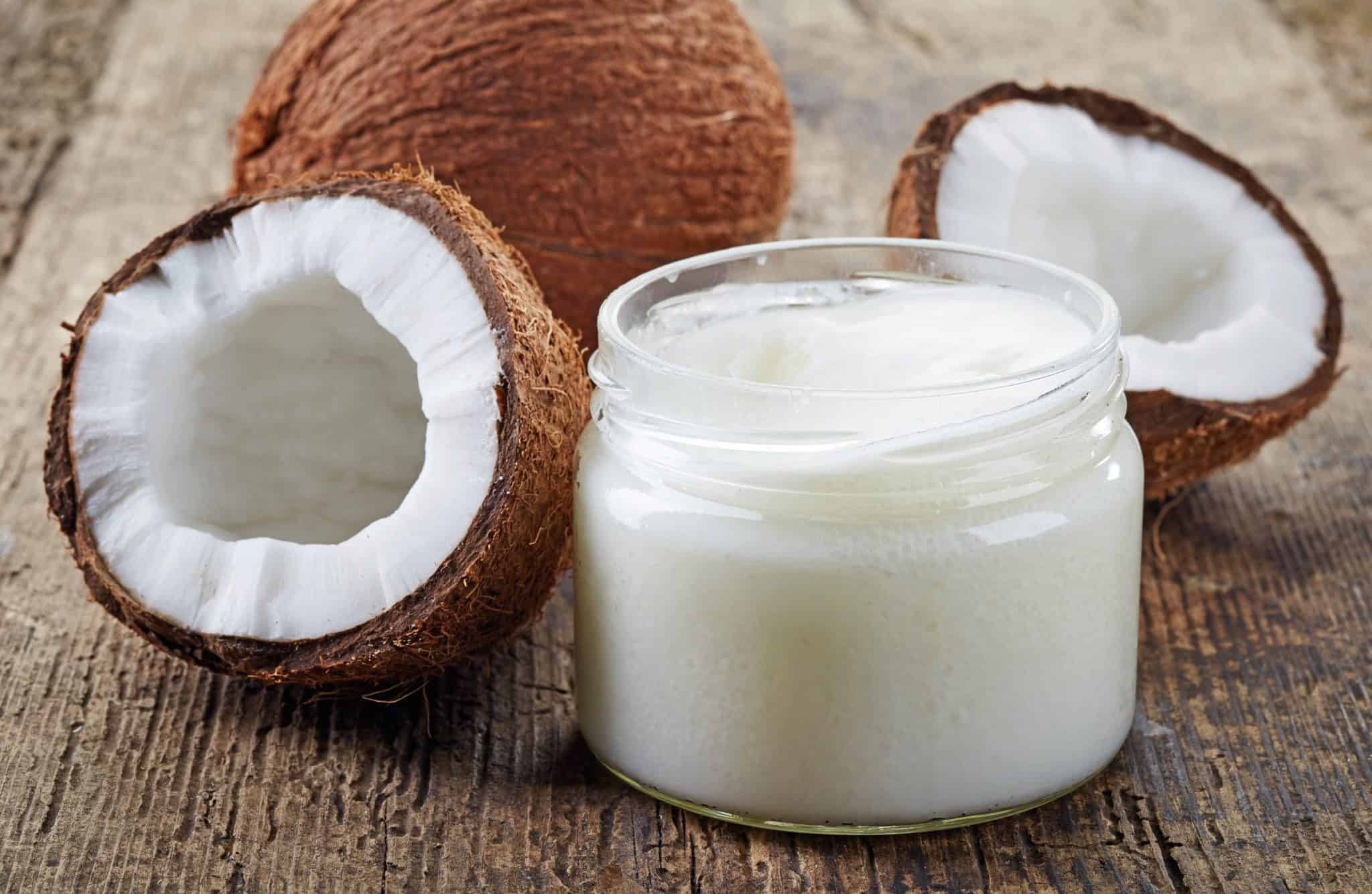 Health Benefits of Coconut Oil
Coconut oil has been shown to have a number of benefits, including reducing inflammation and pain in arthritis sufferers, as well as improving memory in Alzheimer's patients when used alongside their medication.
Virgin coconut oil also contains saturated fat and medium chain triglycerides (MCTs), which have been shown to boost metabolism and reduce fat storage.
Coconut oil is a great source of antioxidants, which can help to protect your cells from damage. It's also a great source of quick energy, may have antimicrobial effects and it may help reduce hunger.
Read more about the health benefits of coconut oil here.
_________________
Types of Coconut Oil for Smoothies
There are two main types of coconut oil – virgin and refined.
Virgin coconut oil is made from the fresh meat of the coconut and has a lower smoke point, meaning it can't be heated as high before it starts to burn.
Refined coconut oil is made from dried coconut meat and has a higher smoke point, making it better for a cooking oil.
MCT oil is a type of coconut oil that is liquid at room temperature, making it easier to add to smoothies. It can be found in health food stores or online.
________________
Adding Coconut Oil to Smoothies
Coconut oil does solidify when cold, which can make it difficult to incorporate into your diet. A possible solution is to use MCT oil, which is a liquid even at colder temperatures.
MCT oil is derived from coconut oil and is a great way to get the benefits of coconut oil without having it solidify.
If you'd like to use regular coconut oil instead of MCT oil and make sure your smoothie doesn't end up with clumps of coconut oil, simply melt the oil before adding it to your blender. Coconut oil has a very low melting point, so this is not hard to do. In the warmer months it may already be liquified. In cooler months, just pop it in the microwave for a few seconds or heat gently on the stove.
Want to try coconut oil in a smoothie? Check out this amazing recipe!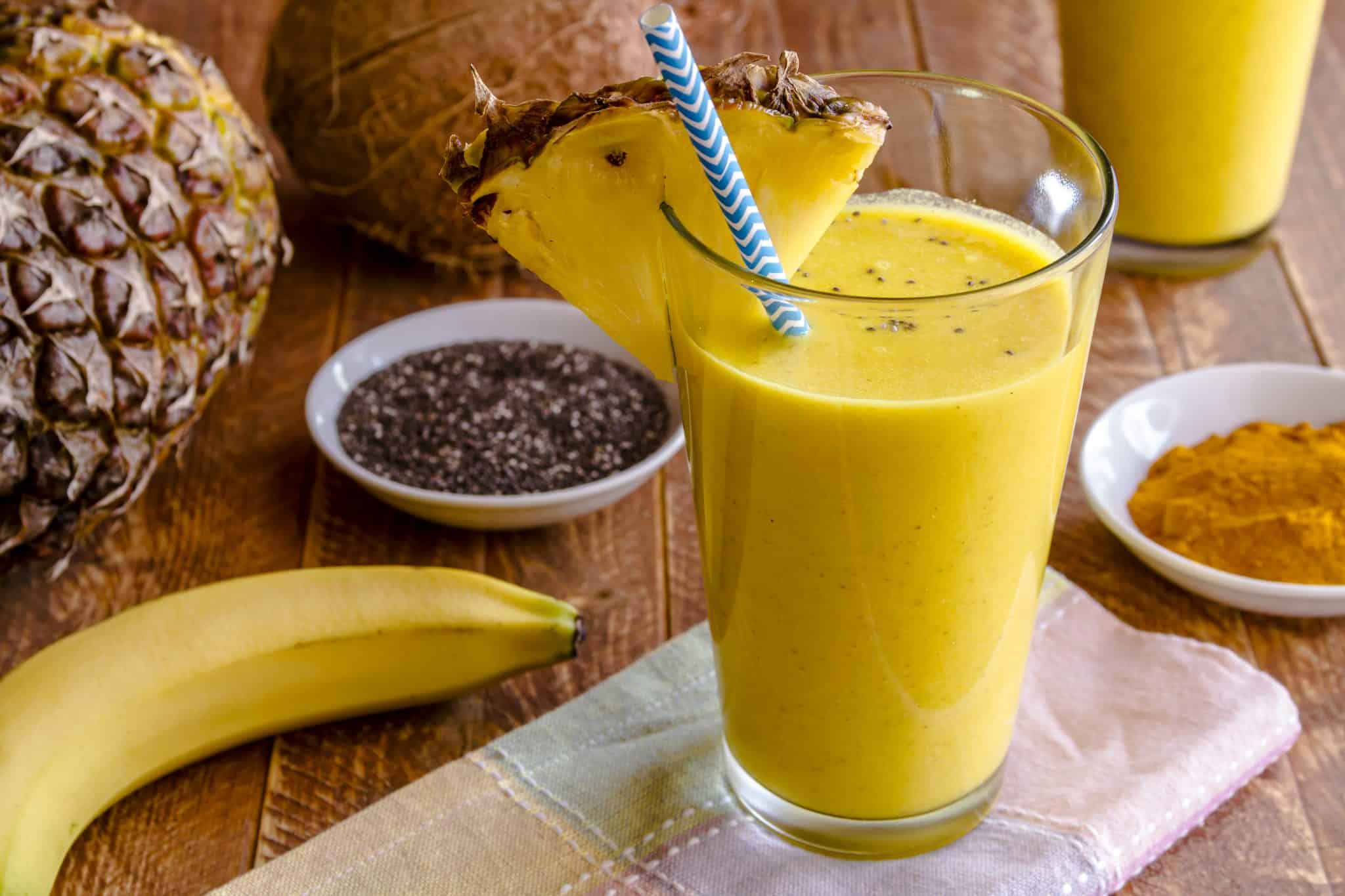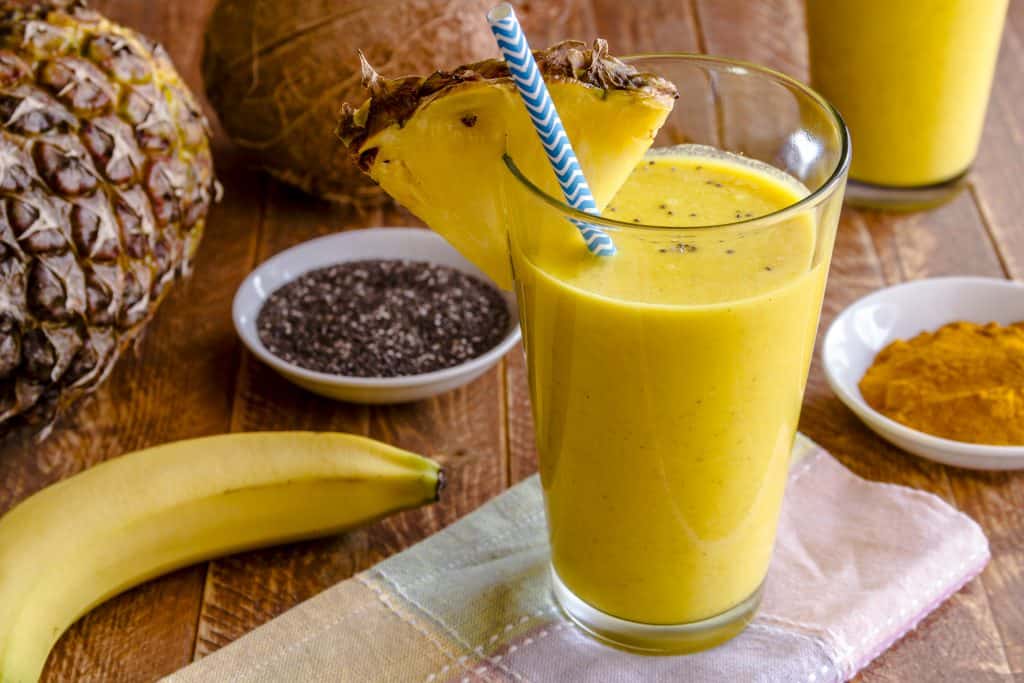 Why We Love This Coconut Oil Smoothie Recipe
This recipe is a great way to get the benefits of coconut oil in a delicious and healthy smoothie. It also works really well as a smoothie bowl if you reduce the amount of liquid. I find that my kids will gobble up a smoothie bowl much faster than they will drink a smoothie. Not sure why!
Ingredients in Our Coconut Oil Smoothie
Banana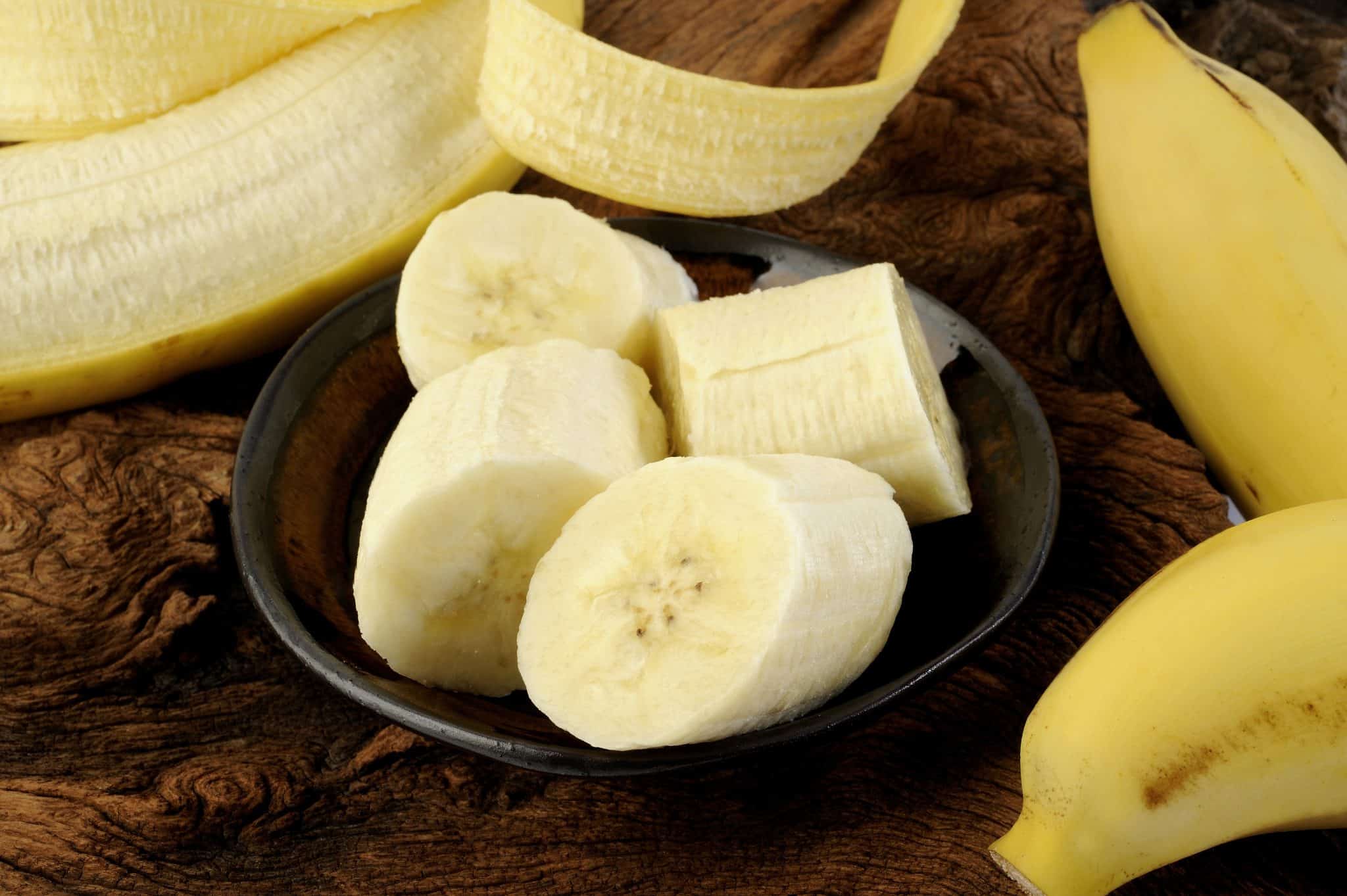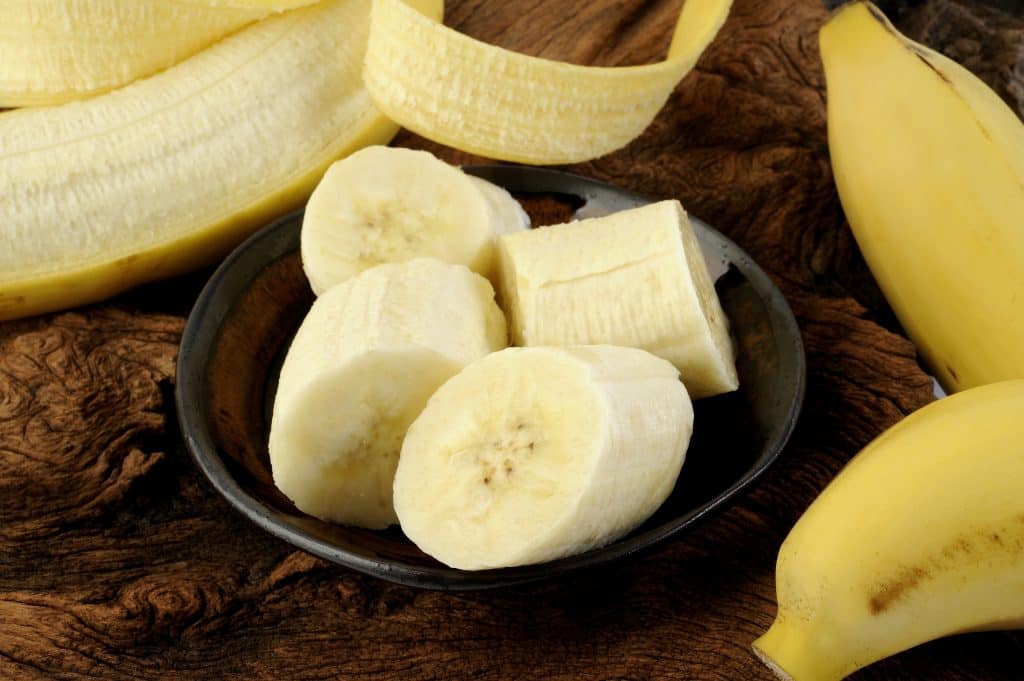 Bananas are a great addition to smoothies because they're high in fiber and potassium. They also have a mild flavor that goes well with many different ingredients and they add natural sweetness.
_________________
Pineapple
Pineapple is a good fruit for a smoothie recipe because it's high in fiber, bromelain and vitamin C. It also has a sweet, tangy flavor that goes well with many different ingredients.
_________________
Mango
Another great choice for our tropical smoothie is mango! Mangoes are so sweet and delicious you will feel like you are having a treat instead of a smoothie! For extra creaminess, use frozen fruit.
_________________
Coconut Oil or MCT Oil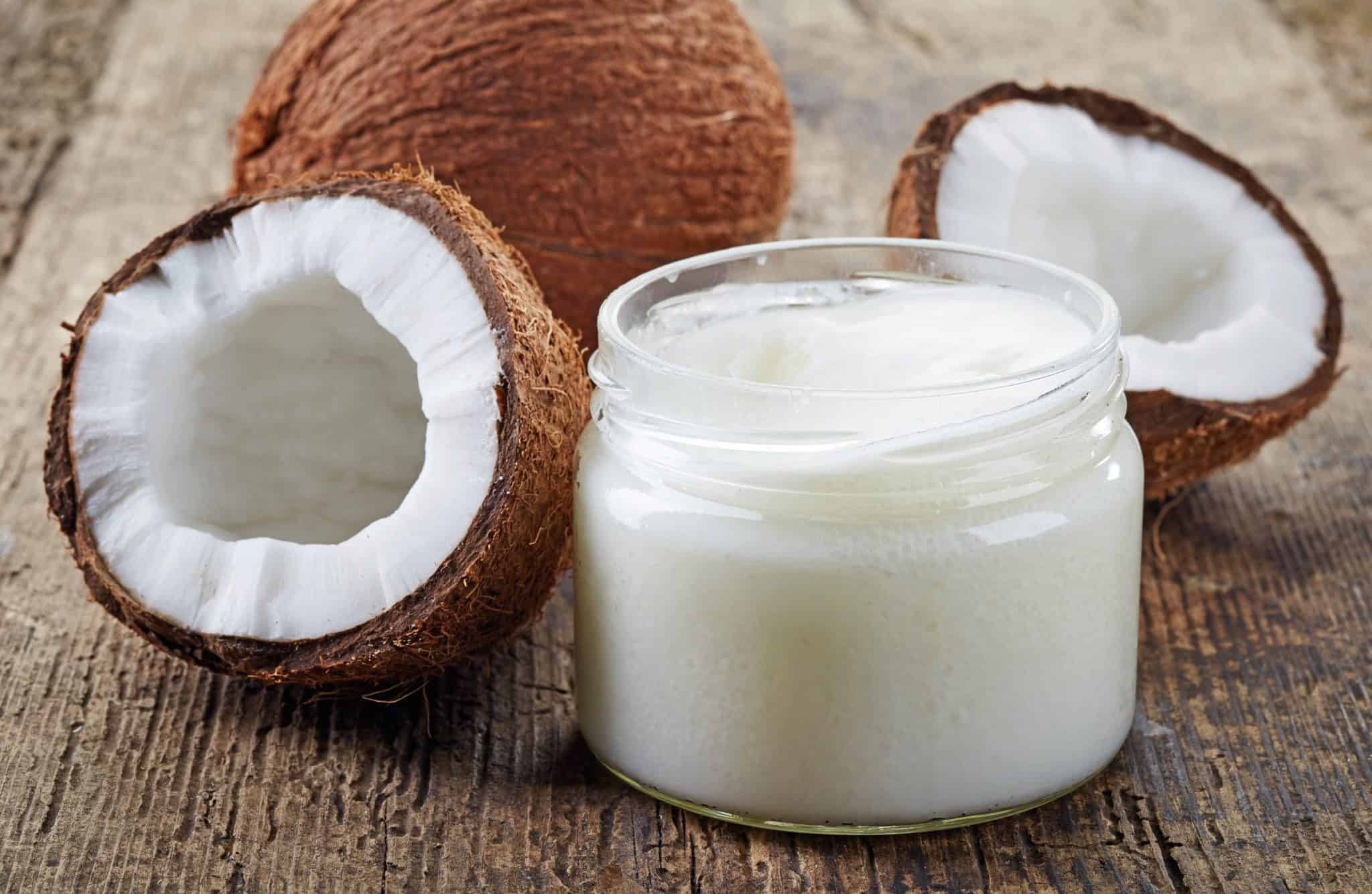 It couldn't be a coconut oil smoothie without this ingredient! It's okay to use either virgin coconut oil or MCT oil in this recipe. I wouldn't go with refined coconut oil here.
_________________
Chia Seeds
Chia seeds are a good choice for a smoothie because they're high in fiber, protein and omega-3 fatty acids. They also have a mild flavor that blends well with these fruits.
_________________
Spinach
A few leaves of spinach add a nutritional punch to this delicious smoothie. Spinach is super mild and most people can't even tell it's there, making it a great choice for those just venturing into the world of green smoothies.
Learn how to measure spinach here.
_________________
Turmeric
Go easy on the turmeric if you're new to it as it has a distinct flavor. It is well known as an anti-inflammatory food and it can also act as a natural aspirin, making it a great choice to add to a daily smoothie.
_________________
Coconut Milk or Coconut Water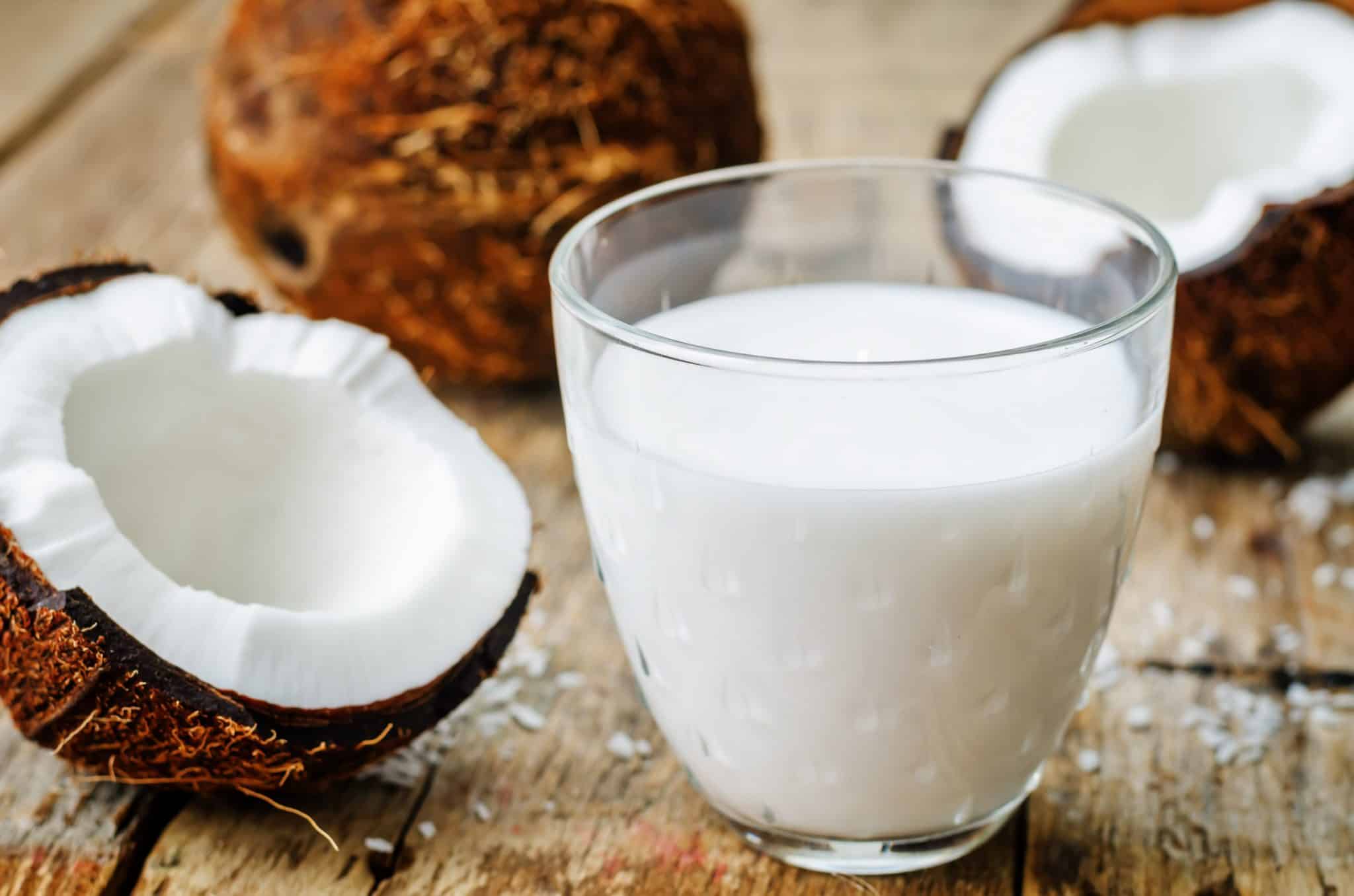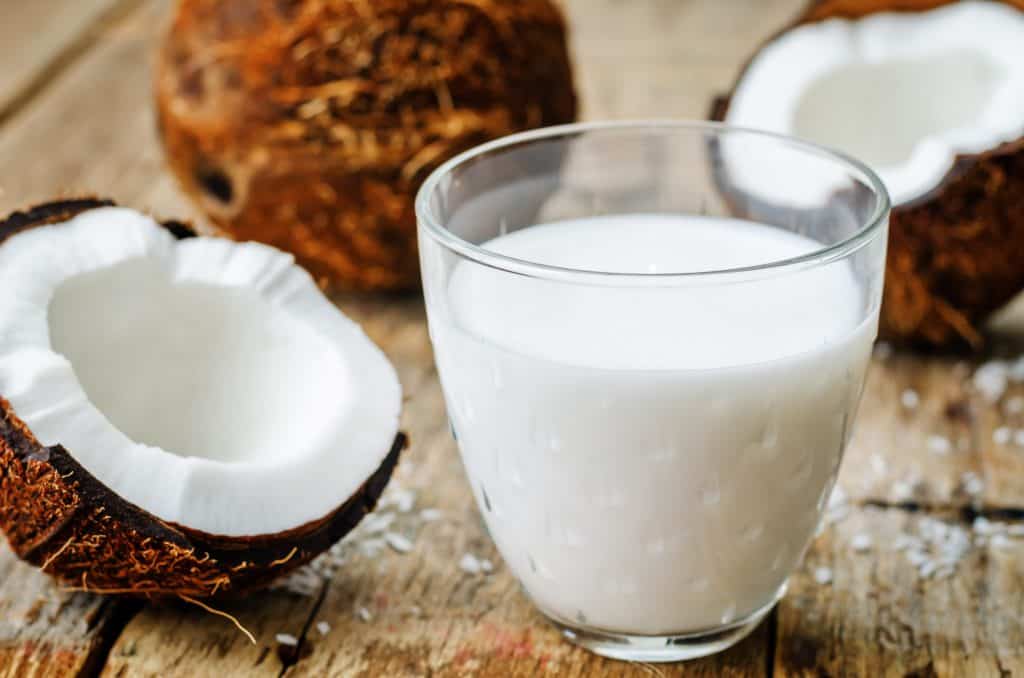 Your choice here! Want a creamier smoothie or smoothie bowl? Go for the coconut milk. Want one a bit thinner? Coconut water is the way to go.
_________________
How to Customize Your Coconut Oil Smoothie
Add a few more superfoods, such as hemp seeds, acai, matcha, flax seed, or any other for extra nutritional value.
You may use any other fruit in place of the mango, banana or pineapple if you don't enjoy them. Strawberries, raspberries, blackberries, or cherries are all good alternatives.
For a sweeter flavor, try adding a touch of maple syrup, honey, or agave nectar, although you probably won't need it with this many sweet fruits!
If you want a thicker smoothie, add some ice cubes or frozen fruit. Use coconut milk and a few ice cubes if you prefer thick, creamy smoothies. Greek yogurt or rolled oats are other excellent thickeners.
If you want a thinner smoothie, use fresh fruit and coconut water. Keep adding coconut water until it is desired consistency.
If you would like to reduce the amount of fat in this recipe from the coconut oil, you can opt to use less or take it out altogether, but it really can help keep you feeling full until your next meal.
You can add protein powder to your smoothie if you are looking for extra protein. I'd recommend unflavored or vanilla for this recipe.
You can switch out the coconut milk for any type of non dairy milk such as almond milk, oat milk, soy milk or even regular dairy milk.
Coconut Oil Smoothie Tips & Tricks
If your smoothie is too thick, add more coconut water or milk until it reaches the desired consistency. If it's too thin, add more frozen fruit or a few ice cubes.
Taste as you go and add more of any ingredient to suit your taste.
This recipe is very versatile. Feel free to experiment with different fruits, superfoods, and even protein powder to create your perfect smoothie.
If you find that your smoothie doesn't taste as coconut-y as you'd like, try adding more coconut oil or using coconut extract. You could also use a flavored protein powder or yogurt.
This smoothie can be enjoyed as is or poured into a bowl and topped with your favorite toppings. Some of my favorites are granola, shredded coconut, chia seeds, and fresh fruit.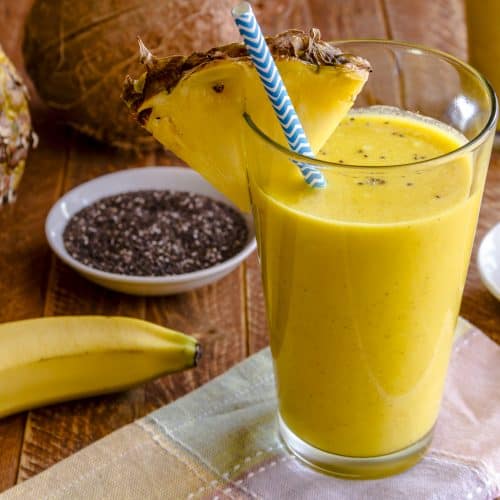 Coconut Oil Smoothie
Learn to use coconut oil in your smoothies with this delicious recipe made with pineapple, banana and mango for a sweet treat!
Ingredients
1

medium

banana

fresh or frozen

1/2

cup

pineapple

fresh, frozen or canned

1/2

cup

mango

fresh or frozen

1

Tbsp

coconut oil or MCT oil

1/4

cup

spinach

fresh or frozen

1/4

tsp

turmeric

1

Tbsp

chia seeds

1

cup

coconut milk or coconut water
Instructions
Place all ingredients except liquid in blender.

Pour liquid of choice over ingredients.

Garnish with toppings of your choice.
Today we learned about how adding coconut oil to smoothies can be great for you! I hope you'll try out this recipe or one of the many others that use coconut oil and make it a part of your life!