How to Make Smoothies to Gain Weight
Disclosure: This post may contain affiliate links, meaning I get a commission if you decide to make a purchase through my links, at no cost to you.
If you're looking for a healthy and delicious way to add more calories and healthy fat to your diet, you should try making weight gain smoothies. These smoothies are packed with nutrients and added calories that can help you reach your weight goals.
Smoothies are the perfect option for gaining weight because they are easy to drink in between meals. Sometimes you don't want to eat all day, and a high calorie, healthy smoothie may be just what you need.
In this guide we'll explore everything you need to know to get started with weight gain smoothies, including a few of our favorite recipes.
Can You Gain Weight with Smoothies?
Yes, you can gain weight by drinking smoothies regularly. Smoothies are a great way to add more calories and healthy nutrients to your diet. When you're trying to gain weight, it's important to make sure that you're eating enough calories each day.
Smoothies can help you reach your calorie goals by providing a concentrated source of nutrients and calories.
Why Use Smoothies for Weight Gain?
When you are trying to gain weight, you might feel like you're eating all day long, and for some people that's just too much. A high calorie smoothie in between meals might be just what you need to get the extra calories for weight gain.
In high school my now-husband was trying everything he could to gain weight and was drinking Slim Fast shakes between meals. Even though that adds some calories, shakes like these are not ideal because they are lower calorie and meant for weight loss.
Making your own smoothie is a much better option because you can choose good quality, high calorie ingredients and add healthy fat, all of which are missing in a processed weight loss shake.
What Can I Add to My Smoothie to Gain Weight?
Protein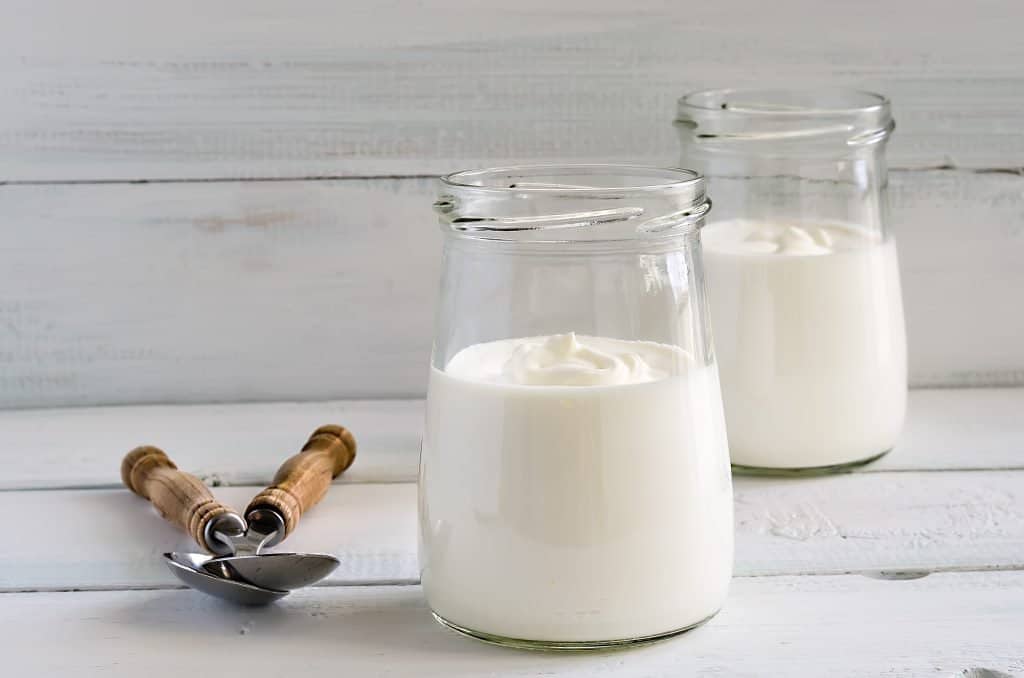 Protein powder is a great option for smoothies, but some people just can't find a powder they like. Not to worry! There are plenty of other good quality, high protein foods that you can add to your blender to make it protein smoothies.
Here are some of the best:
Yogurt (regular or nondairy)
Greek Yogurt
Cottage Cheese
Egg White Protein (you can find this powdered and unflavored, can't even tell it's there)
Coconut Cream
Canned Coconut Milk (don't mix it and get rid of the thin liquid on top)
Try different protein powders until you find one you like, but also try adding in these other ingredients, plus nuts and seeds, to make a really high calorie smoothie.
Nuts and Seeds
Nuts and seeds have great healthy fat and have a decent number of calories. They also contain protein, so they can help you meet your weight gain goals.
Here are some of the best nuts and seeds for smoothies:
Almond Butter or Whole Almonds
Peanut Butter or Whole Peanuts
Walnuts
Brazil Nuts
Pistachios
Cashews
Chia Seed
Hemp Seed
If you don't want any crunchiness in your smoothie, go for a creamy nut butter.
Fruit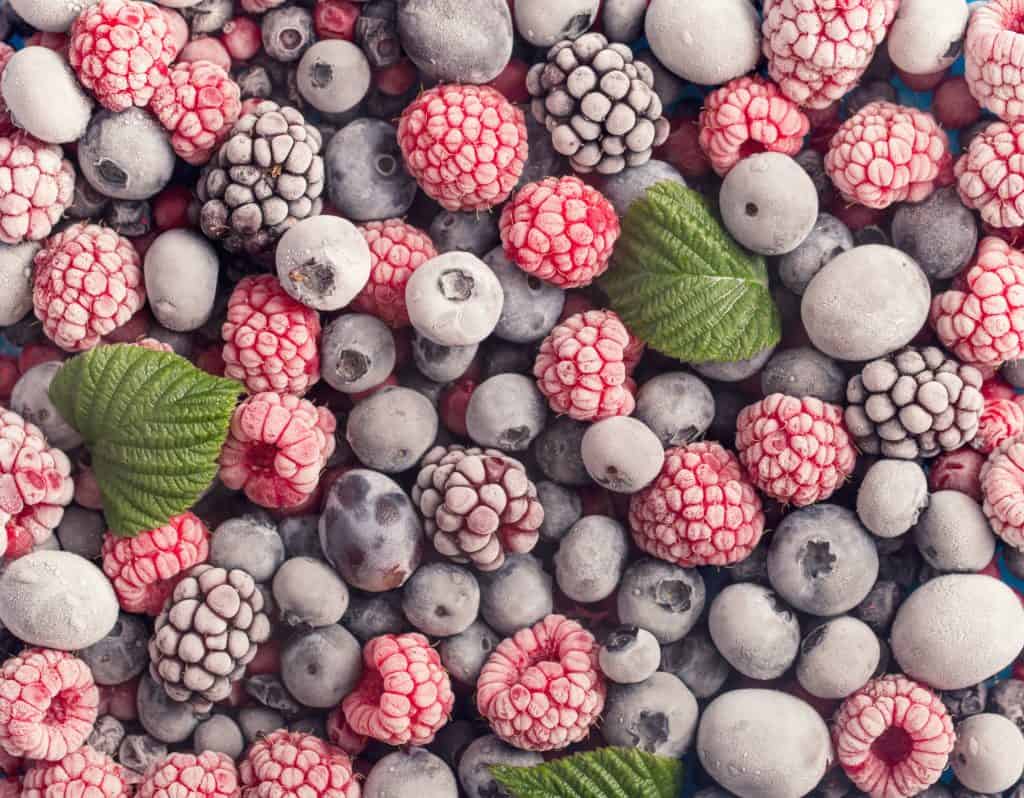 Fruit isn't really high in calories, but it will add a sweetness and burst of flavor to your smoothie that you just can't get with other ingredients, so it's a good idea to have at least one fruit in your smoothie recipe.
Try these delicious fruit options:
banana
mango
pineapple
kiwi
orange
grapefruit
strawberry
blueberries
blackberries
papaya
This list could go on and on, but suffice it to say I've never met a fruit I didn't like in a smoothie… except canteloupe because, well, I just don't like it anytime!
Frozen bananas are our go-to smoothie ingredient because they give a rich, delicous creaminess to any smoothie and add around 100 calories per banana.
Vegetables
While not high in calories, vegetables will add a nutritous punch to any smoothie.
Try these healthy vegetable options:
kale
swiss chard
spinach
carrots
sweet potato
pumpkin
celery
cucumber
avocado
I know, technically a couple of these are fruits, but since they aren't sweet we think of them as vegetables!
Liquids
When you're making a smoothie for weight gain, you want to skip the low calorie options, so don't go for water or skim milk here. Look for a high calorie liquid that will help you meet your goals.
Some great liquids for weight gain shakes are:
Whole Milk
Heavy Cream
Half and Half
Juices
Extra Creamy Nondairy Milks (Oat milk, coconut milk or nut milks like almond milk)
Soy Milk
You can get a really rich, milkshake-like texture with frozen bananas and one of the higher fat milk options, either dairy or nondairy. This makes it super easy to get down because it's delicious.
See more information on high calorie foods that can help with weight gain here
How to Make a Weight Gain Smoothie
Now that you know all the great ingredients you can add to your smoothie to make it a weight gainer, let's put it all together and make a delicious smoothie!
There are a few things you'll want to keep in mind when making your smoothie:
1. If you're using fresh fruit or vegetables, add them to the blender first. This will help them blend up better.
2. If you're using frozen fruit, add it next. This will help keep your smoothie cold and thick.
3. Add your liquid last. This will help prevent your smoothie from becoming too thin.
4. Start with a small amount of liquid and add more as needed. You can always add more, but you can't take it away!
5. When in doubt, add more frozen fruit. This will help thicken up your smoothie and make it more like a milkshake.
Tips for Making Weight Gain Smoothies
1. Choose high-calorie ingredients: When choosing ingredients for your smoothie, opt for those that are higher in calories and healthy fats.
2. Add a protein source: Protein helps to build muscle, so adding a protein powder or Greek yogurt to your smoothie is a great way to help with weight gain.
3. Avoid blending for too long: If you blend your smoothie for too long, you'll end up with a frothy drink that may not be as appealing.
4. Don't add too much liquid: If you add too much liquid to your smoothie, it will be too thin and won't have as many calories.
5. Drink your smoothie right away: Once you've blended your smoothie, drink it right away for the best results.
Recipes for Weight Gain Smoothies
Now that you know how to make a weight gain smoothie, here are some delicious recipes to get you started!
Chocolate Peanut Butter Banana Smoothie
Ingredients:
1 banana, sliced and frozen
1 cup whole milk
1/2 cup whole fat Greek yogurt
2 tablespoons peanut butter
1 scoop chocolate protein powder or 1 Tbsp cocoa powder
Directions:
1. Add banana, milk, yogurt, and chocolate peanut butter to a blender and blend until smooth.
2. If your smoothie is too thick, add more milk until desired consistency is reached.
3. Enjoy immediately!
Estimated Calorie Count: 664 depending upon protein powder used, if any
Strawberry Cheesecake Smoothie
Ingredients:
1 cup frozen strawberries
1/2 cup half and half
1/2 cup whole fat Greek yogurt
2 tablespoons cream cheese
1 tablespoon honey
Directions:
1. Add strawberries, milk, yogurt, cream cheese, and honey to a blender and blend until smooth.
2. If your smoothie is too thick, add more milk until desired consistency is reached.
3. Enjoy immediately!
Estimated Calorie Count: 466
Peach Cobbler Smoothie for Weight Gain
Enjoy a high calorie smoothie that tastes like peach cobbler!
Ingredients
1

cup

frozen peaches

1

frozen banana

1

cup

half and half

1/2

cup

full fat Greek yogurt

2

Tbsp

oats or almonds

1

Tbsp

honey
Instructions
Add all ingredients to blender.
Notes
Calories calculated as 706 using full fat Greek yogurt and oats.  Using almonds will increase it even more.
Nutrition
Common Questions about Weight Gain Smoothies
How many smoothies a day do you need to gain weight?
There is no set amount of smoothies you need to drink to gain weight. However, drinking one or two high calorie smoothies per day can help you to add extra calories and nutrients to your diet.
How long does it take to see results from drinking smoothies?
You may start to see results from drinking weight gain smoothies within a few weeks. However, it may take longer to see results if you are also working out and trying to build muscle.
Do weight gain smoothies work for everyone?
Weight gain smoothies can work for most people, but they may not work for everyone. If you find that you're not gaining weight after a few weeks of drinking smoothies, you may want to try adding more calories to your diet or working out more.
Can You Buy Weight Gain Smoothies Premade?
There really aren't very many premade smoothies on the market specifically for weight gain, but any smoothie that adds calories to your diet can help, just be careful about spiking your blood sugar with some of the ones that are mostly all fruit. That's not really good for you.
You can get some premade shakes that can add calories such as:
I'd skip the ones made for weight loss, like Slim Fast, and instead go for ones that are supposed to add nutrition like the ones above.
A good way to use a protein shake like these listed above is to use one as the liquid for your smoothie and add other ingredients, like a chocolate Ensure with peanut butter and banana, with a few other ingredients added in.
When purchasing a protein shake, look for ones with no added sugar if possible. Natural sugars are a great option, and artificial if you must, but use those sparingly if you pick them up.
Another option is to buy a powdered supplement meant for a healthy weight gain smoothie or shake that you can add to your smoothie, such as these:
Naturade Weight Gain Instant Nutrition Drink Mix, Vanilla ,20.3 Ounce
EFFECTIVE WEIGHT MANAGEMENT: High caloric density delivers a substantial 1600 calories per serving. Ideal for athletes, individuals that have difficulty maintaining weight, bodybuilders, or individuals with fast metabolisms, Naturade's Weight Gain is designed to help improve your caloric consumption.
BALANCED NUTRITION: Recognizing the significance of comprehensive nutrition, Naturade's weight management formula goes beyond just high-calorie content. It is equally abundant in carbohydrates and protein, providing an ideal blend to energize your muscles, promote lean mass accumulation, and aid in muscle management. Each serving gives you up to 46 grams of carbs and 20 grams of protein, perfectly supplementing your diet for optimal health and performance.
NATURAL INGREDIENTS: Naturade's Weight Gain nutrition drink mix is meticulously formulated with purely natural ingredients. We eschew artificial additives, colors, and preservatives to ensure you're only getting the pure goodness that supports your body's natural development. Free from artificial components, our mix presents a holistic and nutritious option for weight management.
GLUTEN – FREE: With the belief that quality nutrition should be accessible to all, our Weight Gain drink mix is gluten-free. This ensures that people with gluten sensitivities can safely include it in their diets. Furthermore, it's deliciously vanilla-flavored, offering a delightful taste while adhering to dietary needs and preferences.
AWARD WINNING FORMULA: Our Naturade Weight Gain drink mix, honored as the Best Weight Gain Product at the 2023 Vity Awards, delivers a substantial 1600 calories per serving. Packaged in a 20.3-ounce container with 12 servings, it ensures a durable supply for your nutritional needs. Our award-winning, stimulant- and steroid-free product promotes a natural, healthy weight management journey. Embrace the delicious vanilla flavor for an enjoyable and satisfying experience with every sip.
Sale
Optimum Nutrition Serious Mass Weight Gainer Protein Powder, Vitamin C, Zinc and Vitamin D for Immune Support, Chocolate, 6 Pound (Packaging May Vary)
High calorie weight gainer: 1,260 calories per 2-scoop serving
50 grams of blended protein per serving
Over 252 of carbohydrates per serving
22 vitamins and minerals including Vitamin C, Vitamin D, and Zinc to provide immune support
More versatility: Using an electric blender, add fresh or frozen fruits, peanut butter, nuts, and other calorie dense foods to boost your weight gain potential
Sale
Muscle Milk Gainer Protein Powder, Chocolate, 32g Protein, 5 Pound
Contains one (1) 5 pound cannister (about 14 servings) of Muscle Milk Pro Series Gainer Protein Powder Supplement. Packaging may vary. Shaker bottle sold separately
Key Features Muscle Milk Gainer Powder Contains 32 Grams of Protein, 3 Grams of Leucine From Milk Proteins, and 650 Calories in Every 4 Scoops (162g), the Recommended Usage for Individuals Looking to Build Size and Gain Muscle Mass
Usage Muscle Milk Gainer Powder Can Be Used Pre Workout, Post Workout or as an Anytime Protein Rich Meal Option or Snack
Great Tasting Shak Mix 4 scoops (162g) MUSCLE MILK Gainer Powder into 10 16 fluid ounces water for a Great Tasting Shak; You can also add it to pancakes, smoothies or other recipes to increase the protein content
Work Out; Refuel; Rebuild; Advance; Consuming Both Fast and Slow Release Proteins, Like Those Found in Muscle Milk Gainer, Helps Keep Your Body in Positive Protein Balance
Final Thoughts on How to Make Smoothies to Gain Weight
Smoothies are a great way to add extra calories and nutrients to your diet (especially green smoothies), and they can help you to gain weight. There are many different recipes for weight gain smoothies that are both delicious and healthy.
If you're looking to gain weight, drinking one or two high calorie smoothies per day can help you reach your goal.
Happy Blending!
Amanda