Strawberry Chia Lemonade Smoothie
Disclosure: This post may contain affiliate links, meaning I get a commission if you decide to make a purchase through my links, at no cost to you.
This Strawberry Chia Lemonade Smoothie is a refreshing and revitalizing way to beat the summer heat! This tasty blend combines sweet strawberries, tart lemon and lime juice, orange juice, tangy chia seeds, and a splash of maple syrup for a drink that's not only delicious but packed with superfoods too.
It's the perfect way to cool off and get your daily dose of vitamins at the same time! So what are you waiting for? Start sipping on something delicious and nutritious today!
Why We Love This Smoothie Made with Simple Ingredients
We love this strawberry chia lemonade smoothie for several reasons. First of all, it's a delicious and refreshing drink that our whole family enjoys and it reminds us of the smoothie at the Tropical Smoothie Cafe by the same name, which isn't available in our area anymore. The combination of sweet and tangy flavors make it a wonderful summer treat (of course it's delicious any time of year, though!).
Second, it's a nutritious option that provides essential nutrients like fiber, antioxidants, and omega-3 fatty acids. It's also an easy way to incorporate more fruits and vegetables into your diet, as blending them together makes it less intimidating for kids to try them and I will also add greens into our diet any way I can.
Thirdly, the recipe is simple and quick to prepare – all you need are a few basic ingredients and a blender. The recipe can easily be adjusted to make larger batches so that everyone in the family can enjoy the smoothie. I have to use the big blender jar to make enough for me and my four boys (and the hubs although he doesn't do smoothies as much as we do).
Finally, the recipe is highly customizable and versatile – you can experiment with different fruits and sweeteners to find the flavor combination that works best for you. This makes it exciting for kids as they explore new flavor combinations.
Fiber-rich and Delicious: How the Strawberry Chia Lemonade Smoothie supports a healthy gut
The Strawberry Chia Lemonade Smoothie is a great way to get an extra boost of dietary fiber. The chia seeds add a nutritious, crunchy texture to the smoothie and provide us with beneficial plant-based fiber which helps improve digestion, promote gut health, and regulate blood sugar levels.
This delicious smoothie also has other healthy ingredients like fresh strawberries, lemon juice, lime juice, maple syrup and orange juice. Not only does this smoothie provide plenty of fiber, but it's also full of vitamins and minerals to keep you feeling energized and nourished. A glass or two of the Strawberry Chia Lemonade Smoothie every day will help ensure you're getting enough fiber in your diet.
So why is fiber so important to our bodies? Fiber is an essential nutrient for our bodies, as it helps keep our digestive system running smoothly. High fiber diets can help to prevent constipation and maintain regularity. Fiber also helps to keep us feeling fuller longer, making it useful for managing your weight.
Additionally, fiber can benefit our bodies by reducing the risk of heart disease and diabetes, lowering cholesterol levels and reducing the risk of certain cancers. By eating enough fiber-rich foods like fruits, vegetables and whole grains, we can ensure that our bodies are getting all the nutrition they need for optimal health.
The best part about getting your fiber from a smoothie like Strawberry Chia Lemonade is that it tastes so amazing that you won't even realize how healthy it is! The combination of sweet and tangy flavors give it an indulgent taste, while the chia seeds provide a boost of fiber without you needing to do any extra work.
Not only is this delicious smoothie good for your health, but it also gives you a great way to sneak in more fiber without having to worry about feeling bloated or heavy afterwards. So next time you're looking for a treat that will also benefit your body, reach for the Strawberry Chia Lemonade!
Ingredients in Our Strawberry Lemon Smoothie with Chia Seeds
Strawberries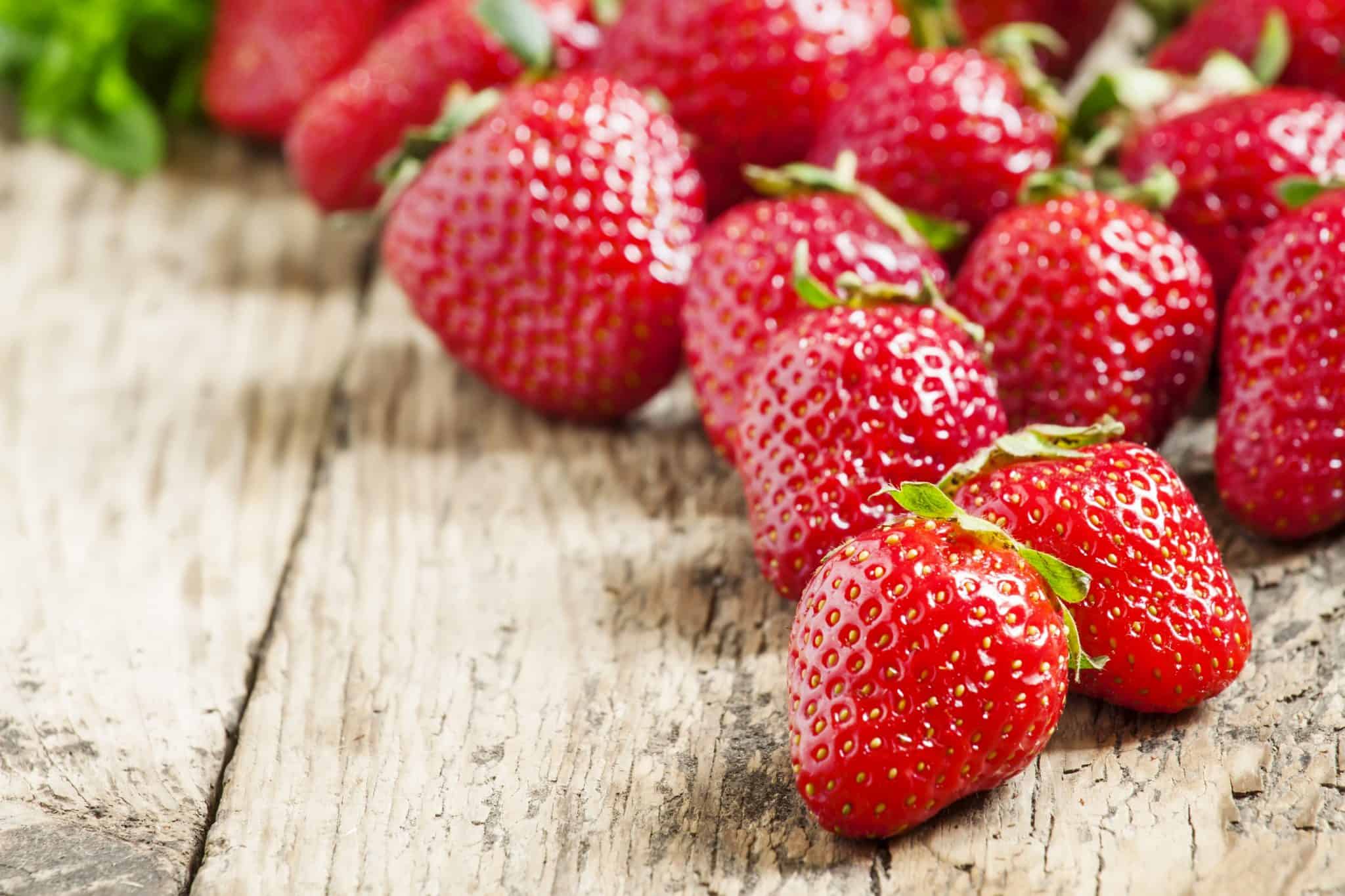 Strawberries are packed with vitamin C and fiber, making them excellent choices for smoothies. They also are low in calories and high in natural sugars so they are perfect for a refreshing and easy strawberry lemonade smoothie recipe like this one.
You can use fresh or frozen strawberries for this recipe.
Orange Juice
Orange juice is also packed with vitamin C. The orange juice gives us the liquid we need to blend this smoothie into its creamy texture, and the natural sweetness of the fruit shines through without any added sugar.
Look for pure orange juice without any additives or refined sugars, or better yet make your own.
Lemon Juice and Lime Juice
A bit of lemon juice and lime juice help to tame the sweetness of this smoothie. It gives the tartness you would expect from a lemonade. Fresh squeezed is best, but if you only have bottled that's fine. It's okay to use all lemon juice or lime juice if you don't have both. A bit of lemon zest really is wonderful, too!
Chia Seeds
Here is where we get our fiber and a wonderful texture! I love adding organic chia seeds to my smoothies. They are full of omega-3's for brain health, antioxidants to protect against free radicals and fiber to get our digestive tracts moving.
Most all grocery stores carry black chia seeds in their natural foods section or the baking section of the store.
Maple Syrup
The kids wanted just a tad more sweetness to their smoothies, so I added in a bit of pure maple syrup. You can also use honey or agave nectar, or leave it out.
You'll Also Love These Other Chia Seed Drinks
How to Customize This Easy Smoothie
Here are a few ways you can customize a Strawberry Chia Lemonade Smoothie:
Adding greens: To make the smoothie even healthier and boost its nutrient content, try adding some spinach or kale. These greens will blend seamlessly into the smoothie and give it a nice boost of vitamins and minerals.
Adding protein: To make the smoothie more satisfying and filling, try adding a scoop of protein powder. This can be whey protein, plant-based protein or even Collagen protein, it will make your smoothie more satiating and nutritious.
Adding nuts: To add a boost of healthy fats, protein, and flavor, try adding a tablespoon of your favorite nuts, such as almond or cashew. This will add a nice crunch and some extra nourishment to your smoothie.
Using frozen fruits: To make the smoothie thicker and creamier, try using frozen fruits instead of fresh. Frozen fruits will make the smoothie slushy, giving it a nice texture and will also help keep it cool for a longer period of time.
Using different fruits: To switch up the flavor profile, try using different types of fruits. For example, you can use raspberries, blueberries, blackberries, or even some tropical fruits like mango, papaya or pineapple.
Adding superfoods: To boost the nutritional value, you can add ingredients such as acai, maca powder, or turmeric. These superfoods will give an extra boost of antioxidants, vitamins, and minerals to the smoothie.
Using different sweeteners: You can switch up the sweetener depending on your preference or dietary restrictions. Instead of honey, you can use maple syrup, agave, or dates as a natural sweetener.
These are just a few ideas for customizing a Strawberry Chia Lemonade Smoothie. Experiment with different ingredients and find the combination that works best for you. Remember that there is no wrong way to make a smoothie and the possibilities are endless.
Strawberry Chia Lemonade Smoothie
Enjoy a delicious refreshing lemonade smoothie with our easy recipe.
Ingredients
1

cup

strawberries

(fresh or frozen)

1 1/2

cup

orange juice

2

Tbsp

lemon juice

1

Tbsp

lime juice

1/4

cup

chia seeds

1

Tbsp

maple syrup

(optional)
Instructions
Soak chia seeds in just enough water to cover for at least 10 minutes to soften.

Add all ingredients to blender.

Blend on high speed until smooth.
Tips for Troubleshooting Any Problems
If the smoothie is too thick and difficult to blend, try adding more water or ice to adjust the consistency.
If the smoothie is too sweet or too tart: If the smoothie is too sweet, try adding more lemon juice to balance out the sweetness. If the smoothie is too tart, try adding more honey or other sweeteners to sweeten it up. Adjust the sweetener to your preference.
If the smoothie has bits of undissolved chia seeds: To prevent this, make sure to soak the chia seeds first before adding the rest of the ingredients.
If the smoothie is too thin, this can happen if you add too much liquid, or if the fruits you're using are not ripe enough. To fix this, try adding more strawberries or chia seeds and blend again.
Final Thoughts on Our Strawberry Chia Lemonade Smoothie
The Strawberry Chia Lemonade Smoothie is a delicious and nutritious beverage that the whole family can enjoy. It is an easy way to get more fruits and vegetables into one's diet, while also providing a refreshing and satisfying drink on hot summer days. The recipe is simple to follow, and once it's mastered you can have fun experimenting with different fruits and ingredients to create your own unique smoothies.
Overall, the Strawberry Chia Lemonade Smoothie is a tasty, healthy option for families looking for something both hydrating and cooling in the summer heat. Don't be afraid to customize it- with so many possibilities, you are sure to come up with something special!
Happy Blending!
Amanda