Post Workout Smoothie for Weight Loss
Disclosure: This post may contain affiliate links, meaning I get a commission if you decide to make a purchase through my links, at no cost to you.
If you're looking for a great post-workout smoothie that will help you lose weight, you've come to the right place. This delicious and nutritious smoothie is packed with protein and healthy carbs, perfect for refueling your body after a hard workout. So why not give it a try?
What's the Right Type of Post Workout Smoothie to Lose Weight?
There are a lot of different post workout smoothie recipes out there, but not all of them are created equal. If you're looking for a smoothie that will help you lose weight, it's important to choose one that contains both carbohydrates and protein. Why? Because these two nutrients are essential for helping your body recover after a workout.
In fact, the Mayo Clinic states that you should eat a meal or snack "that contains both carbohydrates and protein within two hours of your exercise session if possible". (1)
This smoothie contains both, with carbohydrates from fruit and oats and also protein from Greek yogurt – perfect for a post workout smoothie.
Why We Love This Cranberry Banana Post Workout Smoothie
I've been on a quest this year to lose weight and smoothies (especially protein smoothies) have been a huge help in my endeavors. When I decided to add workout to my mix after just dieting, I knew I needed more help with my nutrition than just watching calories/carbs/etc.
So I went to work researching the best things to fuel your body after a workout that will help with weight loss. I have extensive education in nutrition and have even taught nutrition science for years in TN, so I put all my knowledge to use to help me properly fuel my body. I've known what to do for a long time but haven't put it into practice… until now, and the results have been great!
(You can see some of my results at the bottom of this post)
I usually make this for myself, but I also make it for my kids who adore smoothies as much as I do!
If you're looking for weight gain smoothies, you can find that info here
Ingredients in Our Post Workout Smoothie for Weight Loss
Cranberry
Cranberries are high in fiber and low in calories, making them a great addition to any weight loss diet. They're also full of antioxidants and vitamin C, which can help reduce inflammation throughout the body. Plus, they give a unique flavor to this blend.
Use fresh when available and frozen when they are out of season. Either way it's delicious.
Banana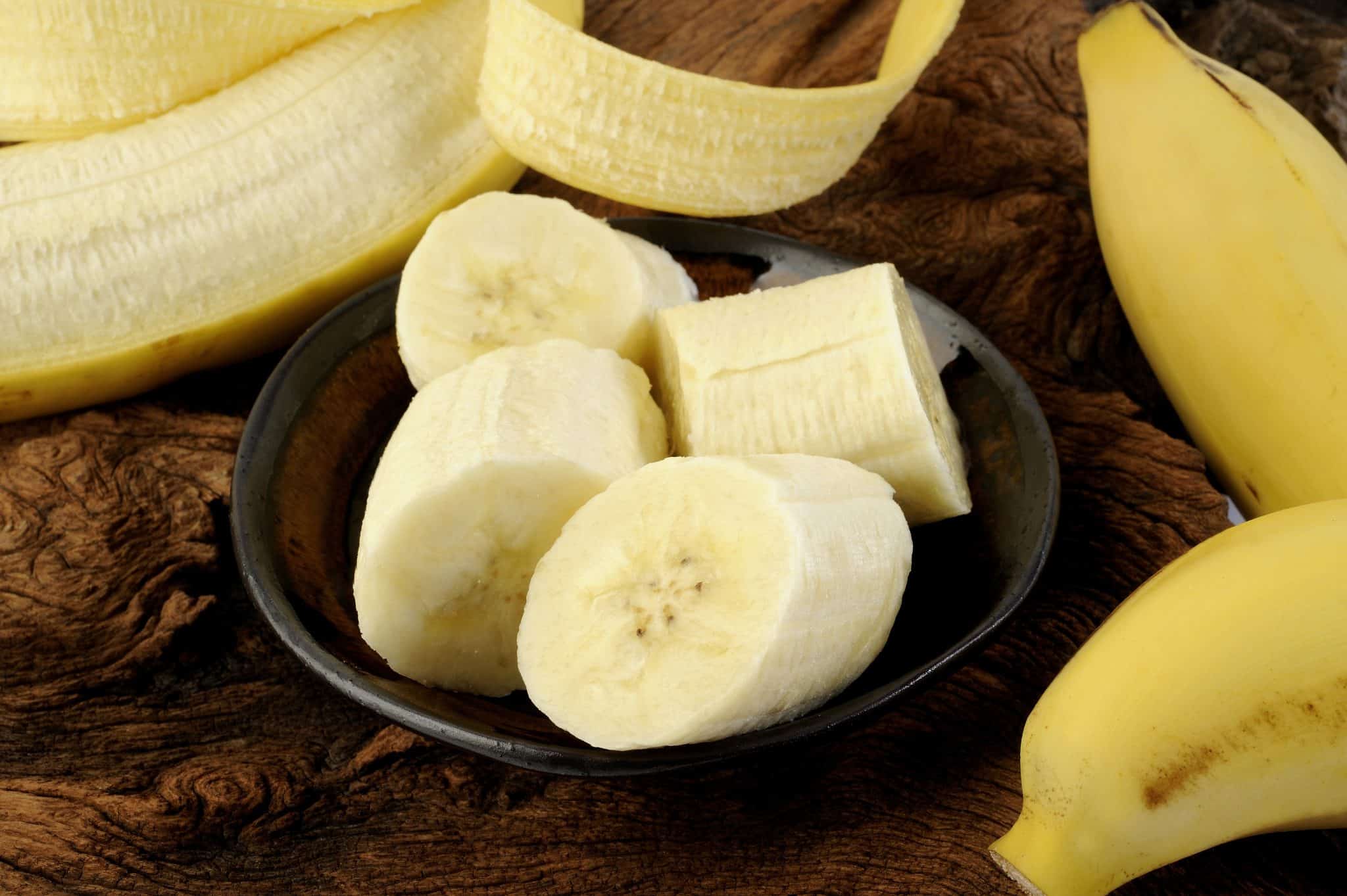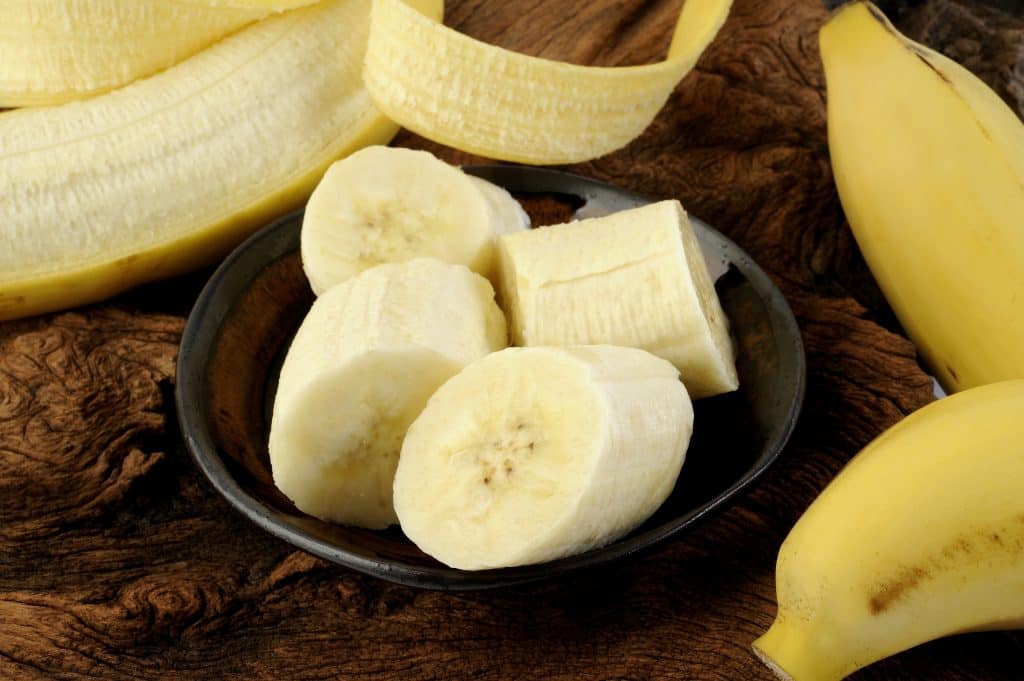 Bananas are a great source of carbs and potassium, both of which are essential for post-workout recovery. Carbs help replenish glycogen stores, while potassium helps to regulate blood pressure and electrolyte balance.
This fruit is also a good source of vitamins C and B6, which can help boost immunity. Choose over ripe bananas for the best flavor and sweetness. I also like to use a frozen banana for a creamy texture (we adore a banana smoothie in our house!).
Greek Yogurt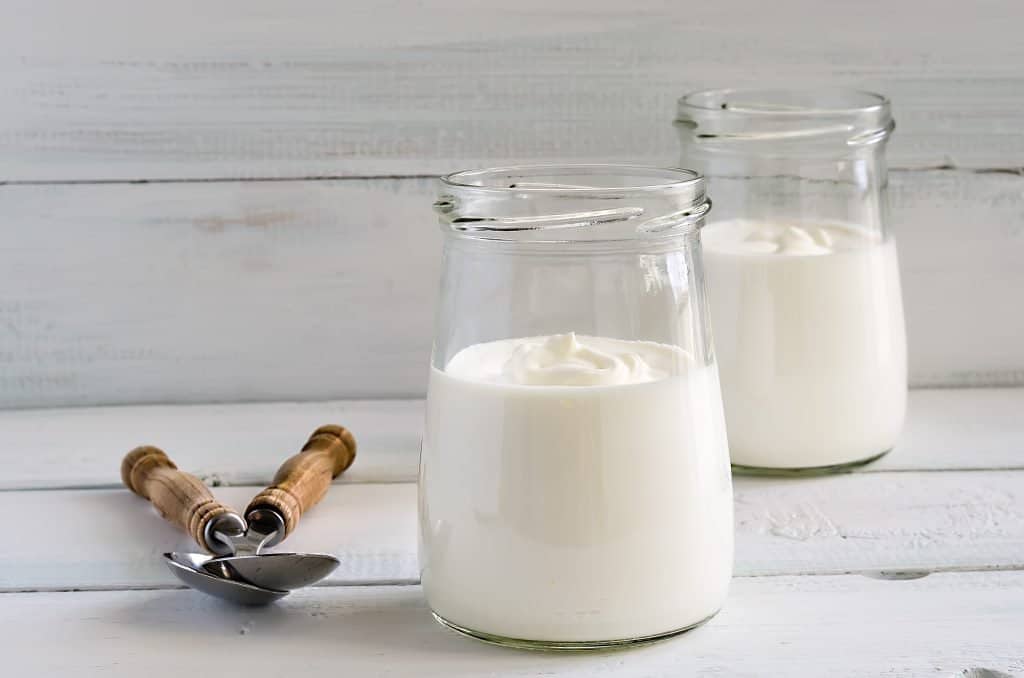 I love using Greek yogurt in smoothies because it's so creamy and packed with protein. Protein is essential for post-workout recovery, as it helps to repair and rebuild muscles. Greek yogurt is also a good source of calcium, which can help strengthen bones.
Unsweetened vanilla or plain yogurt work best in this recipe, but feel free to use any flavor you like. Just be sure to check the sugar content before adding it to your smoothie.
Oats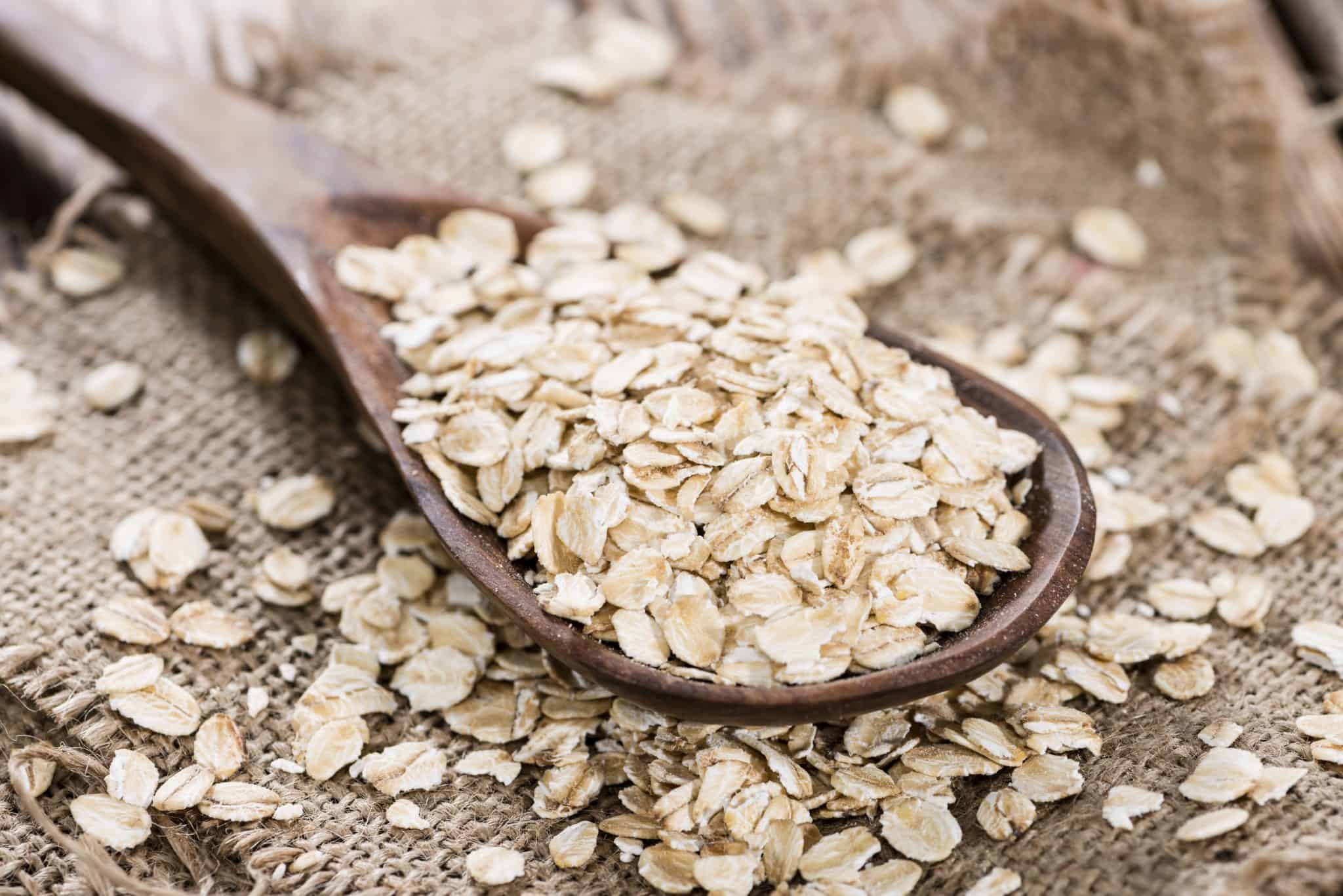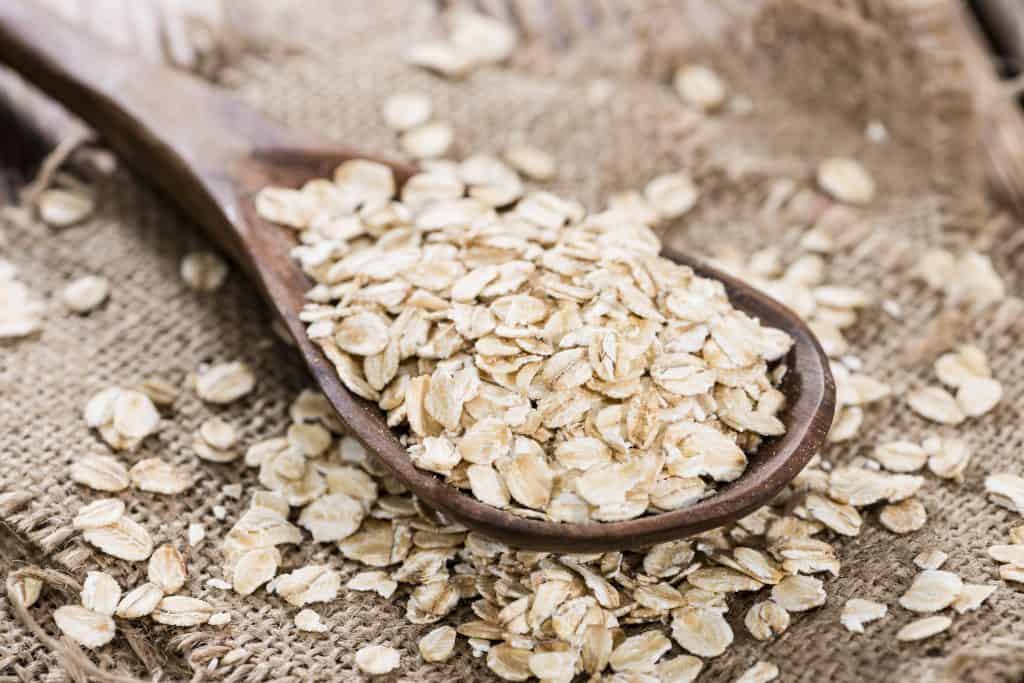 I like to add oats to this smoothie for two reasons: they're a great source of carbs and they help to thicken the blend. Carbs are essential for post-workout recovery, as they help to replenish glycogen stores. Oats are also a good source of fiber, which can help to regulate digestion.
I use rolled oats in this recipe, but you can use quick oats (or even steel cut oats) if you prefer.
Oat Milk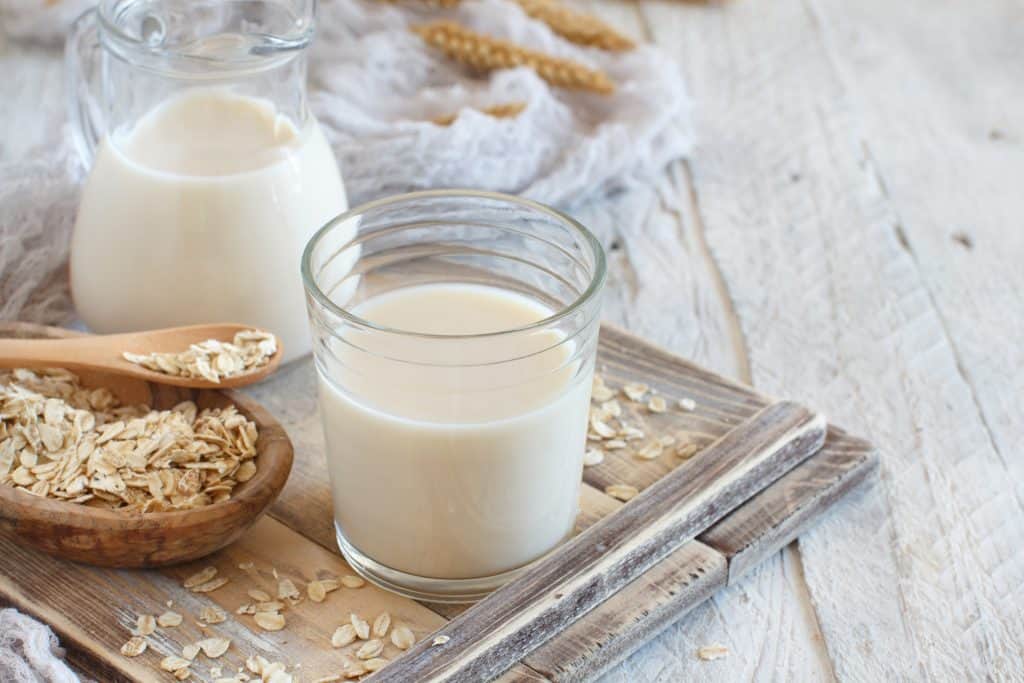 I like to use oat milk in this smoothie because it's creamy and nutritious. Oat milk is a good source of carbs and protein, both of which are essential for post-workout recovery. It's also a good source of fiber, which can help regulate digestion.
You can use any type of milk you like in this recipe (unsweetened almond milk, coconut milk, etc), but I prefer oat milk because it's less likely to cause stomach upset after a workout. I really love the Chobani Extra Creamy Plain.
If you don't want to use milk, try green tea, coconut water or even juice.
How to Blend this Post Workout Smoothie Recipe
This smoothie is really easy to make! Just add all of the ingredients to a blender and blend until smooth.
If you find that the smoothie is too thick, add more oat milk until it reaches your desired consistency. If you find that it's too thin, add more banana or oats.
You'll Love These Other Weight Loss Smoothies
How to Customize This Healthy Protein Smoothie Recipe
Make it a green smoothie: Leafy greens are some of the best things on Earth you can eat. They provide a ton of nutrients in a very low calorie package. Toss in some spinach, swiss chard or kale. If you're new to greens, go with spinach and start with just a few leaves, gradually adding more as you get used to green smoothies. Spinach hides will in most smoothies because of its neutral taste.
Add more protein: If you want to make this smoothie more of a meal replacement, add a scoop of protein powder. I like to use a plant based vanilla protein powder, but any type will work (whey protein, egg white protein, etc). You could also add a few tablespoons of chia seeds or nut butter such as almond butter or peanut butter for a boost of healthy fat and protein.
Get your fruit fix: This smoothie is already packed with fruit, but you could always add more! Toss in an extra banana, some berries or a few chunks of pineapple or frozen mango (always a favorite!). If you use frozen fruit, you may need to add a little more liquid to the blender.
Make it sweeter: If you find that this smoothie isn't sweet enough for your taste, add a little honey, agave nectar or maple syrup. I like to add a few dates for sweetness and an added boost of nutrients. You could also use stevia or monk fruit if you find that the cranberries are too tart for your taste.
Make it a smoothie bowl: Simply reduce the amount of liquid called for in the recipe, blend as directed and then pour into a bowl. Top with your favorite toppings such as granola, shredded coconut, nut butter or fresh fruit. This makes a great breakfast or snack!
Common Questions about Post Workout Smoothies
What should I drink after a workout to lose weight?
A combination of carbohydrates and protein is perfect for an after workout snack, and this smoothie contains both with fruit, oats and Greek yogurt. Other drinks you should consider after a workout are green tea, a protein shake or coconut water.
Are smoothies good for post workout?
Smoothies are a great option for post workout recovery because they're easy to digest and packed with nutrients. This particular smoothie is high in carbs and protein, both of which are essential for post workout recovery.
How many calories should I consume after a workout?
The number of calories you need after a workout depends on a number of factors, including your weight, workout intensity and length, and recovery goals. Generally speaking, you should consume around 200-300 calories after a moderate workout and up to 500 calories after a more intense workout.
What is the best time to drink a post workout smoothie?
A post workout smoothie is best consumed within two hours of completing your workout, ideally within 30 minutes. This ensures that your body gets the nutrients it needs to recover properly. If you're not able to drink your smoothie right away, make sure to store it in the fridge and consume within 24 hours.
Post Workout Smoothie for Weight Loss
Enjoy a healthy combination of protein and carbohydrates in this easy smoothie recipe.
Ingredients
1/2

cup

cranberries

(fresh or frozen)

1

medium

banana

(frozen)

1

cup

Greek yogurt

(plain or vanilla)

1/2

cup

oats

1

cup

oat milk

(extra creamy works best)
Instructions
Add all ingredients to blender.

Blend on high sped until smooth.
Final Thoughts on This Post Workout Smoothie for Weight Loss
As someone who now works out regularly, I know how important it is to refuel my body afterwards with a combination of carbs and protein. This smoothie is perfect for that! It contains fruit, Greek yogurt, oats and oat milk for a creamy, dreamy smoothie that's packed with nutrients and perfect post workout.
I hope you enjoy this post workout smoothie for weight loss as much as I do!
Happy Blending!
Amanda