Easy Kiwi Smoothie Without Banana
Disclosure: This post may contain affiliate links, meaning I get a commission if you decide to make a purchase through my links, at no cost to you.
If you're looking for a delicious and healthy smoothie recipe that doesn't contain banana, you've come to the right place. This easy kiwi smoothie is gluten free, dairy free and contains no added sugar.
It is made from simple ingredients: kiwi, spinach, apple, lime juice, chia seeds and coconut water. So why not give it a try?
Why We Love This Easy Kiwi Smoothie Recipe
We love trying new smoothies in our house, and you'll find a lot of smoothie recipes here made with banana, but sometimes you either don't want banana in your smoothie or you don't have one on hand.
My boys and I constantly try new flavor combinations, and this smoothie with kiwi, spinach and apple was a huge hit. The flavors go really well together, and the addition of chia seeds just takes it up a notch, both in health benefits and texture.
This smoothie is low calorie, low fat, gluten free, vegan and contains no added sugar, plus it tastes great – what more can you ask for?
Ingredients in Our Healthy Smoothie Recipe
Kiwi
Kiwi fruit is really the star of the show in this recipe. These small fuzzy fruits are amazing powerhouses of nutrition with very high levels of vitamin C and also potassium, copper, vitamin K, folate, and Viamin E. (Read more about the health benefits of kiwi here)
We use fresh kiwi in our smoothies. The only way I find frozen kiwi around here is in a bag of mixed tropical fruit, and my kids are not a fan of it frozen. If you use the green kiwi with brown fuzzy skin, make sure to peel it before adding to your blender.
Spinach
Spinach is one of those leafy greens that I always have on hand. It's an ingredient we use a lot in smoothies because it's so healthy and my kids don't even notice it, except for the color.
Spinach contains Vitamins A and K, plus magnesium, manganese, folate, iron, copper, calcium, and potassium. (source)
You can use fresh or frozen spinach in this recipe. I usually have a large tub of baby spinach in my fridge, but if we don't use it fast enough I will freeze it and use it later.
Apples
Another smoothie staple in our house is apples. I buy them by the bagful and they never go to waste. We use them in smoothies, cooking and for fresh eating. The kids can't get enough.
Of course, apples also have many health benefits including being a good source of fiber and vitamins A and C.
You can use any variety of apples in this recipe. We used green apples, but if you want it a bit sweeter use Pink Lady (my favorite), Gala or Fuji (or any variety you wish).
Lime Juice
I like to add a little bit of lime juice to this smoothie for a bit of tartness to balance out the sweetness from the apples. You can use fresh or bottled lime juice, whichever you have on hand.
If you have lemon juice on hand, you can easily substitute it for the lime juice.
Chia Seed
I add chia seeds to most of our smoothies because they are so good for you. Just a small amount contains fiber, protein, calcium, magnesium, and omega-3 fatty acids. (source)
If you don't have chia seeds on hand, you can leave them out or substitute ground flaxseed.
Coconut Water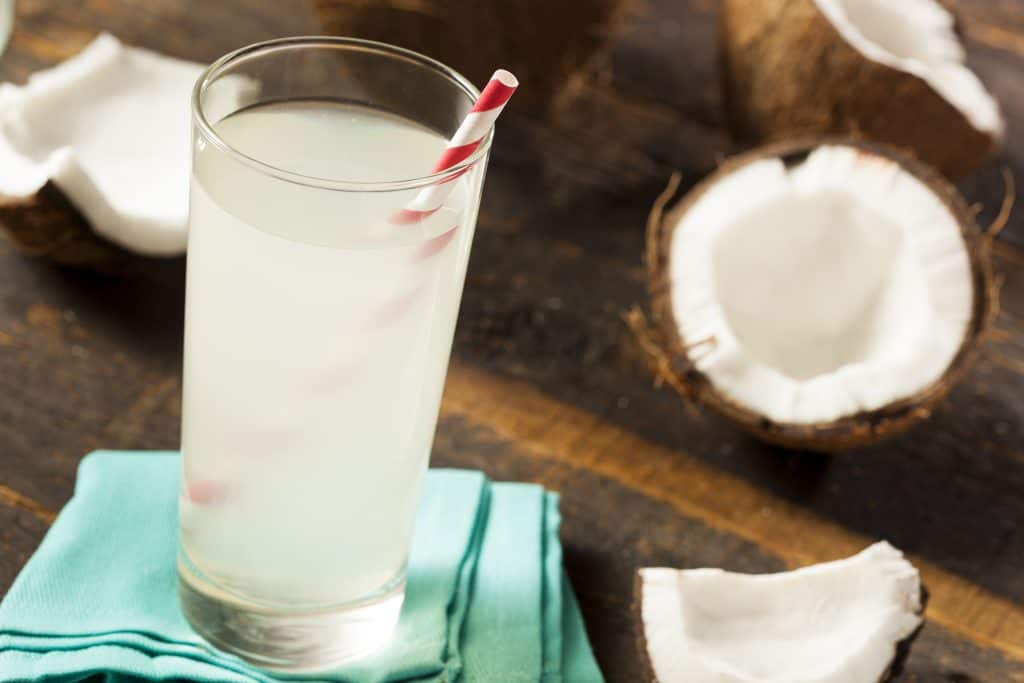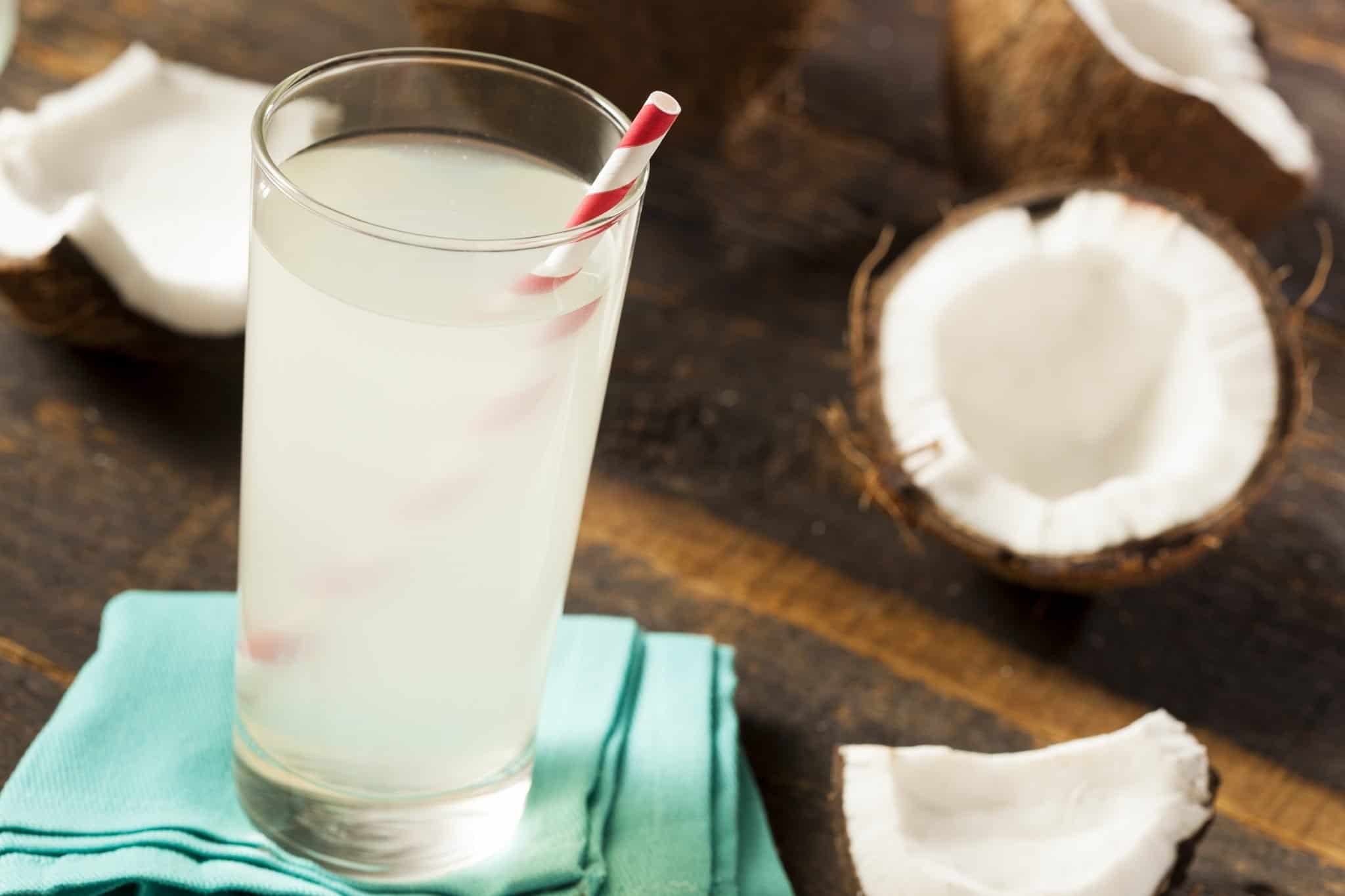 To thin out the smoothie and add a little more liquid, I use coconut water. You can also use water, milk (dairy or non-dairy), or juice.
Coconut water contains electrolytes, so it's especially good to use if you are working out or sweating a lot.
How to Make This Easy Kiwi Smoothie Recipe
Now that you know all about the ingredients, let's get to the recipe. This smoothie comes together quickly and easily with just a few simple steps.
First, add the kiwi, spinach, apples, lime juice and chia seeds to your blender. I like to use my Vitamix, but any blender will do.
Next, add the coconut water (or other liquid) and blend until smooth.
That's it! Pour into glasses and enjoy.
If you want to dress it up a bit, you can garnish with a slice of kiwi, lime, mint leaves, fresh strawberries or apple.
This smoothie is best enjoyed right away, but you can store leftovers in the fridge for a few hours. Just give it a good shake before drinking.
You'll Love These Other Healthy Smoothie Recipes
How to Customize This Easy Green Kiwi Smoothie Recipe
Make it greener: Add kale, swiss chard or other leafy greens. You could even add a scoop of super greens powder for a huge nutritional boost.
Add protein: If you want to make this a meal or post-workout smoothie, add a scoop of protein powder. I like to use grass-fed whey protein or plant-based proteins like hemp or pea protein. You can also add Greek yogurt.
Make it sweeter: If the apples aren't enough to sweeten this smoothie for your taste, add dates, honey or agave nectar. Even stevia and monk fruit sweeteners are good choices. You can also add other frozen fruit, such as frozen berries, mango or pineapple to add natural sweetness. Substituting orange juice for the coconut water can sweeten as well.
Make it creamier: If you want a richer smoothie, add coconut milk, almond milk or other dairy-free milk. You could also add a scoop of nut butter or avocado.
Make it a smoothie bowl: Pour this smoothie into a bowl and top with your favorite toppings. I like to add fresh fruit, granola, nuts or seeds. If your mixture is too thin, add ice cubes and blend again.
Add superfoods: If you want to make this smoothie even healthier, add a scoop of greens powder or other superfoods like acai powder, spirulina or chlorella.
The possibilities are endless, so have fun and make this smoothie your own!
Kiwi Smoothie Without Banana
Enjoy a delicious smoothie made with simple ingredients that does not contain banana.
Ingredients
3

medium

kiwis

(peeled and sliced)

1

cup

spinach

2

medium

apples

(cored and sliced)

2

tsp

lime juice

1

Tbsp

chia seeds

1

cup

coconut water
Instructions
Add all ingredients to blender.

Blend on high speed until smooth.

If you want to dress it up a bit, you can garnish with a slice of kiwi, lime or apple.
Final Thoughts on Our Kiwi Smoothie Without Banana
This easy kiwi smoothie recipe is a great way to start your day or enjoy as a snack. It's gluten free, dairy free and contains no added sugar. It's made with simple ingredients and comes together quickly and easily. You can customize it to make it just the way you like it. So go ahead and give this easy kiwi smoothie recipe a try today!
Happy Blending!
Amanda