Spinach Raspberry Smoothie (Quick and Easy)
Disclosure: This post may contain affiliate links, meaning I get a commission if you decide to make a purchase through my links, at no cost to you.
Looking to eat healthier but don't know where to start? Smoothies, such as this spinach raspberry smoothie, are a great way to pack in nutrients in a tasty little package.
This recipe uses only four simple ingredients – spinach, soy milk, raspberries and rolled oats for an easy and quick meal or snack.
Why We Love This Easy Spinach Smoothie
Our family loves smoothies, which is why we have an entire blog about them, and we love trying out new combinations. This smoothie was a test to see if we could use less fruit and more greens and still make an amazing smoothie. The answer is yes!
With just four easy ingredients we whipped up this spinach raspberry smoothie and everyone loved it. If you are newer to green smoothies, you might want to add in some sweeter fruit (banana, mango or pineapple) or maybe a bit of sweetener, but if you are used to the taste of greens like we are, then try it as is.
Ingredients in Our Spinach Raspberry Smoothie Recipe
Here are the simple smoothie ingredients you need for this recipe:
Spinach
We love to use raw spinach in our smoothies and you'll find a container of raw baby spinach in the fridge almost always (sometimes it's baby kale or power greens). We love fresh spinach leaves because the taste is mild and they hide well in smoothies. It's also okay to use frozen spinach.
Plus, spinach is also great for you! It has tons of vitamins, especially Vitamin K and folate, as well as several minerals and fiber. It's a great way to add some extra greens into your diet!
_________________
Raspberries
Raspberries are one of our favorite fruits to use in smoothies because they are so sweet and delicious. We usually buy them frozen because they are cheaper that way and they blend up just as well.
When they are in season we will use them fresh, especially when we get them from our own raspberry bushes (although the kids usually eat them before they make it to a smoothie lol), but frozen raspberries are used a lot more commonly for us.
Raspberries are also a great source of fiber and antioxidants, which are important for good health.
_________________
Soy Milk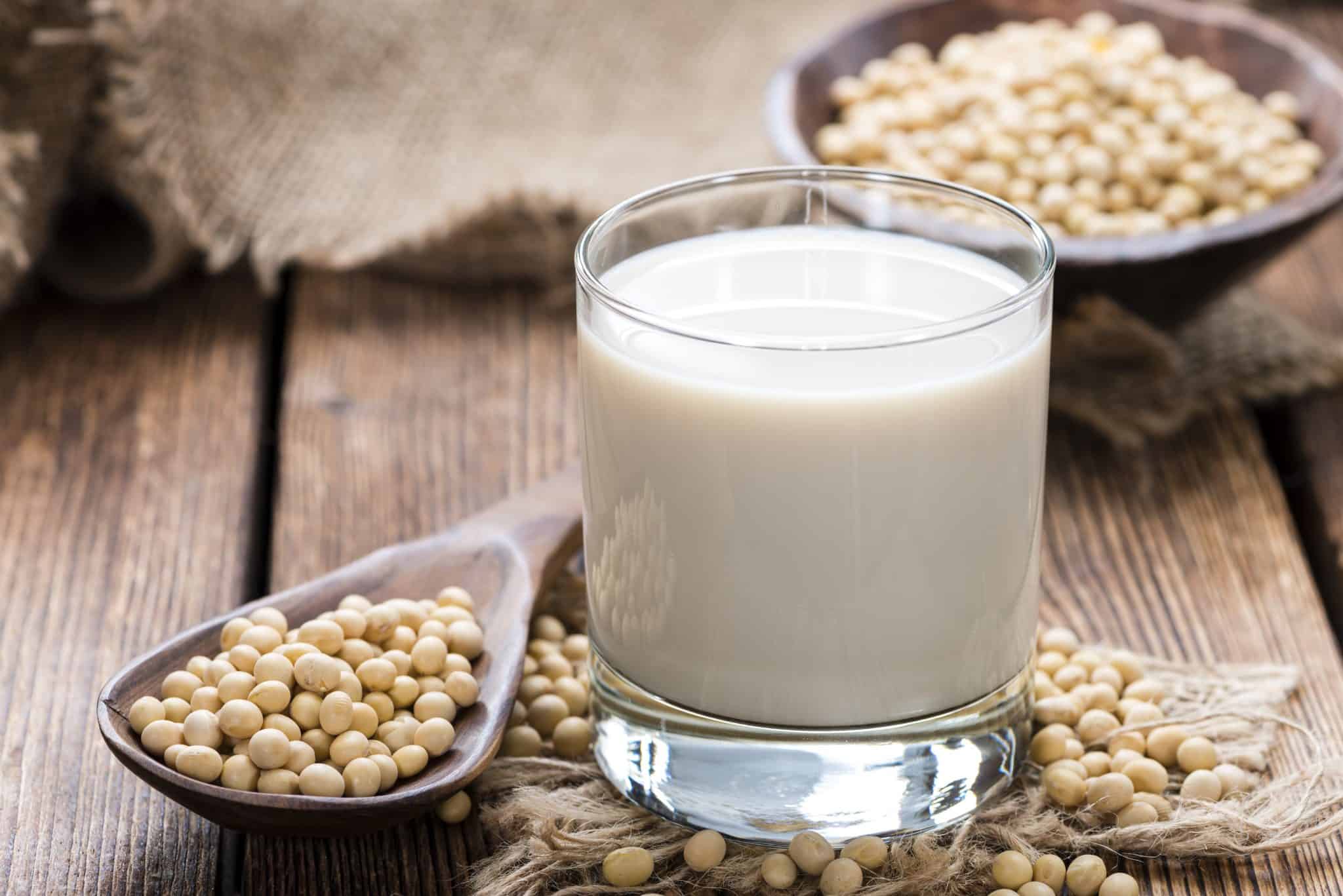 We used soy milk in this smoothie because it is a good source of protein and we like the taste. It has more protein than many other varieties of nondairy milk, and we have a dairy free kiddo so we regularly use vegan milk.
You can use any type of milk that you like in this recipe, including almond milk, coconut milk, cashew milk or even regular cow's milk.
_________________
Rolled Oats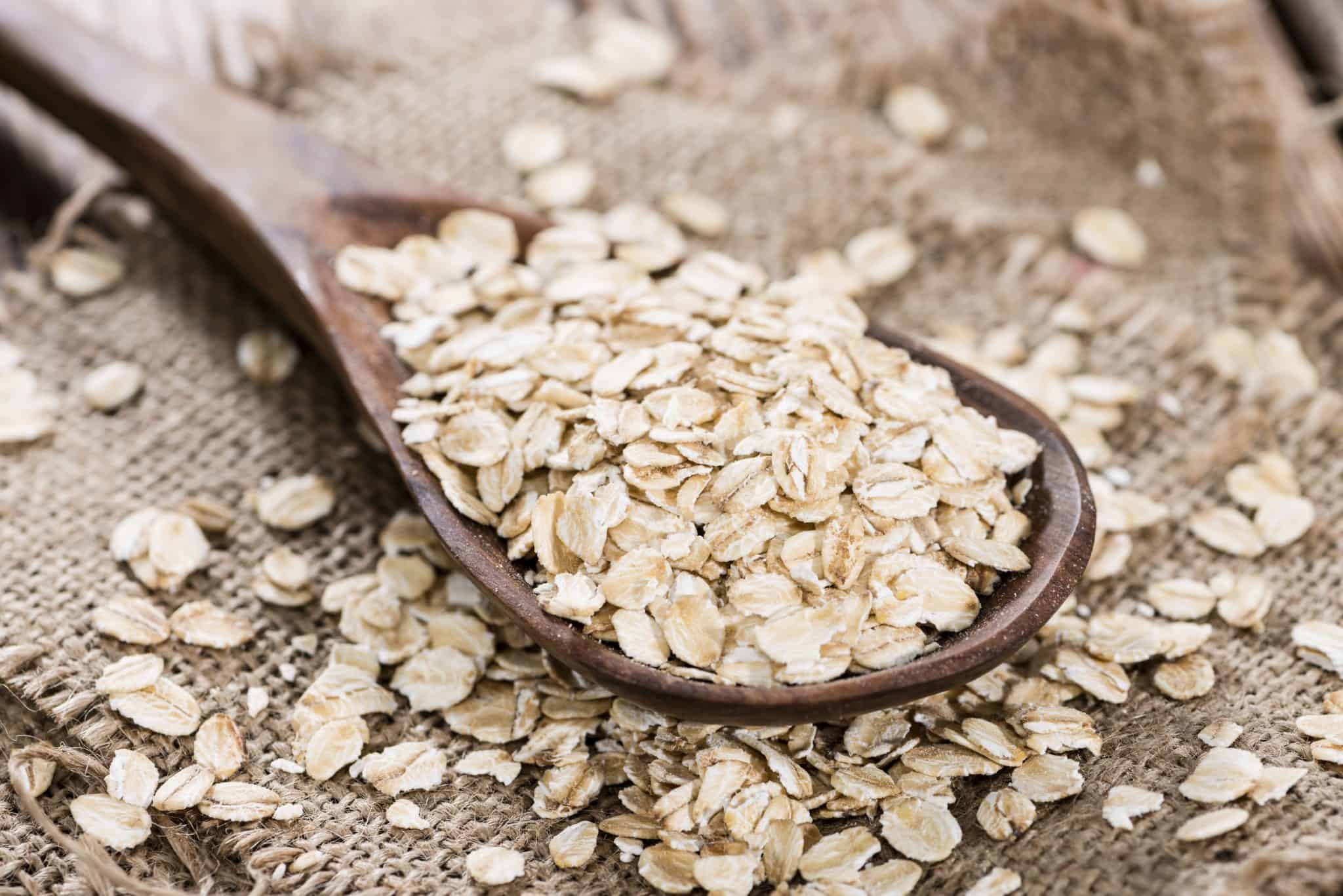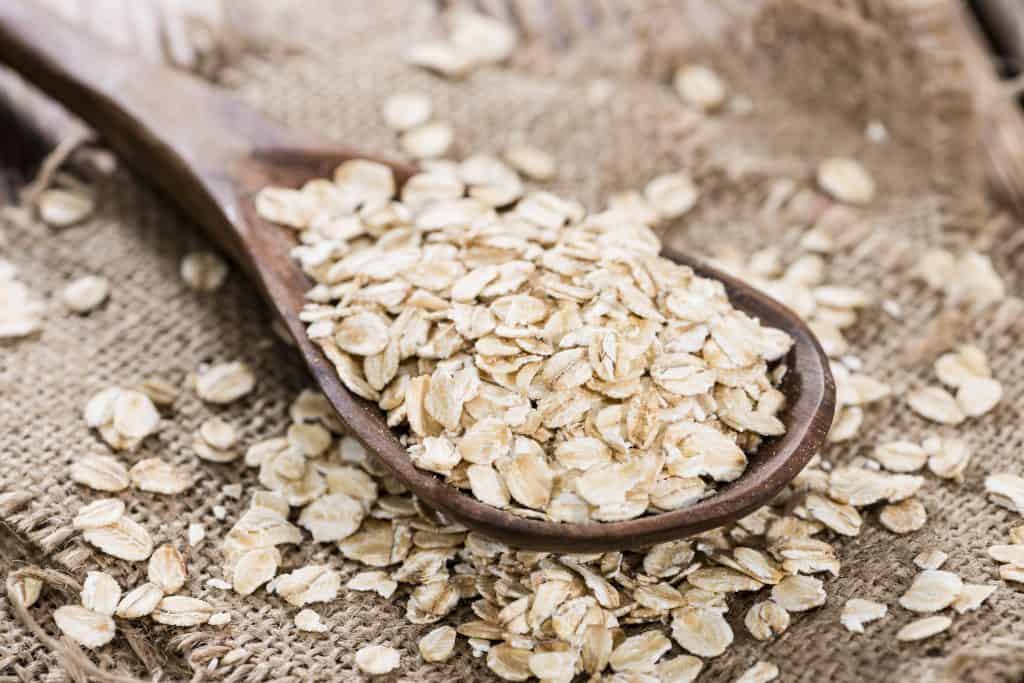 The rolled oats help to thicken the smoothie and make it more filling. We like to use old-fashioned rolled oats, but you can use quick oats if you prefer.
If you are gluten-free, be sure to use gluten-free oats.
---
How to Make This Easy Spinach Smoothie Recipe
This smoothie could not be easier to make! Simply add all of the ingredients into a blender and blend until smooth.
If you find that your blender is having trouble blending up the spinach, you can add a little bit more liquid (milk or water) to help it along.
We like to add our frozen berries into the blender first so that it has a chance to start thawing and blending before we add the spinach. This helps to prevent big chunks of frozen fruit in the final smoothie.
Once everything is blended up, pour into glasses and enjoy!
This recipe makes two small smoothies or one large one. If you are making it for yourself, we recommend making the full recipe and storing the leftovers in the fridge for later in the day.
One thing to note – this smoothie does separate a bit after sitting, so just give it a good stir before drinking.
Other Spinach and Raspberry Smoothies You Might Like:
How to Customize This Green Smoothie Recipe
Add more protein: If you want to add more protein to this smoothie, you can do so by adding in a scoop of protein powder or adding in nut butter such as peanut butter or almond butter, or even Greek yogurt. (Nut butter will also add healthy fat, as will avocado)
Add sweetness: If you find that this smoothie isn't sweet enough for your taste, you can add in a banana, some pineapple or even a little bit of honey or agave nectar. My choice is a frozen banana.
Make it greener: If you want to add more greens into this smoothie, feel free to do so! We often add in a handful of power greens or kale along with the spinach, and sometimes even a greens powder.
Change out the fruit: If you don't like raspberries or can't have them for some reason, feel free to use another type of berry such as strawberries, blueberries or blackberries. (Make a mixed berry smoothie!) You could even use a different fruit such as mango, peach or pineapple. Frozen fruit works especially well.
Change out the liquid: You can use any milk you like for this recipe including nut milk, oat milk, dairy milk or even water or coconut water. Green tea or white tea is also delicious in smoothies! You could even get a Vitamin C boost by using orange juice!
Spinach Raspberry Smoothie
Enjoy this easy spinach raspberry smoothie made with only four simple ingredients.
Ingredients
3

cups

spinach leaves

1

cup

soy milk

1

cup

raspberries

1/4

cup

rolled oats
Instructions
Add all ingredients to blender.

Blend until smooth, adding more soy milk if needed.
Common Questions about Spinach Raspberry Smoothies
Are fruit and spinach smoothies healthy?
Yes, fruit and spinach smoothies are healthy! They are a great way to get in your daily fruits and vegetables, and they are packed with vitamins, minerals, antioxidants and fiber.
Can I make this smoothie ahead of time?
Yes, you can make this smoothie ahead of time. Simply blend all of the ingredients together and store in the fridge for up to 24 hours. Give it a good stir before drinking. I like to use my shaker cup or I'll blend it again.
Can I use fresh raspberries instead of frozen?
Yes, you can use fresh raspberries instead of frozen. However, the smoothie will not be as thick and may need to be diluted with more liquid. You might need to add a couple of ice cubes if you use fresh.
Do I have to use rolled oats?
No, you don't have to use rolled oats. You can leave them out or substitute with something else such as chia seed, ground flax seed, hemp seeds or protein powder.
How do I make this smoothie more filling?
If you want to make this smoothie more filling, you can add in a scoop of protein powder, nut butter or Greek yogurt. You could also add in some flaxseed meal, chia seeds or hemp seeds.
Final Thoughts
This easy spinach raspberry smoothie recipe is healthy, delicious and so easy to make! It is the perfect breakfast or snack, and it can be customized to fit your taste. Give it a try and let us know what you think!
Happy Blending!
Amanda