Strawberry Kiwi Smoothie (No Banana)
Disclosure: This post may contain affiliate links, meaning I get a commission if you decide to make a purchase through my links, at no cost to you.
Welcome, smoothie lovers! Today, we're going to introduce you to a delightful and refreshing strawberry kiwi smoothie no banana recipe that has become a huge hit at our house.
Many smoothie recipes include banana as a staple ingredient for creaminess and sweetness, but we understand that not everyone is a fan of this popular fruit. That's why we've created this unique blend of flavors that doesn't rely on bananas, yet still delivers a delicious and satisfying smoothie experience.
This strawberry kiwi smoothie combines the tartness of kiwi with the sweetness of strawberries, balanced perfectly by a hint of lemon and the tropical flavor of coconut water. With the addition of raw honey, this smoothie is not only a tasty treat but also a healthier alternative to sugar-laden beverages.
It's perfect for a quick breakfast, a post-workout refreshment, or a midday pick-me-up. So, let's dive into this simple and tasty recipe that will leave your taste buds craving more!
---
Why We Love This Easy Strawberry Kiwi Smoothie
As a mom who's on a weight loss journey and always looking for ways to provide my kids with the best nutrition possible, I've found that fruit smoothies have become our go-to for busy mornings and healthy snacks. This strawberry kiwi smoothie without banana has quickly become a family favorite, and here's why we love it:
Fresh fruit: This smoothie uses fresh strawberries and ripe kiwi, providing a burst of flavor and natural sweetness that the whole family enjoys. Plus, these fruits are packed with vitamin C, which is essential for a healthy immune system.
No added sugar: Sweetened with raw honey or maple syrup, this smoothie has just the perfect amount of sweetness without the need for refined sugar. It's a great alternative to store-bought smoothies and ice cream, which often contain added sugar and artificial ingredients.
Simple ingredients: Made with just a handful of simple ingredients like coconut water, lemon juice, and fresh fruit, this strawberry kiwi smoothie is easy to whip up in a high-speed blender, even on the busiest mornings.
Customizable: You can easily switch things up by adding optional add-ins like chia seeds, flax seeds, or hemp seeds for extra nutrition and healthy fats. If you prefer a creamier texture, try using coconut milk, oat milk, or unsweetened almond milk as a substitute for coconut water. We've listed a whole section on how to customize this smoothie below.
Kid-friendly: With its sweet taste and vibrant colors, this smoothie is a hit with the little ones. It's a great way to sneak in some green smoothie ingredients like baby kale or spinach without them noticing.
---
Ingredients in Our Kiwi Strawberry Smoothie Recipe
Strawberries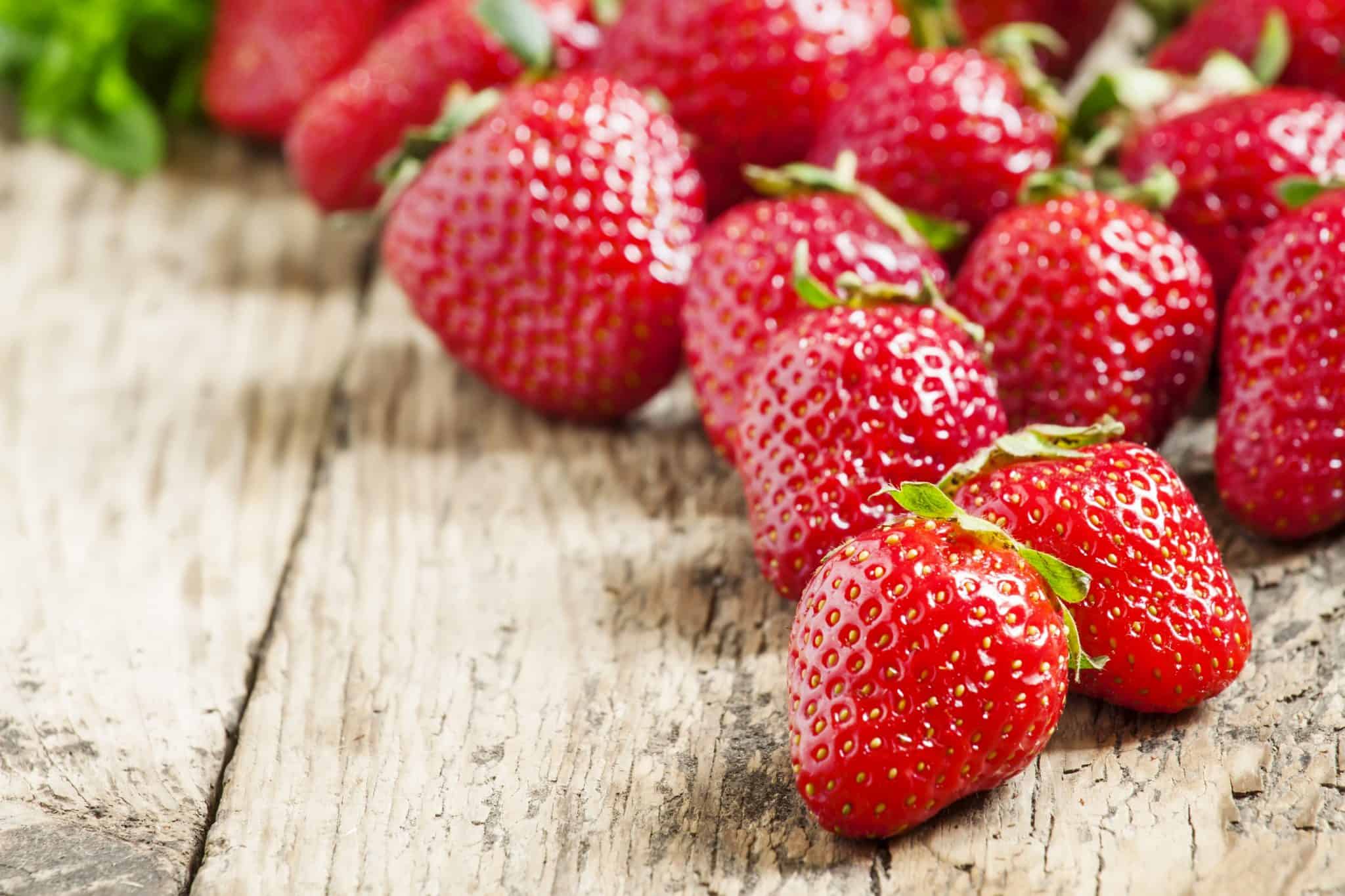 These vibrant red gems are more than just a delicious addition to our strawberry kiwi smoothie recipe; they're also packed with essential nutrients. Strawberries are a fantastic source of vitamin C, manganese, and antioxidants, which help protect the body from harmful free radicals. They also contain fiber, which aids digestion and helps maintain a healthy weight. As a bonus, their naturally sweet flavor allows us to cut back on added sugar, making this smoothie a guilt-free sweet treat.
We used frozen strawberries in our recipe, but feel free to use fresh strawberries if that's what you have in the fridge. If you want the same texture, just add a few ice cubes to the blender along with the fresh fruit. Also, reduce the amount of liquid a bit to ensure the smoothie isn't too thin with fresh fruit.
---
Kiwi
Ripe kiwi fruit adds a tropical twist to our smoothie while offering an impressive range of health benefits. Kiwis are rich in vitamin C, vitamin K, and vitamin E, which help boost immunity, support bone health, and provide antioxidant protection. Additionally, fresh kiwi fruit contains a good amount of fiber and potassium, which are essential for heart health and digestion. The kiwi's bright green color and slightly tart flavor create a perfect balance with the sweet strawberries in this recipe. These two fruits are a classic flavor combo.
You will need to peel your kiwi before using, but luckily they are easy to peel.
---
Lemon Juice
Lemon juice gives our smoothie a zesty kick while also providing some health benefits. Lemons are known for their high vitamin C content, which supports immune function and aids collagen production for healthy skin. Plus, they contain citric acid, which can help improve digestion and may even assist in kidney stone prevention. Incorporating lemon juice in our smoothie not only enhances the overall taste but also adds a burst of vital nutrients.
It's important to use fresh lemon juice if you want the Vitamin C, as heat destroys this nutrient. If you only have bottled lemon juice on hand, that's okay to use as it will still give the flavor you're looking for. Just start with 1/2 tsp and add more if needed.
---
Coconut Water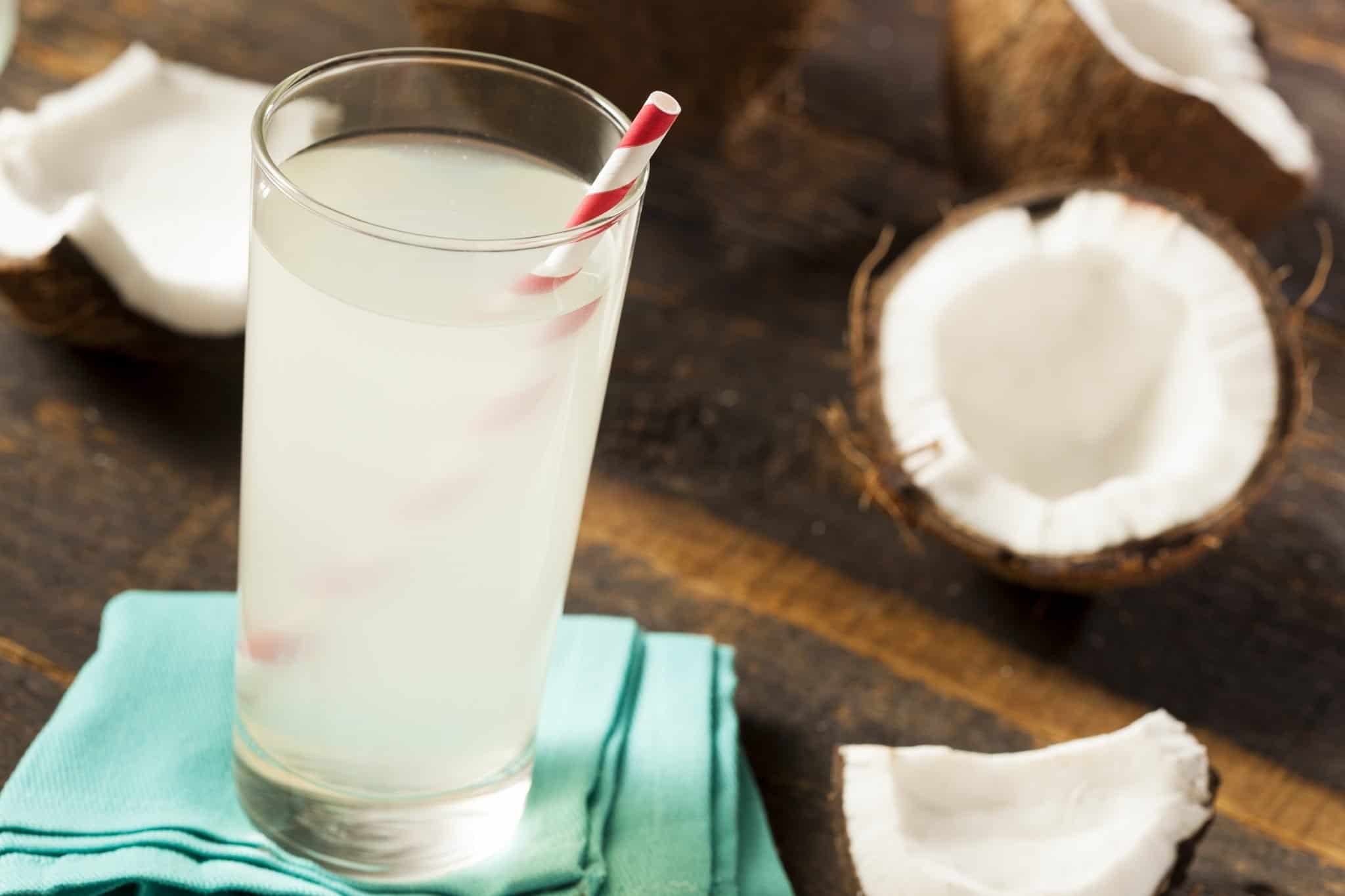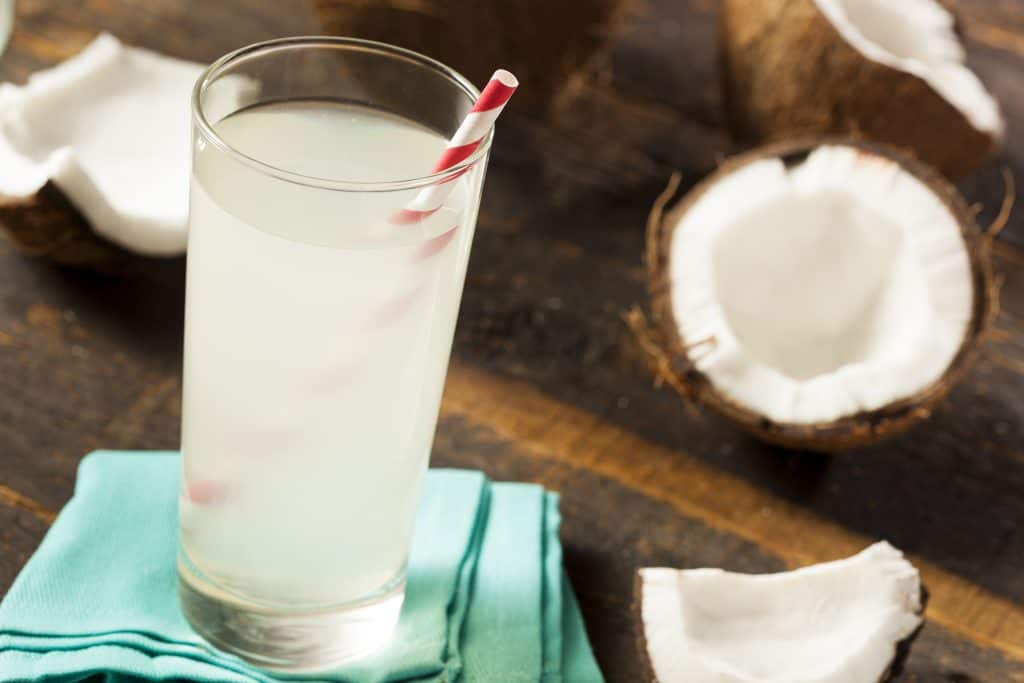 We've chosen coconut water as the base for our strawberry kiwi smoothie because of its natural electrolytes and subtle tropical flavor. This versatile liquid is an excellent source of potassium, magnesium, and calcium, which are essential for maintaining proper hydration and muscle function. Coconut water is also lower in calories and sugar compared to fruit juice, making it a healthier alternative for our smoothie recipe. Its mild sweetness and refreshing taste perfectly complement the other ingredients.
Make sure the coconut water you choose doesn't have added sugars.
---
Raw Honey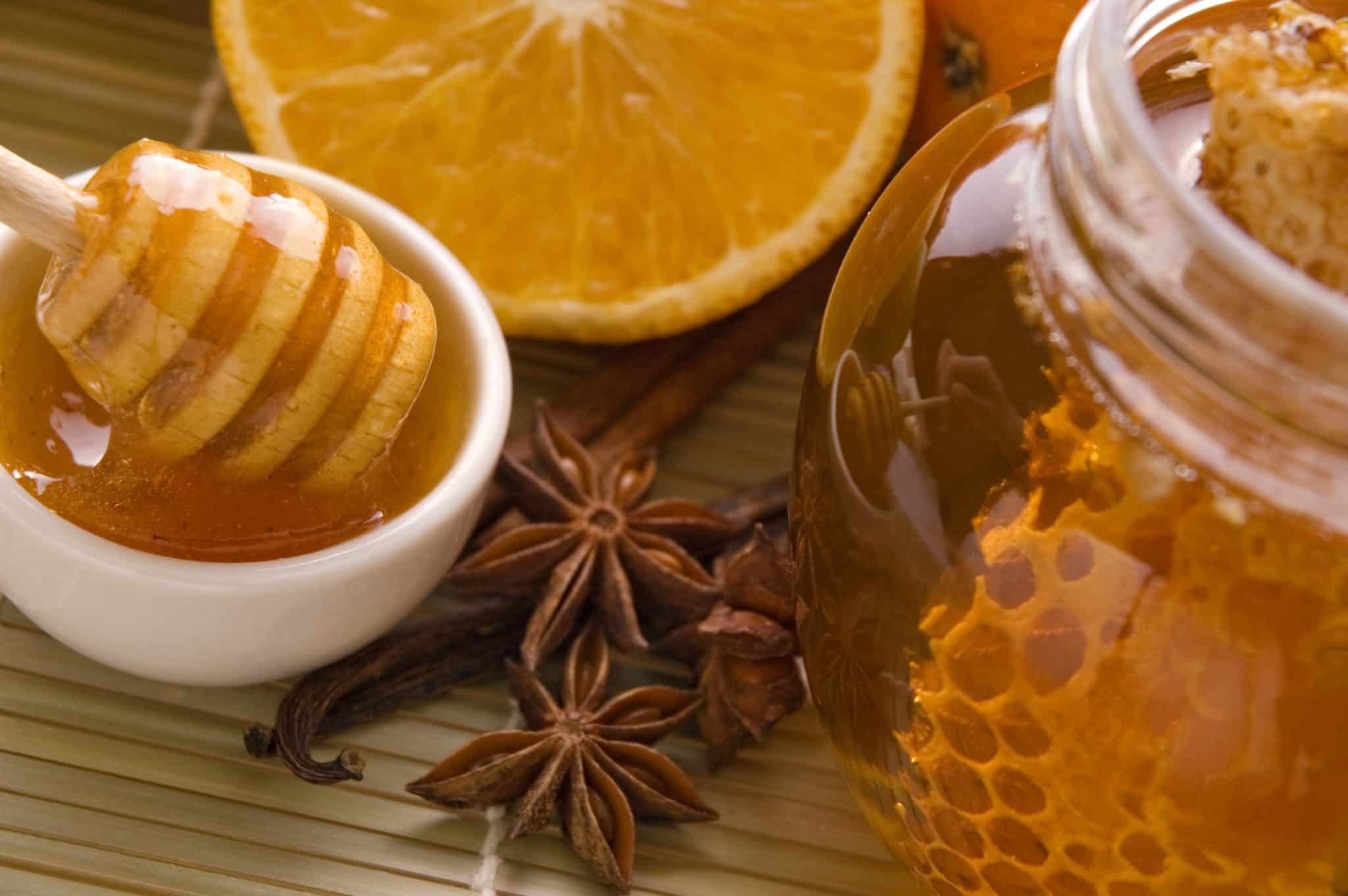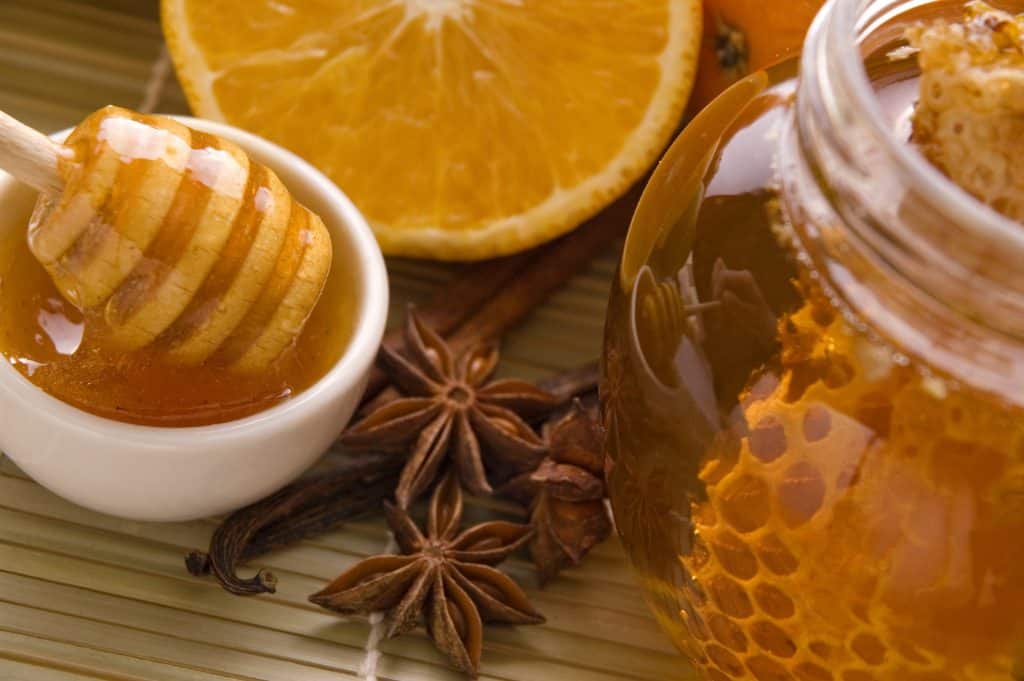 Raw honey is our sweetener of choice for this smoothie, offering a natural sweetness that's free of refined sugar. Honey is rich in antioxidants, which help protect the body from oxidative stress and reduce inflammation. Additionally, it has antimicrobial properties that can support a healthy immune system. By using raw honey in our strawberry kiwi smoothie, we're not only enhancing the flavor but also providing a natural and nutrient-dense alternative to artificial sweeteners or added sugars.
Feel free to substitute another sweetener for the honey or leave it out altogether – it's still delicious!
You'll Love These Other Strawberry Smoothies
How to Customize This Healthy Smoothie Recipe
Here are some of our favorite ways to customize this recipe:
• Add leafy greens: Incorporate a handful of spinach, baby kale, or other leafy greens for a nutrient-packed green smoothie twist without altering the fruity flavors.
• Boost protein content: Make your smoothie more protein-packed by adding a scoop of your favorite protein powder, Greek yogurt, or a spoonful of nut butter like almond or peanut butter. This will keep you fuller for longer and support muscle recovery after workouts.
• Increase healthy fats: Add a tablespoon of chia seeds, flax seeds, or hemp seeds for extra healthy fats and fiber. These seeds also provide a nice textural contrast to the smoothie.
• Swap the sweetener: If you prefer a different natural sweetener, try substituting raw honey with maple syrup or agave nectar. Adjust the amount to suit your taste preferences.
• Change the liquid base: Experiment with different liquid bases like oat milk, soy milk, or almond milk for a creamier texture. You can also try using orange juice, apple juice, or pineapple juice for a more fruity flavor.
• Add more fruit: For a more diverse flavor profile, mix in other fruits like blueberries, pineapple chunks, or green apple. This will also add more vitamins and minerals to your smoothie.
• Make it a smoothie bowl: Thicken the smoothie by using frozen fruits or reducing the liquid, then serve it in a bowl and top with your favorite healthy toppings like granola, nuts, or fresh fruit.
• Customize for specific dietary needs: For a vegan smoothie option, use a plant-based milk of choice or substitute honey with maple syrup or agave. This smoothie is already dairy free (we have a son with a dairy allergy).
By customizing this healthy strawberry kiwi smoothie recipe, you can create the perfect drink that caters to your unique taste preferences and dietary needs. Enjoy experimenting and finding your favorite combination!
Strawberry Kiwi Smoothie (No Banana)
Enjoy a delicious fruit smoothie without banana with this easy recipe.
Ingredients
1

cup

frozen strawberries

4

medium

kiwi

(peeled)

juice of 1/2 lemon

1

cup

coconut water

2

Tbsp

raw honey
Instructions
Add all ingredients to blender.

Blend on high speed until smooth.
Notes
If the smoothie is too thick, add a little more coconut water and blend again until it reaches your desired consistency.
Give your smoothie a taste and adjust the sweetness by adding more honey if desired. If you prefer a tangier flavor, add a little more lemon juice and blend again.
You can garnish your smoothie with a slice of kiwi or a few strawberry slices on the rim of the glass for a decorative touch.
If you'd like to add some extra nutrients, consider adding a scoop of your favorite protein powder or a handful of spinach to the blender before blending.
You'll Love These Other Kiwi Smoothie Recipes
Final Thoughts on Our Strawberry Kiwi Smoothie No Banana
This strawberry kiwi smoothie no banana recipe is a delicious and nutritious option for anyone seeking a refreshing beverage that's loaded with flavor and health benefits. With its blend of fresh strawberries, ripe kiwi, zesty lemon juice, hydrating coconut water, and natural sweetness from raw honey, this smoothie is sure to become a staple in your daily routine.
Remember, you can easily customize the recipe by adding optional ingredients like leafy greens, protein powder, or nut butter to suit your taste preferences and dietary requirements. Whether you're enjoying this smoothie as a quick breakfast, an afternoon snack, or a post-workout treat, it's a great way to nourish your body with essential vitamins and minerals.
We hope you give this strawberry kiwi smoothie recipe a try. If you try it, don't forget to leave a star rating to help others discover this tasty smoothie. Cheers to a healthy and happy smoothie journey!
Happy Blending!
Amanda