Are Smoothies Good for Weight Loss? (Guide to Losing Weight with Smoothies)
Disclosure: This post may contain affiliate links, meaning I get a commission if you decide to make a purchase through my links, at no cost to you.
Are smoothies good for weight loss? Find out here with our guide to losing weight the healthy way with smoothies.
Looking for a long-term solution to your weight crisis? Try adding in smoothies as part of a healthy lifestyle change to help you shed those unwanted pounds for good.
How Smoothies Can Help You Lose Weight
Smoothies are a great way to get all the vitamins and nutrients your body needs. They are also a wonderful way to get fruit servings in each day, which is important because it helps reduce risk of chronic illness like heart disease. Smoothies can be made with any combination of ingredients, so you're encouraged to experiment with different recipes for more variety!
Let's look at some ways a smoothie diet can help with weight loss:
1. Smoothies can help you lose weight by providing quick and nutritious meals, so you might be able to cut out some drive-thru meals and whip up a smoothie at home.
2. If you replace sugar and fat-laden breakfasts with nutritious and filling breakfast smoothies, you can help work out some pounds because you are cutting out the bad stuff and adding in great nutrition.
3. You can add fat burning ingredients to your healthy smoothies to help jump start your metabolism and blast belly fat.
4. If you choose low-calorie smoothies to replace some of your higher calorie meals you can reduce the amount of calories you eat, which can help with overall weight loss.
5. Smoothies can easily help you get your 5 servings of fruits and veggies recommended daily if you add in lots of healthy greens and other vegetables and fruits.
The Downside of a Smoothie Diet
But don't think that drinking smoothies alone are the answer to your weight woes. If you go back to eating like you were before, any weight loss will quickly return. Also, smoothies have to be accompanied by other lifestyle changes to help you lose weight, such as cutting back on added sugars, bad fats and high calorie foods.
Also, if you try a smoothie-only diet, you are bound to get burned out on smoothies and once you quit drinking them the weight will come back.
They are NOT the simple answer to a weight loss program. However, when part of a healthy diet and lifestyle they can help you lose weight. You just have to be smart about it.
Fat Burning Ingredients you can Add to Your Healthy Smoothie Recipes
There are a number of ingredients that you can add to your smoothies to help burn fat. Some of the most popular are green tea, ginger, MCT oil, coffee, as well as different types of protein powders.
Green Tea
Green tea is a great source of antioxidants, which are beneficial for overall health and can help boost metabolism.
Green tea has caffeine and a flavonoid called catechin, which is an antioxidant. According to research, both of these chemicals can help boost metabolism. Catechin may aid fat breakdown, while both catechin and caffeine can help the body use more energy.
Green tea along won't be enough to help you lose weight, but if you combine it with other lifestyle changes it does seem to have some effect.
Click here to read more about green tea and weight loss.
Ginger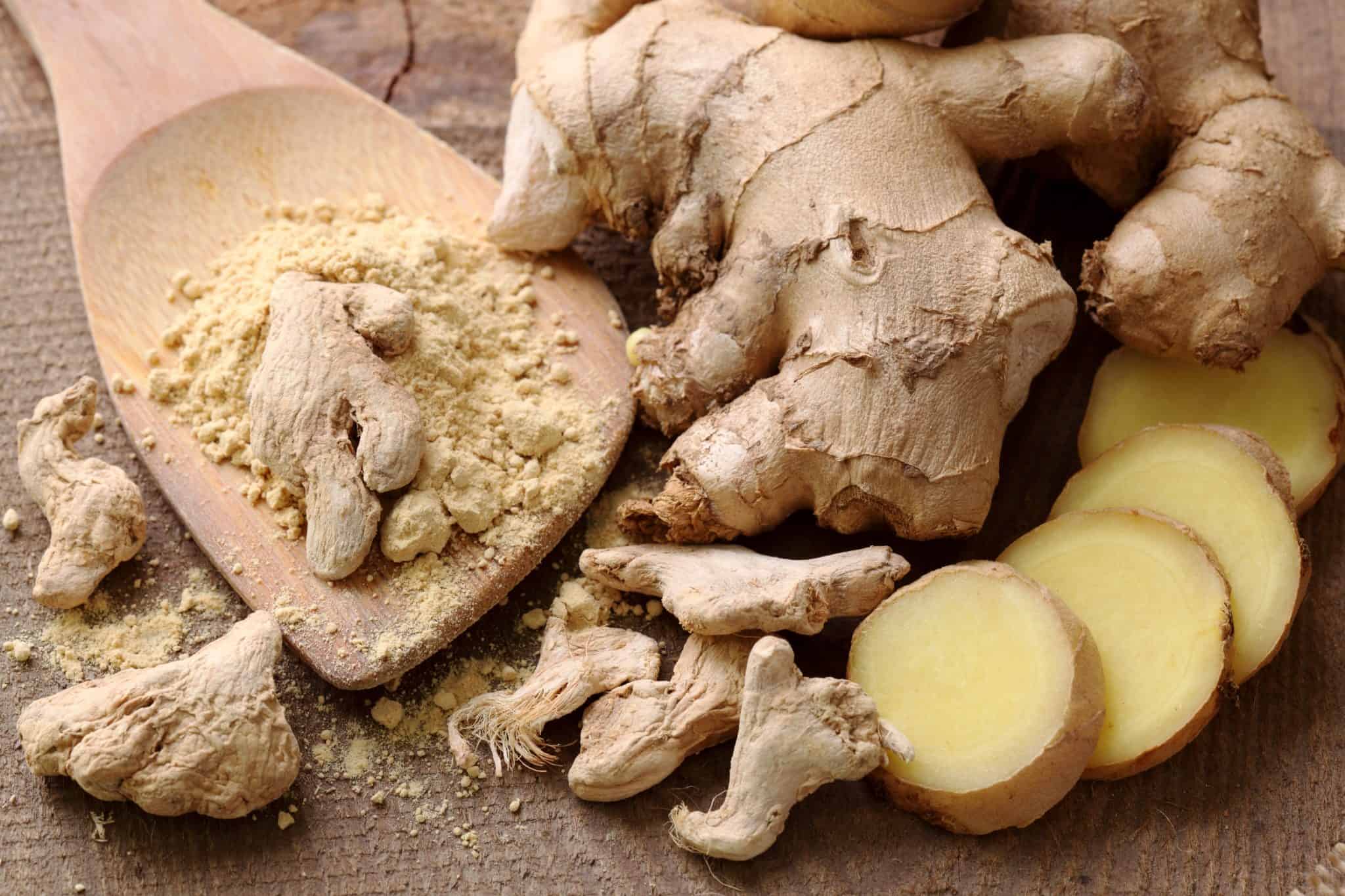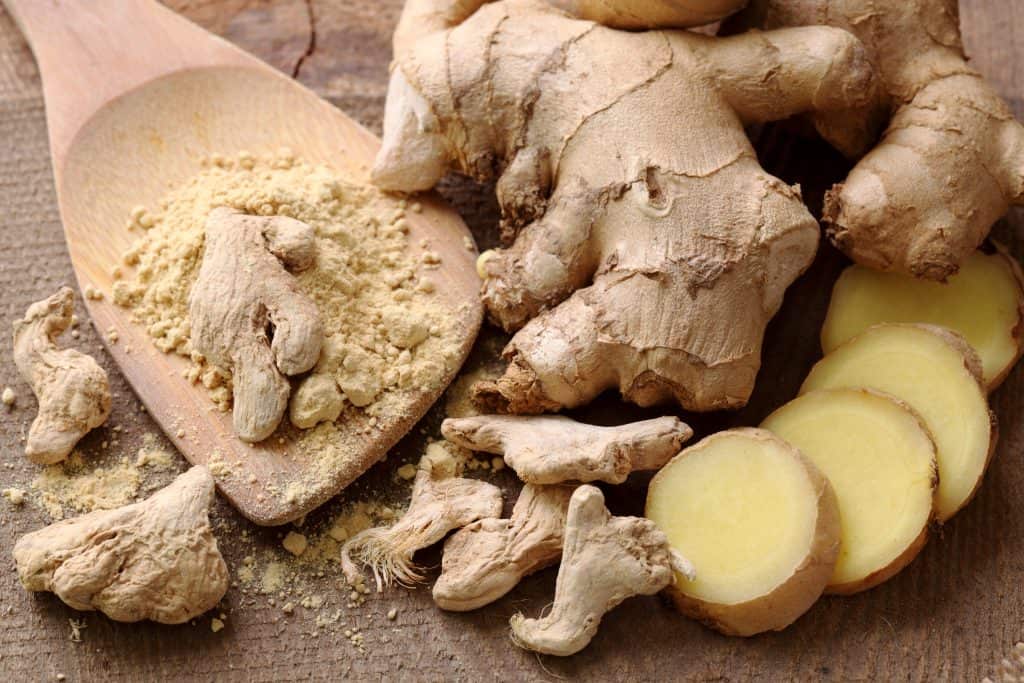 Ginger is anti-inflammatory, can help decrease your appetite and can help with digestion.
According to one study, overweight men who consumed ginger felt fuller longer, and an assessment of ginger's weight loss advantages showed that it had a significant impact on body weight and abdominal fat (waist-to-hip ratio).
Gingerols are capable of increasing a number of bodily processes in your body. They have an anti-obesity effect by speeding food digestion and increasing the rate at which digested food is passed through the colon. Gingerols may help to keep blood sugar levels stable, according to studies. Losing weight might be easier if you can maintain a consistent blood sugar level.
Click here to read more about ginger and weight loss.
MCT Oil
Medium chain triglyceride oil is a healthy fat that is usually extracted from coconut oil, and some studies have shown that it can be beneficial for weight loss, although their is some controversy surrounding it.
It has been shown to increase the feeling of fullness, it can be converted to ketones when following a ketogenic diet and other studies have shown that taking MCT oil can help reduce body weight and weight circumference.
Read more about MCT oil and weight loss here.
Coffee
Like the other ingredients on this list, coffee alone is not going to help you lose weight. It's also an ingredient that experts aren't sure about when it comes to weight loss, but if you like coffee and use it as part of a healthy lifestyle there are some studies that support coffee's weight loss effects.
Coffee can help stimulate the fat in your body that burns calories and also increase your metabolism because of the caffeine content, but other studies have found that it increases sugar cravings and drinking it too late in the day can cause problems with falling asleep, so be careful if you choose to use it and monitor your sugar cravings and sleep cycles.
Click here to read more about coffee and potential weight loss benefits.
Protein Powders
According to Healthline, "protein is the single most important nutrient for weight loss and a better looking body" (see article link below).
Here are some ways that protein can help you lose weight (so try adding some whey protein, egg white protein powder or even pea protein to your smoothies):
Protein Changes The Levels of Several Weight Regulating Hormones
Digesting and Metabolizing Protein Burns Calories
Protein Makes You Burn More Calories
Protein Reduces Appetite and Makes You Eat Fewer Calories
Protein Cuts Cravings and Reduces Desire for Late-Night Snacking
Protein Makes You Lose Weight, Even Without Conscious Calorie Restriction
Protein Helps Prevent Muscle Loss and Metabolic Slowdown
Too see all the research and learn more about each of these ways protein can help you lose weight, click here to read more about protein and weight loss.
_________________
Which is better – store bought or homemade?
When you make a smoothie at home, you are always guaranteed to have a healthy drink. This is because you are in control of the ingredients that are going into your weight loss smoothies.
You can choose to include plenty of vitamins, minerals, and antioxidants, or you can choose to include plenty of protein and fiber. Plus, you can customize your green smoothies to include your favorite fruits and vegetables!
Store bought smoothies can be okay, but they often contain added sugar or other unhealthy things like preservatives or artificial colors. When you make a smoothie at home you are guaranteed not to have these things.
Perfect Ingredients for Weight Loss Smoothies
Greens
Leafy greens are some of the healthiest vegetables you can eat. They are packed with vitamins, minerals, and antioxidants, which are all important for maintaining optimal health. Some of the key nutrients found in leafy greens include vitamin A, vitamin C, vitamin K, calcium, magnesium, and potassium.
Leafy greens are a great source of fiber, which can help regulate digestion and promote regularity. They are also low in calories and high in nutrients, making them an ideal choice for those looking to lose weight or maintain a healthy weight.
The best leafy greens for green smoothie recipes are kale, spinach, swiss chard, romaine lettuce and beet greens. Try to mix up the greens in a green smoothie and not use the same greens more than a couple of weeks in a row.
_________________
Fruit
The addition of fruit, especially frozen fruit, will help curb sugar cravings and indulge your sweet tooth. If you are looking for a low calorie smoothie or are watching your carbs, you might want to choose low-GI fruits. These will also help keep your blood sugar in check.
My favorite fruits for fruit smoothies are frozen banana (this makes a super sweet and creamy smoothie), mango, pineapple and berries. You can even use a higher percentage of frozen fruit for a yummy smoothie bowl for fewer calories in your breakfast than a lot of other options.
_________________
Liquid
You have to add some sort of liquid to a smoothie for it to blend properly. The better your blender, the less you have to add, but it still helps to have a liquid for blending. If you choose a fortified non-dairy milk you will get lots of calcium, vitamin A, D and E.
Here are the most popular liquids for a smoothy:
Coconut Milk
Almond Milk, especially unsweetened almond milk
Fruit Juice
Coconut Water
Green Tea
_________________
Ingredients for a Meal Replacement Smoothie
If you are using your smoothie recipe as a meal replacement, you will want to add some healthy fats and protein to help keep you full until your next meal.
Here are some options:
Nut butter such as peanut butter or almond butter will add healthy fat and help keep you feeling full longer.
Seeds such as chia seeds or hemp seeds add fiber to help keep you feeling full longer.
Protein powder such as pea protein or even whey protein can help in so many areas of weight loss as seen above.
Greek yogurt adds in protein and gives your smoothy a creaminess that many enjoy.
What Smoothies are Good for Weight Loss?
Here at I Live for Greens we have several healthy smoothie recipes that can help you blast belly fat and lose weight as part of a healthy lifestyle.
Easy Spinach Smoothie for Weight Loss
This smoothie combines spinach with banana, mango and green tea for a fat blasting smoothie that's wonderful for starting your day.
_________________
The Best Peach Smoothie for Weight Loss
This smoothie contains low-GI berries, peaches, almond milk and ginger along with greens to help you blast fat with a high-fiber, low sugar smoothie.
_________________
Frozen Mango Fat Burning Smoothie
Use frozen mangos to sweeten this amazing-tasting mango and banana smoothie. It will help curb your sweet cravings and also includes the nutritional powerhouses of greens, cucumber and celery (which have fiber and water but not a lot of calories).
_________________
Tropical Weight Loss Smoothie with Kale
Add in some tropical fruit to your diet with this kale smoothie! This is a super simple recipe to cut those sugar cravings – it's only banana, pineapple, kale and nondairy milk!
_________________
Banana Smoothie for Weight Loss
This is a great refreshing smoothie that includes banana, oat milk, apple and flax seed. It's a super easy recipe with these four ingredients, and the perfect one to customize with some of the weight loss options we've mentioned above.
_________________
The Lowdown
So as you can see, smoothies can definitely be part of a successful weight loss effort, but you have to be careful about what ingredients you choose for your healthy smoothies.
Don't choose high sugar, high calorie ingredients. This isn't any better than having dessert with what experts call a "health halo" around it.
You can add in fat-blasting foods to help you lose weight, but this alone isn't going to be enough to shed all those unwanted pounds. You will need to change your lifestyle and add in exercise and cut back on added sugars and bad fats to really see a change.
So, the next time you reach for that blender cup, consider carefully what ingredients are going into it and choose low calorie, high fiber foods that will fill you up without a lot of sugar or unhealthy fats.
Use protein and healthy fats to help keep you full longer when using smoothies for weight loss. Protein, especially, has been shown to have a very beneficial effect on weight loss, so experiment to find a protein powder you like that is natural without added sugar (or artificial sugars!).
Finally, use green smoothies and other weight loss smoothies to help cut out the amount of bad foods you eat. Do this by replacing high calorie meals, such as donut-laden breakfasts or high calorie snacks with green smoothies.
Smoothies CAN be part of a successful weight loss plan if used correctly. Let us help you find the right 21 day smoothie diet that won't have you sipping 1 cup of smoothie every hour or so. You can do this!