How to Make Quick Smoothies (with Recipes)
Disclosure: This post may contain affiliate links, meaning I get a commission if you decide to make a purchase through my links, at no cost to you.
If you're looking for an easy way to make a quick and healthy snack, look no further than the smoothie. Smoothies are a great way to pack in lots of nutrients, and they're super easy to make. In just a few minutes, you can have a delicious and nutritious smoothie ready to drink, which can keep you on track with healthy eating.
In this article, we'll show you how to make quick smoothies – don't worry, they are easy! We'll also share some of our favorite recipes for smoothies that are both healthy and delicious. So read on for tips on how to make quick and tasty healthy smoothies.
Choose Smoothies with Simple Ingredients
When it comes to making quick smoothies, simplicity is key. The fewer ingredients you have to blend together, the less time it will take to make your smoothie. So when you're choosing recipes, look for ones that have only a few ingredients.
Of course, you still want your smoothie to be healthy and flavorful. So make sure to choose recipes that have lots of fresh fruits and vegetables, as well as other healthy ingredients like yogurt, nuts, and seeds. These ingredients will give you the nutrients you need without adding too much time to your prep.
Here's an easy smoothie recipe for green smoothies to get you started:
Basic Simple Green Smoothie Recipe
Ingredients:
1 cup of frozen fruit
1/2 cup of liquid (milk of choice, coconut water, fruit juice such as apple juice or orange juice, etc)
1/2 cup greens (spinach, kale, or can use riced cauliflower or other veggies)
1 tablespoon of honey or maple syrup
Directions:
Blend all ingredients together in a blender until smooth. Enjoy immediately!
This recipe is for a basic smoothie that you can customize to your liking. Feel free to add more or less liquid, sweetener, or greens to taste. You can also add other ingredients like protein powder, chia seeds, or flaxseed meal for an extra boost of nutrition.
If you're looking for a quick and easy breakfast smoothie, try adding oatmeal to this recipe. Just blend 1/2 cup of dry oats with the rest of the ingredients and you'll have a filling breakfast oatmeal smoothie that will keep you fueled all morning long.
One of the best things about smoothies is that you can customize them to your liking, so use this simple recipe as a springboard for your own ideas. Try different flavor combinations by mixing up the fruit you use, add in more fruits and veggies, oats, protein powder or whatever else you'd like to try!
Use Foods that Require Little Prep
Recipe calls for a mango? Instead of slicing up a mango, why not opt for frozen mango instead? Frozen fruit contains all the nutrients of fresh, and it's often cheaper and easier to find. Plus, there's no need to spend time chopping or slicing – just add the frozen fruit to your blender and you're good to go.
Another benefit of frozen ingredients is that they add a wonderful creaminess to your smoothie. I always freeze my bananas when they start turning brown, and they make wonderful additions to smoothies (and they make it super simple – when I freeze them I break them in half, so I just toss two halves into the blender, no peeling required!).
Other foods that require little prep time include pre-cut veggies, canned fruits (packed in water or juice, not syrup), dried fruit and Greek yogurt that's already been mixed with fruit. You can also use frozen vegetables such as riced cauliflower or frozen spinach, or buy greens prewashed so you can just grab and go.
These ingredients will help you save time when making smoothies. Just make sure you watch the sugar content of these foods, such as yogurt with added fruit.
Here's an easy frozen fruit smoothie:
Strawberry Banana Simple Smoothie Recipe
Ingredients:
1 cup frozen strawberries
1 frozen banana
1/2 cup unsweetened almond milk
1 tablespoon honey
Directions:
Blend all ingredients together in a blender until smooth. Enjoy immediately!
This recipe is for a basic strawberry banana smoothie. You can use fresh fruit if you'd like, but frozen fruit will give your smoothie a lovely thick and creamy texture. If you find the smoothie too thick, add more liquid until it reaches the consistency you desire.
You can also add other ingredients to this smoothie to customize it to your liking, just like the recipe above (protein powder, oats, chia seeds, nut butter, etc).
Prep Your Smoothies in Advance
One of the best ways to make quick smoothies is to prep your ingredients in advance. This means doing things like chopping and freezing your fruits and vegetables, as well as pre-measuring everything so it's ready to go when you are.
You can also make smoothie packs by portioning out all the ingredients for a recipe into individual bags or containers. Then when you're ready to make your smoothie, just grab a pack and blend everything together. This is a great option if you want to make smoothies for the week ahead of time.
Another idea is to make smoothie bases that you can freeze in ice cube trays. These bases can be made with just fruit and liquid, or you can add in other ingredients like yogurt, protein powder, or nut butter. Then when you're ready to make a smoothie, just blend the cubes with whatever else you want to add and enjoy!
If you want pre-made smoothie cubes that all you have to do is add water to, be sure to check out Bumpin' Blends! I've personally tried their smoothie cubes and they are delicious!
Preparing your smoothie ingredients in advance will save you a lot of time when making smoothies, and it's a great way to make sure you always have healthy ingredients on hand.
Also, see our guide to freezing smoothies for later, where we show you four ways to freeze smoothies.
How to Make a Smoothie Pack
Making smoothie packs is a great way to save time when making smoothies. Simply portion out all the ingredients for a recipe into individual bags or containers, then when you're ready to make your smoothie, just grab a pack and blend everything together. Here's how to do it:
1. Choose your recipe and gather all the ingredients.
2. Portion out the ingredients into individual bags or containers, except the liquid (you'll need to add that when you blend). If you're using a bag, you can freeze it flat so it takes up less space.
3. Label the bags or containers with the recipe name and date and freeze.
4. When you're ready to make a smoothie, just grab a pack, add the liquid, and blend everything together.
5. Enjoy!
Smoothie packs are a great way to make quick smoothies, and they're also great for meal prep. If you make them in advance, you can just grab one when you're ready to blend and have a healthy smoothie in no time.
Chocolate Peanut Butter Smoothie Pack Recipe
Ingredients:
2 frozen bananas
1 scoop chocolate protein powder
Small handful spinach
4 pitted dates
2 Tbsp peanut butter (or almond butter)
Add all ingredients to bag and freeze. When ready to blend, add 1 cup unsweetened almond milk or coconut milk and you have a chocolate peanut butter smoothie!
I like to sprinkle a few stevia sweetened chocolate chips (I like the Lily's brand) on top for texture. Or, if you want to get fancy, you can add toppings as shown in photo. Be creative!
Use a High Powered Blender
If you want to make quick smoothies, you're going to need a high powered blender. I highly recommend the Vitamix 5200 (I have this one and love it!), but there are other great options out there like the Ninja Professional Blender and the NutriBullet Pro 900.
Having a powerful blender will make it easier to blend frozen ingredients and will help you achieve a smooth and creamy consistency. If you find that your blender isn't doing a good job of blending frozen fruit, try adding a little bit of liquid (milk, water, juice, etc) to help it out.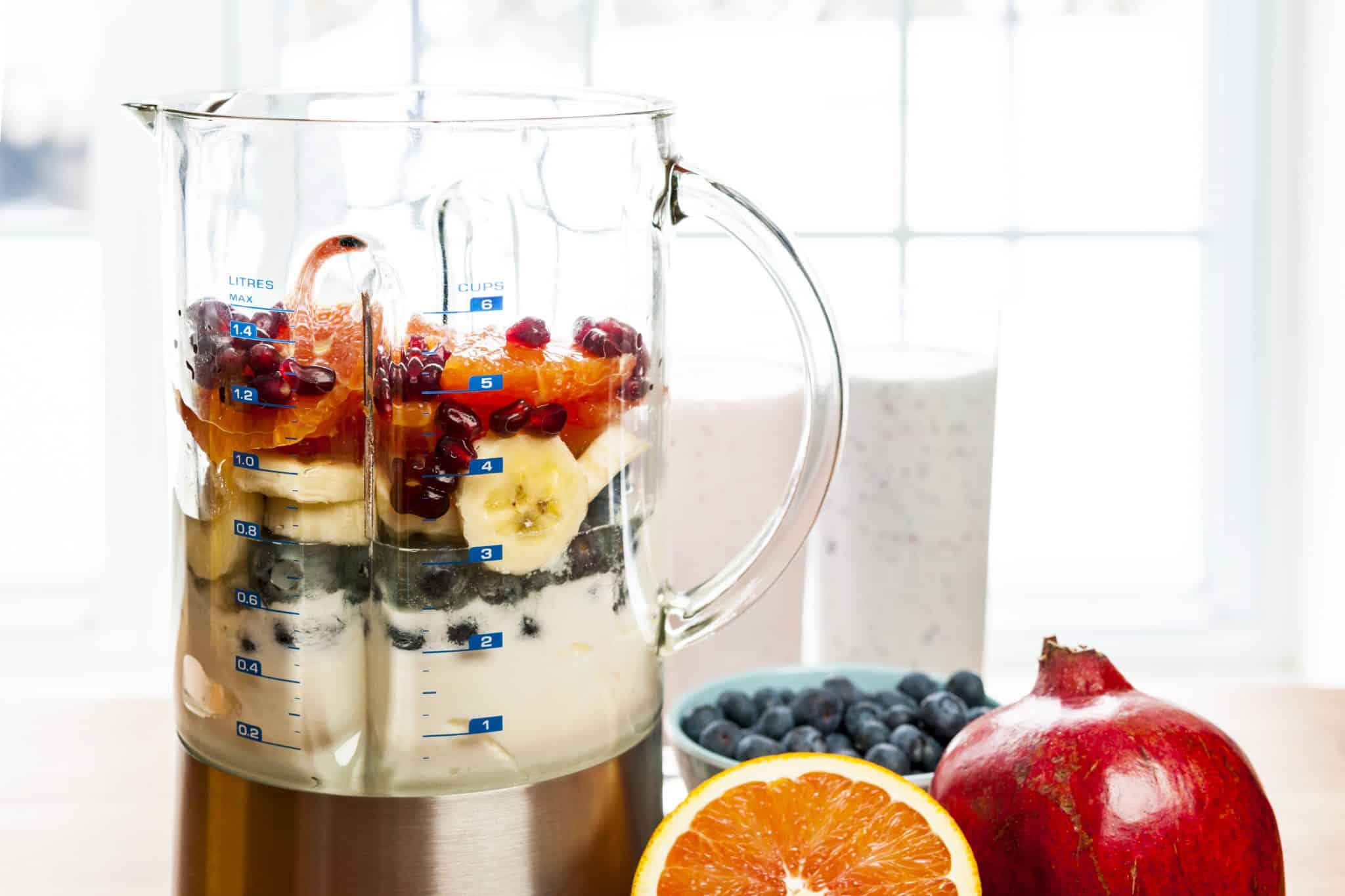 Best Selling High Powered Blenders
Sale
Bestseller No. 1
Bestseller No. 2
Professional Countertop Blender, Blender for kitchen Max 2200W High Power Home and Commercial Blender with Timer,Blender with Variable Speed for Frozen Fruit​, Crushing Ice, Veggies, Shakes and Smoothie 64 oz Container & 32000 RPM
【Juicer & Blender & Crusher】It's time to upgrade your kitchen system with this latest blender for shakes and smoothies. This is a 6-in-1 multifunctional blender that can make vegetable juices, milkshakes, smoothies, soy milk, hot soups, frozen desserts, cereal powder, crushed ice, and much more! An amazing machine that should be in every home.
【2200W Powerful Motor & 6 Blades】Our kitchenaid professional blender the powerful 2200W professional blender with up to 32000 RPM can break the cell walls of both soft and hard ingredients in seconds. The upgraded 6 lengthened sharp blades makes blending range wider and more efficient.
【Variable Speed & Pulse Control】Our smoothie blender designed with a versatile variable speed control by rotating the knob during operation to achieve your desired textures. Choose pulse mode to crush ice quickly for frozen drinks and cocktail.perfect for making large batches of creamy, frozen drinks and smoothies for the entire family and commercial use.
【Detachable for Easy Cleaning】Cleaning this countertop blender can be very easy. Add a little dish soap to warm water and run the blender for 30s and rinse it. It also can be disassembled for thorough cleaning and is dishwasher safe. Anti-slip rubber feet keep mixers firmly on the countertop, suitable for home or business use.
【2L Big Capacity & Worry-Free Purchase】This food blender with 5 timer settings can help achieve best mixing results upon food assortment. It has a 2L large capacity which is perfect for family meals, entertaining and commercial. We provide 1095 days warranty and should there be any questions, we are here to assist you with the best solution.
Sale
Bestseller No. 3
Cleanblend Commercial Blender – 64oz Countertop Blender 1800 Watts – High Performance, High Powered Professional Blender and Food Processor For Smoothies
CLEANBLEND HIGH POWERED BLENDER: The most powerful heavy duty countertop blenders we know of. Cleanblend's commercial blenders feature a 3 HP, 1800 watt motor. This power is key to the unrivaled commercial grade performance of our blenders. Whether you want to pulverize ice, chop some fresh salsa, or process hot soup, this 1800w blender's variable speed control is up to the task. It's remarkably strong and surprisingly quiet. Everything you want in a quiet blender
MULTI-USE BLENDER, ALL IN ONE DESIGN: Our Cleanblend Countertop Blenders could replace up to 9 appliances: crush, blend, chop, grind, heat, process, puree, or liquify. Create larger servings of ice blended coffee, dips, sauce, or margaritas! This large blender also makes soups, really what more can you ask for? Say goodbye to unblended bits, chewy chunks, and grainy lumps—for good and say hello to a better, healthier you!
BEST BLENDER FOR LARGE PORTIONS AND COMMERCIAL DEMANDS: When a single serve blender isn't enough, our Cleanblend high performance commercial blender can handle your commercial, or heavy duty cafe or restaurant needs. This bigger and better super blender serves up large batches of smoothies, fresh juice, ice cream, milkshakes, margaritas, cappuccinos, soups, batters, sauces, dressings, salad and more! No need to blend repeatedly, leave the large batches to us while you run your business!
BPA FREE & FOOD GRADE STAINLESS STEEL: Clean eating starts with safe appliances. ​​BPA-Free means you get all of the vitamins and nutrients from your food—and none of the chemicals found in other plastics. From soup to smoothies, you're always safe with Cleanblend. CleanBlend's high speed blender is made with an 8-blade sealed ball bearing for maximized performance, hardened stainless steel blades, and a BPA free pitcher that's basically unbreakable and easy to clean!
5 YEAR WARRANTY
Other Tips for How to Make Quick Smoothies
Another great tip is to start with the softest ingredients and liquid first and then add in the frozen ingredients. This will help your blender run more smoothly and prevent it from getting bogged down. (Especially helpful if you don't have a high powered blender yet).
And if you're really in a hurry, you can always buy pre-made smoothie packs or blends at the store. These are great options if you need a quick and easy breakfast or snack on the go. You can find these in the frozen fruit section of your local grocery store, and you can also order ones from companies like Smoothie Box or Daily Harvest.
And don't forget the smoothie cubes from Bumpin' Blends!
Final Thoughts on How to Make Quick Smoothies
Thanks for reading! I hope this guide was helpful in teaching you how to make quick smoothies. With four kiddos, I know how wonderful it is to make a quick and healthy breakfast to go, both for them and for me. If you want more smoothie recipes and tips, be sure to check out our healthy smoothie recipes – many of which are quick smoothies!
Happy Blending!
Amanda