Spinach Smoothie for Weight Loss
Disclosure: This post may contain affiliate links, meaning I get a commission if you decide to make a purchase through my links, at no cost to you.
If you're looking for a healthy, low calorie breakfast option, look no further than this spinach smoothie for weight loss.
Made with only a few simple ingredients, this smoothie is perfect for helping you lose weight. It's high in fiber and other nutrients, and it's low in fat and calories. So why not give it a try?
Why We Love This Spinach Smoothie Recipe
We are huge smoothie lovers here, even our kiddos, and we love this spinach smoothie because it's packed with nutrients from the fresh greens and fruits and it tastes delicious thanks to the addition of banana and mango.
I'm the only one in our family who is trying to lose weight, and this recipe helps keep me on track by giving me the sweet taste I crave without all the calories and fat of other treats.
So, even if no one else in your family is trying to lose weight, give this recipe a try – you won't be disappointed!
Ingredients in Our Spinach Smoothie for Weight Loss
Spinach
Spinach is a wonderful leafy green to start out with if you're just beginning your green smoothie journey. It hides well when blended with other flavors (like our banana and mango), it's loaded with nutrients like iron, folate and vitamin K, and the fiber in it can help keep you feeling full.
You can use fresh or frozen spinach in this recipe. We buy a lot of fresh baby spinach at our local grocer, and if we don't use it fast enough we will freeze spinach for later. You can also buy frozen spinach in the freezer section and keep that on hand for your spinach smoothies.
Banana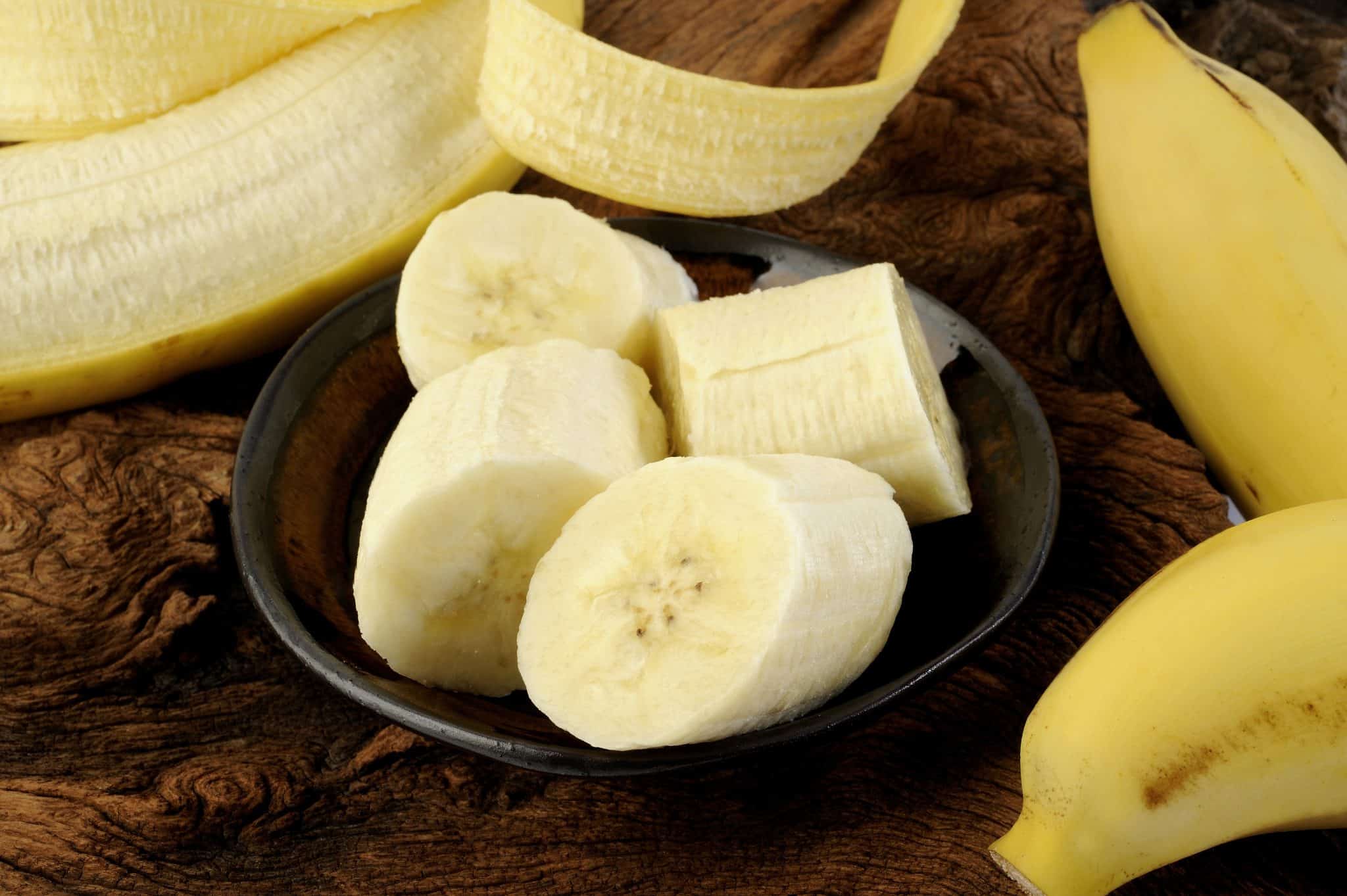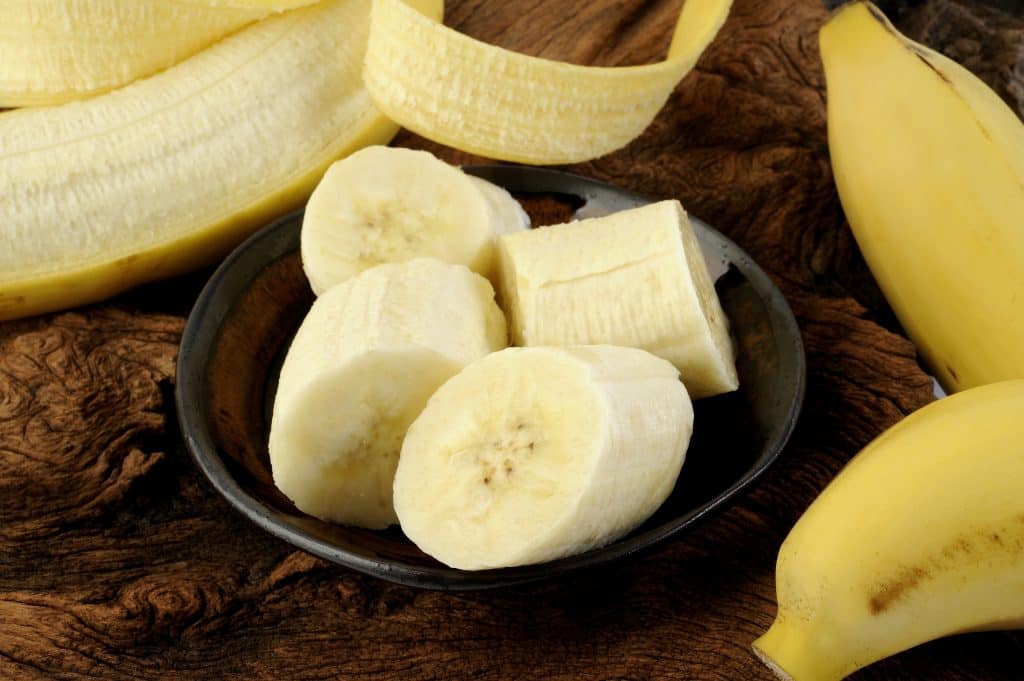 Banana is a great smoothie ingredient because it adds sweetness and creaminess without needing any dairy products. And, since it's packed with fiber, potassium and vitamin C, it's a great addition to this smoothie for weight loss.
I like to use frozen banana for most all of my smoothies because it makes them creamier than a fresh banana will. If you can, freeze your bananas ahead of time, but if you are in a rush a fresh banana will work.
Mango
Mango adds both sweetness and creaminess to our spinach smoothie recipe, and it's also packed with fiber, vitamins and minerals. If you can find fresh mango, that's wonderful, but frozen mango works just as well.
I actually prefer to use frozen mangos because I'm too lazy to cut up a fresh one most of the time. You can easily find frozen mango chunks in the freezer section of your local grocery store, and the frozen fruit gives great texture to the smoothie.
Green Tea
We add green tea to our smoothie for a little extra boost of antioxidants, plus it's well known for aiding weight loss. You can use any type of green tea – brewed, bottled or even a green tea powder like matcha (add water for your liquid if you go this route).
If you are using brewed green tea, just let it cool to room temperature or even pop it in the fridge for a little while so it's not hot when you add it to your other ingredients.
How to Blend This Healthy Smoothie Recipe
This spinach smoothie is very easy to blend. Just add all of your ingredients to a high speed blender and blend until smooth.
You can add more or less liquid depending on how thick or thin you like your smoothies. I usually start with 1/2 cup and add more if needed.
If you find that your smoothie is too thick, add a little more liquid until it reaches the consistency you like. And if it's too thin, add a little more frozen fruit or greens until it thickens up.
You'll Love These Other Green Smoothies
How to Customize This Spinach Smoothie Recipe
Add protein: If you want to make this smoothie into more of a meal replacement, you can add a scoop of protein powder. We like to use a plant-based powder, but any type will work, and Greek yogurt is another great addition for a green protein smoothie.
Make it sweeter: If you find that this smoothie isn't sweet enough for your taste, you can add a little more banana or honey, maple syrup or agave (start with 1 tablespoon and go from there). You can also add another sweet fruit like pineapple.
Add other greens: If you want to pack even more nutrients into this smoothie, feel free to add other greens like kale or chard to the fresh spinach. You may need to add a little more liquid to your green smoothie recipe if you do this, so start with 1/2 cup and add more as needed.
Add oats or seeds: For an extra boost of fiber and nutrients, you can add a tablespoon or two of oats, chia seed or flaxseed meal to your smoothie.
Add other superfoods: If you want to give this smoothie an extra health boost, feel free to add a teaspoon or two of other superfoods like acai powder, supergreens powder, maca powder or spirulina.
Make it a smoothie bowl: If you want to turn this smoothie into a meal, you can make it into a smoothie bowl. Just add a little less liquid so it's thicker and serve it in a bowl with your favorite toppings. We like to top ours with granola, fresh fruit, chia seeds and nuts or nut butter (and the kids love mini dairy-free chocolate chips!).
Add healthy fat: Add in a nut butter such as almond butter or peanut butter, some MCT oil or coconut oil or even a bit of butter to add some healthy fat to this smoothie, which can also help keep you feeling full longer.
Change the liquid: You can use water, coconut water, almond milk, cashew milk, coconut milk, orange juice, soy milk, oat milk or any other type of liquid you like in this smoothie. Just be sure to adjust the sweetness and creaminess accordingly if you make changes.
Add Other Fruit: Use other fruit you have on hand in addition to the fruit in this recipe, or subsititute another fruit such as frozen blueberries or frozen strawberries for the mango or banana.
Spinach Smoothie for Weight Loss
Losing weight is easy and delicious with this easy spinach weight loss smoothie recipe.
Ingredients
1

cup

spinach

1

frozen banana

1/2

cup

frozen mango

1

cup

green tea
Instructions
Add all ingredients to blender.

Blend on high speed until smooth.
Final Thoughts
This spinach smoothie is a great option for breakfast or a snack. It's low calorie, non fat, and high in fiber and other nutrients. It's a great option for replacing a high sugar or high calorie breakfast.
The smoothie is made with only a few simple ingredients, so it's an easy way to blend up a quick meal or snack to keep you on track!
Happy Blending!
Amanda