Banana Smoothie Without Yogurt (Easy and Delicious)
Disclosure: This post may contain affiliate links, meaning I get a commission if you decide to make a purchase through my links, at no cost to you.
If you're looking for a delicious and healthy banana smoothie recipe that doesn't include yogurt, then look no further!
This smoothie is made with just a few simple ingredients: banana, oats, unsweetened almond milk, and a scoop of vanilla protein powder. It's great for a filling breakfast smoothie or anytime as a quick snack.
Why We Love This Banana Smoothie Recipe
We love smoothies in our house, and this easy banana smoothie made without yogurt is one of our favorite breakfast smoothies.
It is made with ingredients we always have on hand, it tastes delicious, and the combination of oats and protein powder keep us full until our next meal, so it's a wonderful meal replacement smoothie.
Ingredients in Our Healthy Smoothie Recipe
Banana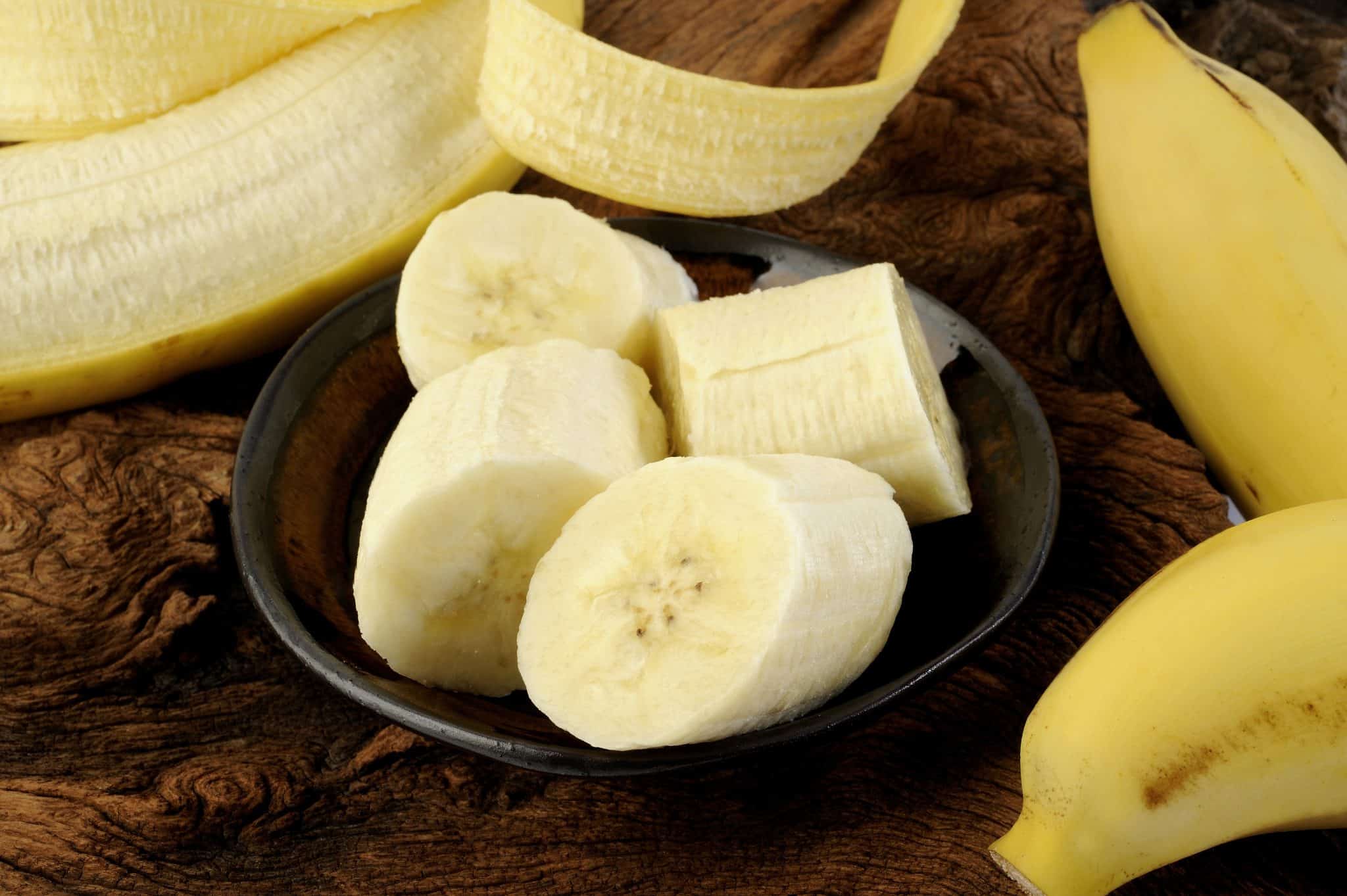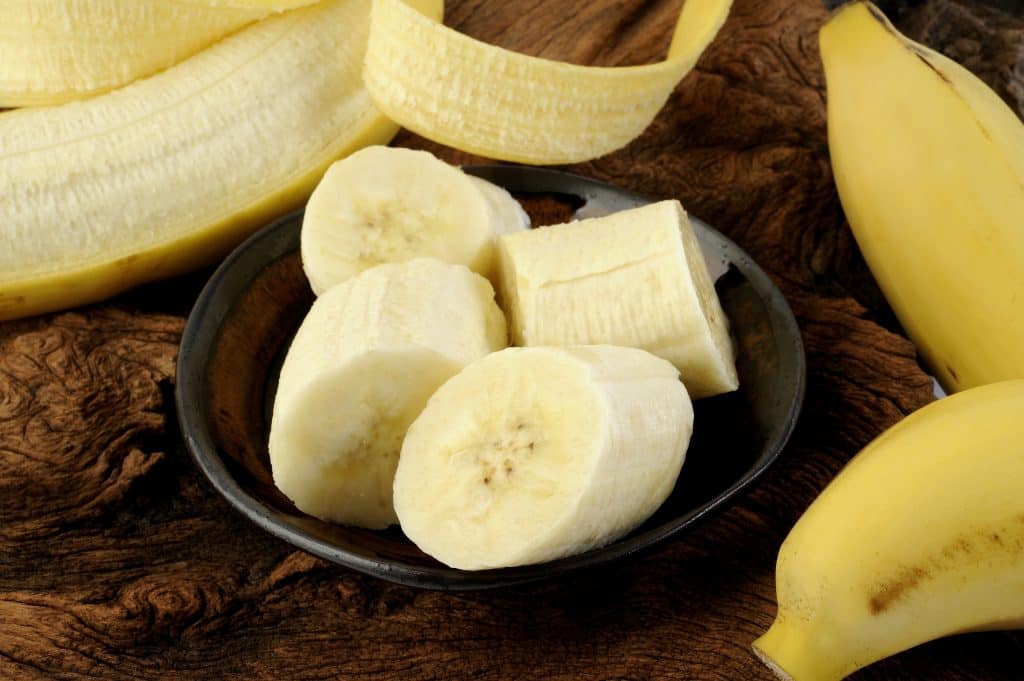 You'll find bananas in almost every smoothie on this site because we just love them in smoothies that much! I have found that we don't eat them very fast when they are fresh, but put them in a smoothie and they're gone in a flash.
Bananas are a wonderful source of dietary potassium, vitamin C, dietary fiber and vitamin B6. They are also low in sodium and cholesterol and contain no fat.
I love to use frozen banana for several reasons – it's easy to keep them on hand for smoothie making, it's a great way to save over ripe banana, and it gives the smoothie a creaminess and thickness that you can't get with a fresh banana.
Oats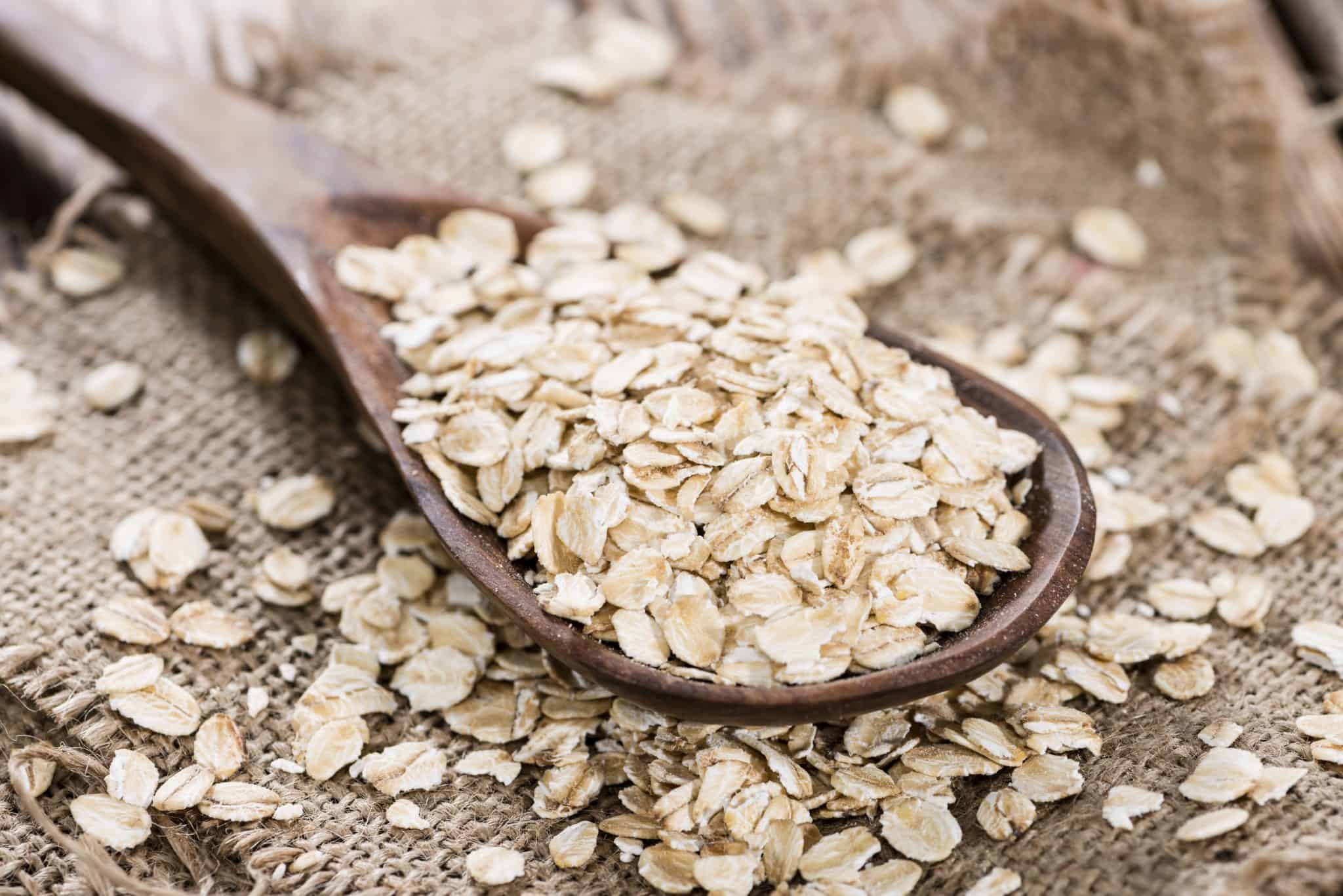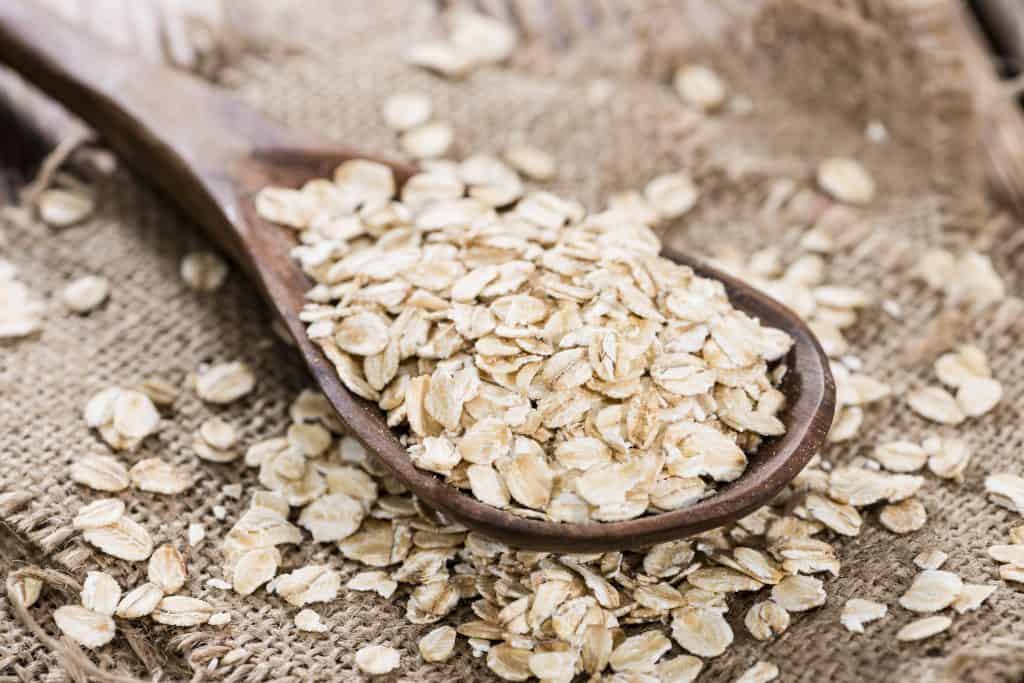 Oats are a great way to thicken a smoothie and to help keep you feeling full longer. They are wonderful because usually any blender can blend them up well enough to be nearly undetectable.
Oats are a great source of soluble fiber which can help to lower cholesterol levels and regulate blood sugar levels. Oats are also a good source of protein, thiamin, phosphorus, magnesium.
I use rolled oats in my smoothies because that's what we buy for oatmeal, but feel free to use quick oats if that's what you have. If you choose to use steel cut oats you'll need a pretty powerful blender to get them smooth.
Vanilla Protein Powder
I like to add protein powder to my smoothies for the added protein and because it helps keep me feeling full until lunch. Not all protein powders are created equal, so be sure to choose one that you like the taste of and that has ingredients that you recognize.
Protein has been proven to help people lose weight, too, so I love to add it to my smoothies. For kids who are growing, protein is super important as well, so as long as you choose a good quality, natural protein powder you can feel good giving it to your kids, too.
You can use whey protein powder (I like this one) or a plant-based one if you are vegan or dairy-free like one of our kiddos (this is our favorite dairy free).
Unsweetened Almond Milk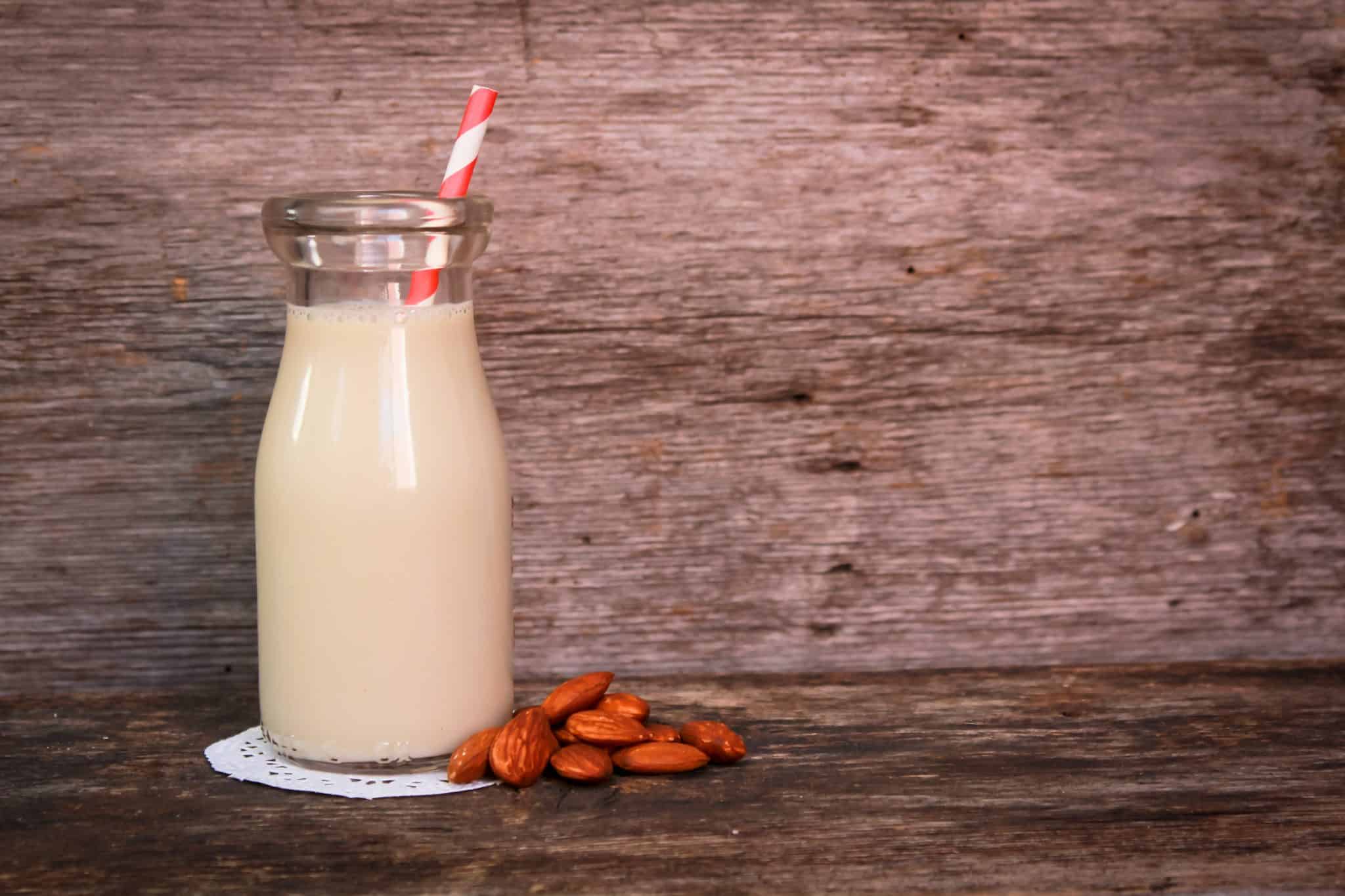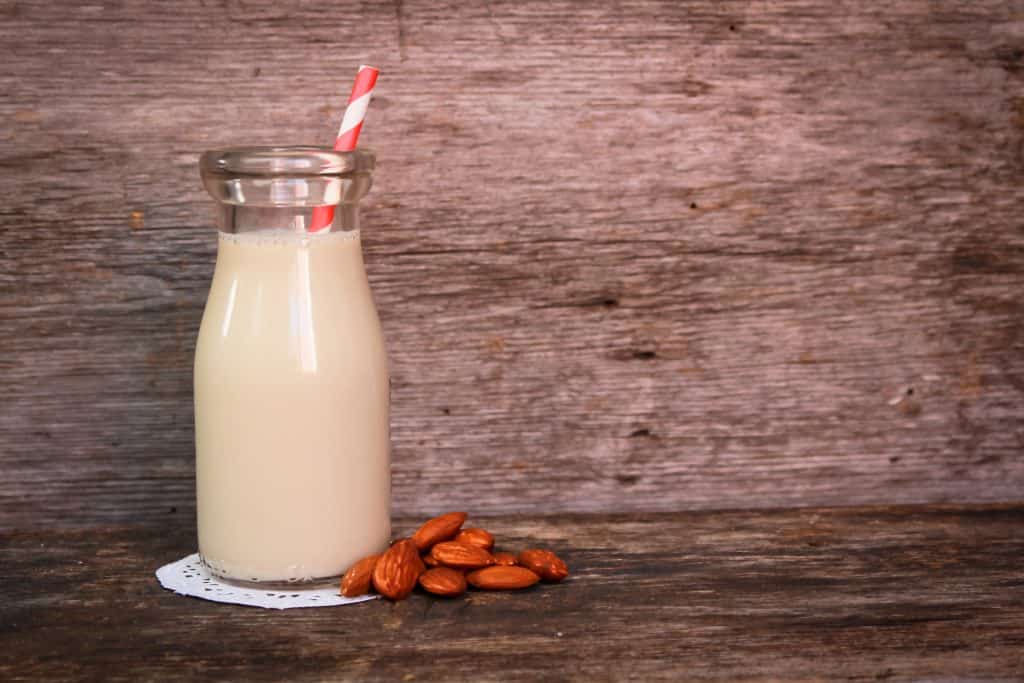 I use almond milk in my smoothies because I like the flavor and we always have it on hand. It's easy to find almond milk now in most grocery stores, but if you can't find it or don't like it feel free to substitute another dairy-free milk such as cashew or soy.
We also really love plan extra creamy oat milk, which is what we keep on hand for my son's fresh drinking milk, and it works wonderfully in smoothies, too. If I'm doing oat milk I buy Chobani or Planet Oat, and for almond milk I love Simply Almond.
How to Blend This Easy Smoothie Recipe
Blending this delicious smoothie is pretty simple. Just combine all of the ingredients in a blender and blend until smooth.
If you are using a high powered blender such as a Vitamix or Ninja, you can throw the bananas in whole. If you are using a regular blender I would recommend slicing the banana into chunks and freezing it for at least an hour before adding it to the blender.
This will help ensure that your smoothie is nice and smooth.
If you find that your smoothie is too thick, just add a little more almond milk until it reaches the consistency that you like.
Taste and adjust as necessary – add more banana if you want it sweeter or more vanilla protein powder if you want more protein.
Enjoy!
You'll Also Love These Other Smoothies With Banana
How to Customize This Easy Banana Smoothie Without Yogurt
Make it green: Add a handful of spinach or kale to this smoothie for a nutrient boost.
Make it chocolate: Add a tablespoon or two of unsweetened cocoa powder to make a chocolate banana smoothie.
Add some flavor: Mix in a teaspoon or so of vanilla extract, almond extract, or your favorite flavoring.
Make it fruity: Mix in some frozen berries (strawberry is a favorite) or other fruit for a flavor twist.
Add some healthy fat: Add some nut butter, such as almond butter or peanut butter, to have a peanut butter banana smoothie (or even better, a chocolate peanut butter banana smoothie made with pb and chocolate protein powder).
Throw in some superfoods: Add a tablespoon of chia seeds, ground flax seed, or hemp hearts for an extra boost of fiber and nutrients.
Make it a smoothie bowl: Reduce the amount of liquid in this recipe, or thicken with extra oats or chia seed, pour it into a bowl and enjoy a banana smoothie bowl! Top with your favorite toppings and enjoy.
Make it sweeter: Add in a splash of maple syrup or honey, or use a super sweet fruit such as frozen mango, pineapple or other frozen fruit.
This banana smoothie recipe is pretty basic, but it's also easily adaptable to whatever you have on hand or whatever sounds good to you. Get creative and experiment until you find your perfect smoothie combination!
Common Questions about Banana Smoothies
What can I use instead of yogurt in a smoothie?
There are lots of substitutes for yogurt in smoothies. You can use milk, nut milk, or dairy-free milk such as soy milk or coconut milk. You can also add a scoop of protein powder, Greek yogurt (if you're not avoiding dairy), or even tofu.
Can I make a banana smoothie without milk?
Yes! You can make a banana smoothie without milk by substituting another liquid such as water, nut milk, or dairy-free milk. Coconut water also works well in a milk-free banana smoothie.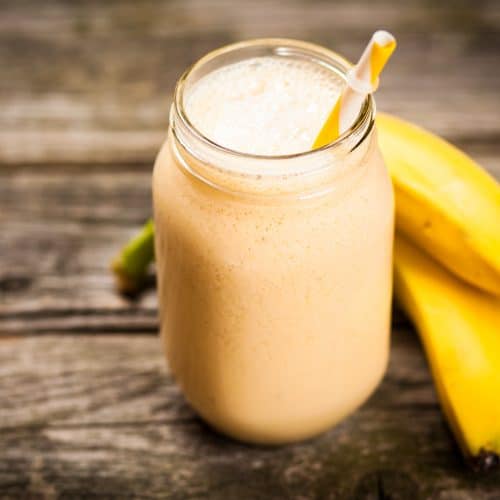 Banana Smoothie Without Yogurt
Make a delicious banana smoothie without yogurt with this easy recipe.
Ingredients
2

frozen bananas

2

Tbsp

rolled oats

1

scoop

vanilla protein powder

1 1/2

cups

unsweetened almond milk
Instructions
Add all ingredients to blender.

Blend on high speed until smooth.
Final Thoughts
Whether you're looking for a quick and easy breakfast smoothie or a healthy snack option, this banana smoothie recipe is sure to satisfy. It's simple to make with just a few basic ingredients, and it's easily customizable to your own taste preferences.
So go ahead and give it a try – we are sure you'll love this banana smoothie without yogurt!