Raspberry Banana Smoothie
Disclosure: This post may contain affiliate links, meaning I get a commission if you decide to make a purchase through my links, at no cost to you.
Trying to eat more plants? Smoothies are a great way to get your daily dose of fruits and vegetables. They're also a great way to get protein and fiber, which can help you stay full and satisfied.
This Raspberry Banana Smoothie is easy to make, delicious and healthy! It's perfect for a quick breakfast or snack.
Today we're going to show you how easy it is to get your five a day with simple smoothies.
Why We Love This Raspberry Banana Smoothie Recipe
We are huge smoothie fans in this house, and we love easy fruit smoothies like this one, both fresh and frozen as smoothie pops (the way the boys love them!).
This smoothie is made with ingredients we usually have on hand, it's sweet without the need for any added sweetener thanks to the combination of three fruits, and it's gluten free and dairy free. One of our kids has a dairy allergy, so you'll find mostly dairy free, vegan smoothies on our site!
This smoothie is rich and creamy since it's made with frozen fruit and almond milk, making it the perfect refresher for a hot summer's day (or anytime).
Ingredients in This Banana Raspberry Smoothie
Raspberries
Raspberries are great smoothie fruits because they are sweet but not too sweet, easy to blend and nutritious. In fact, they are great sources of Vitamin C, manganese and fiber, plus low calorie.
We find that frozen raspberries work best in this smoothie, but feel free to use fresh raspberries if you have them on hand!
Bananas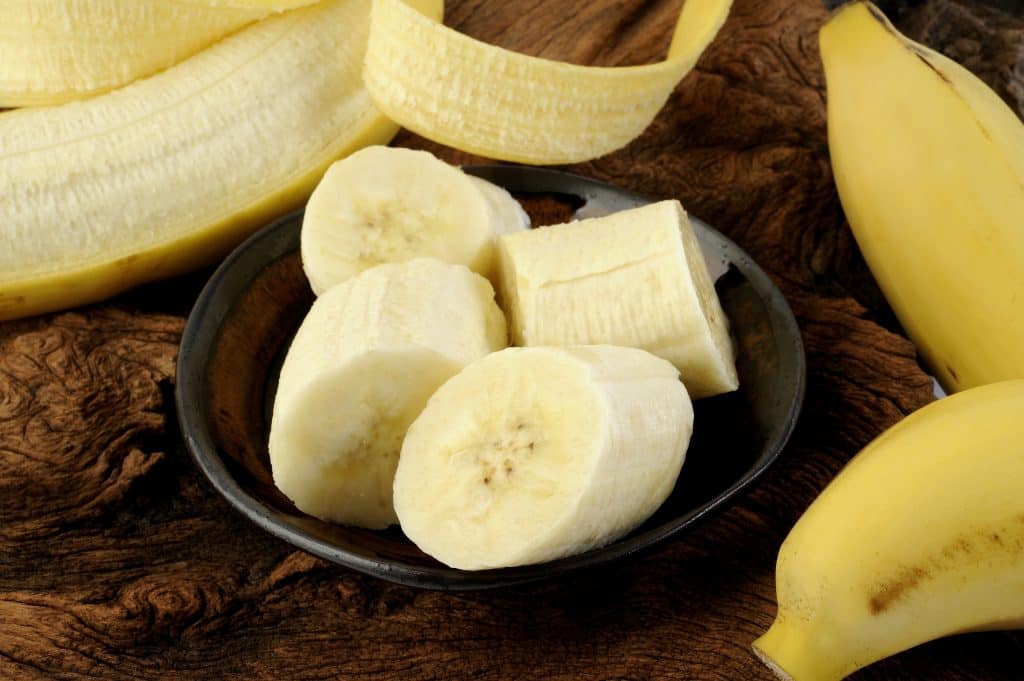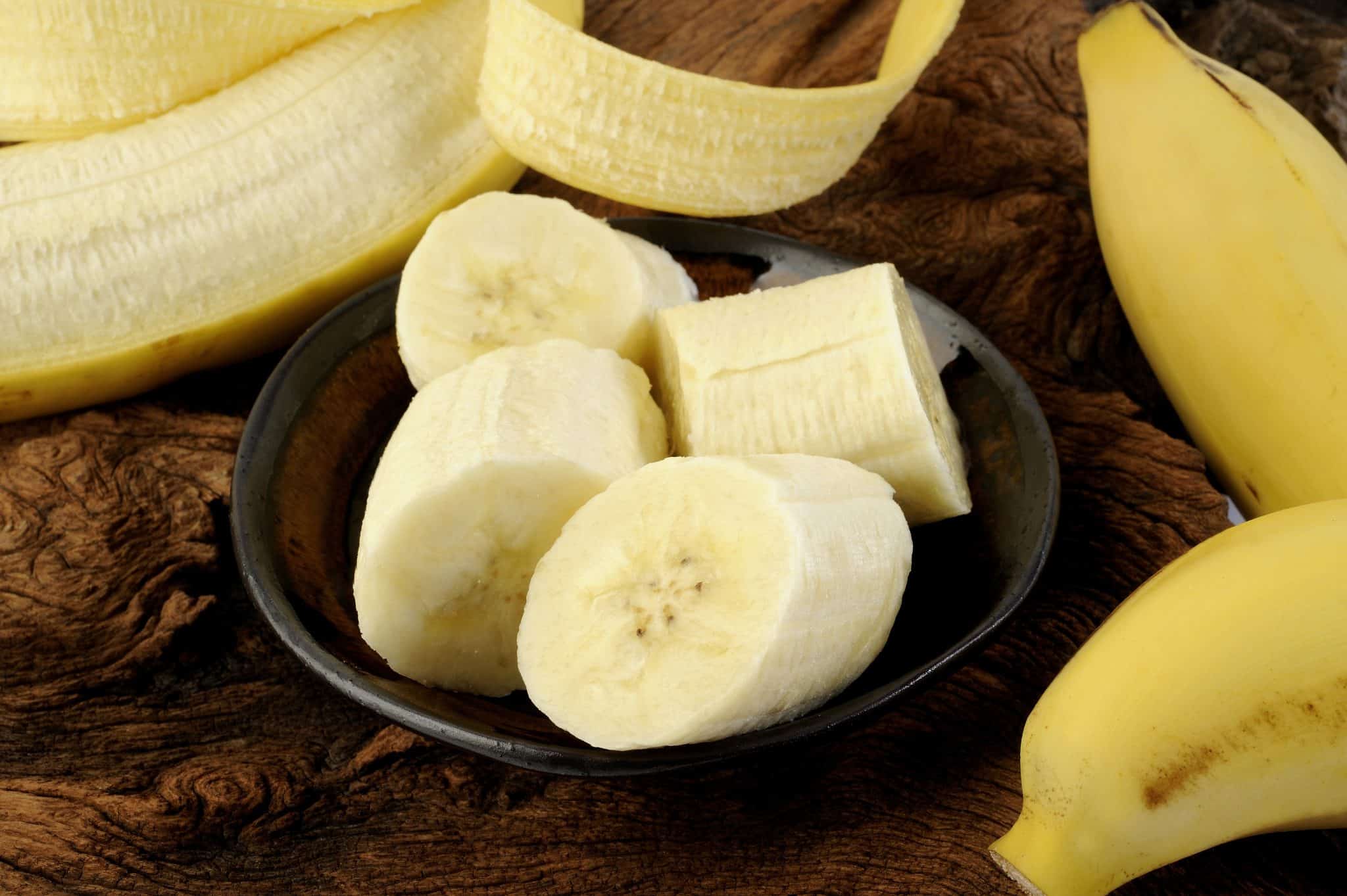 Bananas are another great smoothie fruit because they add both sweetness and creaminess. Bananas are also a good source of Vitamin C, Potassium, dietary fiber and Vitamin B6.
We use fresh banana in this smoothie, but you could also use frozen banana if you want a colder drink. Just note that using frozen banana will make the smoothie thicker so you may need to add more liquid.
Blueberries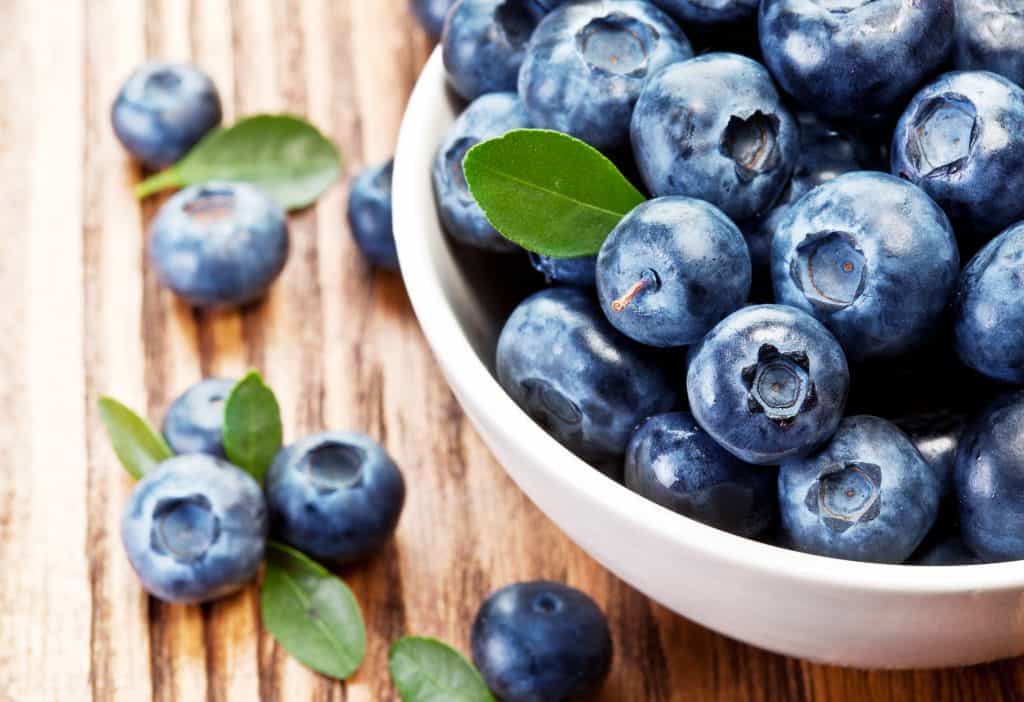 Blueberries are the third fruit in our smoothie, and they add both sweetness and antioxidants. Blueberries are a good source of Vitamin C, dietary fiber and antioxidants.
Like the raspberries, we find that frozen blueberries work best in this smoothie, but you can use fresh if you prefer.
Almond Milk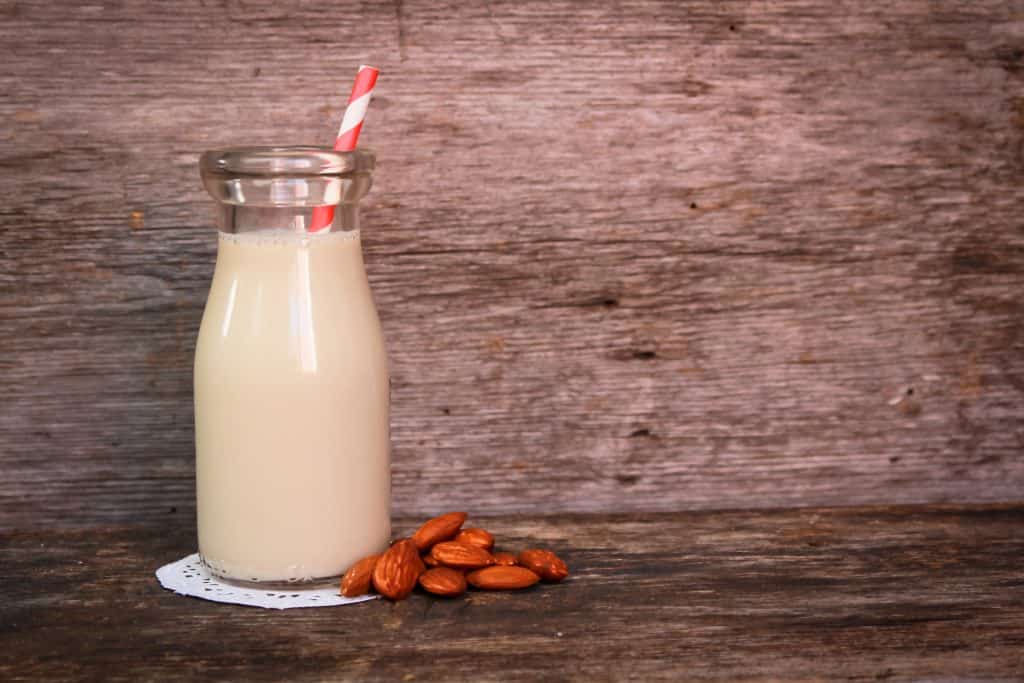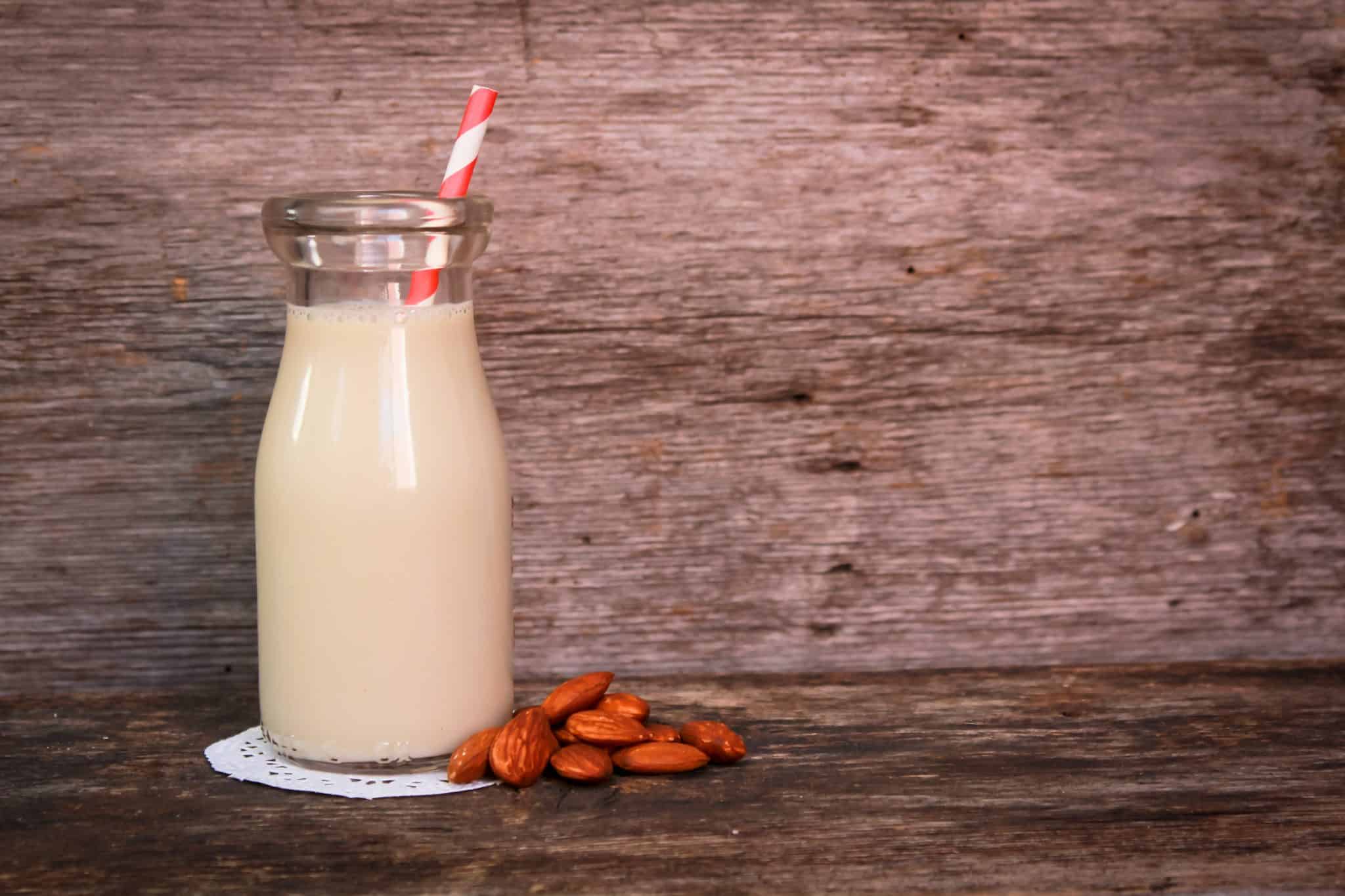 Unsweetened almond milk is our go-to liquid for most smoothies as it's dairy free (which is important in our house), low calorie and has a neutral flavor that lets the fruit shine. You could also use another non-dairy milk like cashew or coconut, or even dairy milk if you prefer.
Our other favorite is Extra Creamy Oat Milk, like Chobani or Planet Oat (which is his favorite to drink out of the carton).
Almonds
We like to add a handful of chopped almonds to our smoothies for a little extra crunch and a bit more filling smoothie, but this is optional. You could also use other nuts or seeds like pumpkin seeds, chia seeds, flaxseed or even oats.
How to Make This Raspberry Smoothie Recipe
This smoothie is so easy to make! Just add all of the ingredients to a blender and blend until smooth. If you find the smoothie is too thick, add more liquid until it reaches the desired consistency.
We like to top our smoothies with chopped almonds and a few extra raspberries, but this is optional. Serve immediately.
This is a favorite breakfast smoothie in our house, so sometimes I will add a scoop of protein powder and a Tbsp of oats to help keep the boys full until lunch.
You'll Also Love These Other Healthy Smoothie Recipes
How to Customize This Healthy Recipe
Make it green: This is my favorite customization! I often will add a handful of spinach, kale, or swiss chard to my smoothies because it adds a ton of nutrients and fiber.
Add protein: If you want to add some extra protein to this smoothie, you could add a scoop of protein powder, Greek yogurt or some nut butter. We like to add either vanilla protein powder or almond butter, and one kiddo loves peanut butter.
Make it sweeter: If you find this smoothie isn't sweet enough for your taste, feel free to add a little honey, maple syrup or agave nectar. You could also add a Medjool date or two.
Make it creamier: If you want a richer, creamier smoothie, you could add some full fat coconut milk, heavy cream or yogurt. We like to use plain yogurt or coconut yogurt.
Change out the liquid: As I mentioned above, you could use any type of milk in this smoothie recipe. Dairy milk, nut milk or even water or coconut water would work. Just note that using a different liquid will change the flavor and texture of the smoothie.
Use different fruit: This is a great way to use up whatever fresh fruit you have on hand! Feel free to swap out the raspberries, blueberries and banana for other fruits like strawberries, blackberries, peaches or mango.
Add superfoods: If you want to give this smoothie an extra boost, you could add some superfoods like spirulina, chia seeds, hemp seeds or flax seed.
Make it a smoothie bowl: Reduce the amount of liquid in the recipe to create a thicker blend, pour it into a bowl, add toppings and enjoy!
Common Questions about Raspberry Banana Smoothies
Are raspberry smoothies healthy?
Yes, raspberry smoothies can be healthy! This particular recipe is made with whole fruits and vegetables and doesn't have any added sugar. It is low in calories, especially when you choose a low calorie almond milk, but it is high in fiber and nutrients.
How many calories are in a raspberry banana smoothie?
This will vary based upon what you put into your smoothie, but the average raspberry banana smoothie will have between 150-200 calories, making it a great snack or meal replacement.
Is a banana smoothie good for weight loss?
A banana smoothie can be good for weight loss as long as it is made with healthy ingredients and doesn't have any added sugar. This recipe is made with whole fruits and is low in calories, making it a great choice for those looking to lose weight.
What's the best way to store a raspberry banana smoothie?
If you have leftovers, store them in an airtight container in the fridge for up to 24 hours. I do not recommend freezing smoothies to drink later as they tend to separate and become watery when thawed, but freezing them and eating them frozen is a wonderful healthy treat we love! It's honestly a lot like ice cream when you freeze it.
Raspberry Banana Smoothie
Whip up this easy raspberry banana smoothie with only a few simple ingredients.
Ingredients
2

medium

bananas

1/4

cup

raspberries

1

Tbsp

blueberries

1/2

cup

almond milk

1

Tbsp

chopped almonds
Instructions
Add all ingredients to blender.

Blend until smooth. Adjust liquid if needed to achieve desired consistency.
Final Thoughts
This raspberry banana smoothie is so easy to make and so delicious! It's made with simple ingredients – just raspberries, banana, blueberries, almond milk and some chopped almonds for the topping if you choose. It's perfect for a quick breakfast or snack and can be easily customized to fit your needs. So give it a try and let us know what you think!
Happy Blending!
Amanda