Quick and Easy Pear Yogurt Smoothie
Disclosure: This post may contain affiliate links, meaning I get a commission if you decide to make a purchase through my links, at no cost to you.
This quick and easy pear yogurt smoothie is a family favorite. It's healthy, delicious, and SO easy to blend up with only four ingredients! Plus, it's perfect for breakfast or a snack.
Keep reading for the recipe and tips on how to make the perfect yogurt smoothie every time.
Why We Love This Easy Pear Yogurt Smoothie Recipe
This smoothie is one of our favorites because it's healthy, delicious, and SO easy to make. It only requires four simple ingredients – fresh pear, yogurt, hazelnuts, and cinnamon – that you can easily find at any grocery store.
Our family is huge fans of quick and easy smoothie recipes because we have hectic mornings and we love something to blend up and take to go.
_________________
Ingredients
Ripe Pear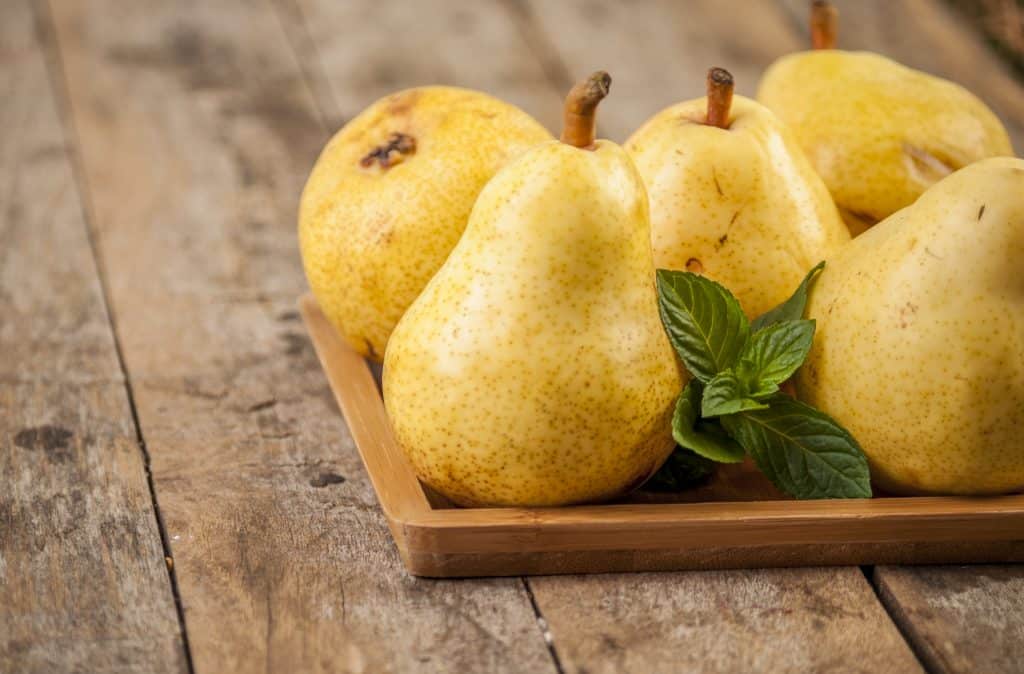 The health benefits of pears are well known. They're rich in fiber and potassium, making them great for digestion and heart health. Pears are also a good source of antioxidants, which can help protect your cells from damage.
The pear in this smoothie gives it a sweet, fruity flavor without being overbearing or adding in too much sugar. You can also use frozen pear, too.
We prefer Bartlett pear in this recipe, but any type of pear should work.
_________________
Yogurt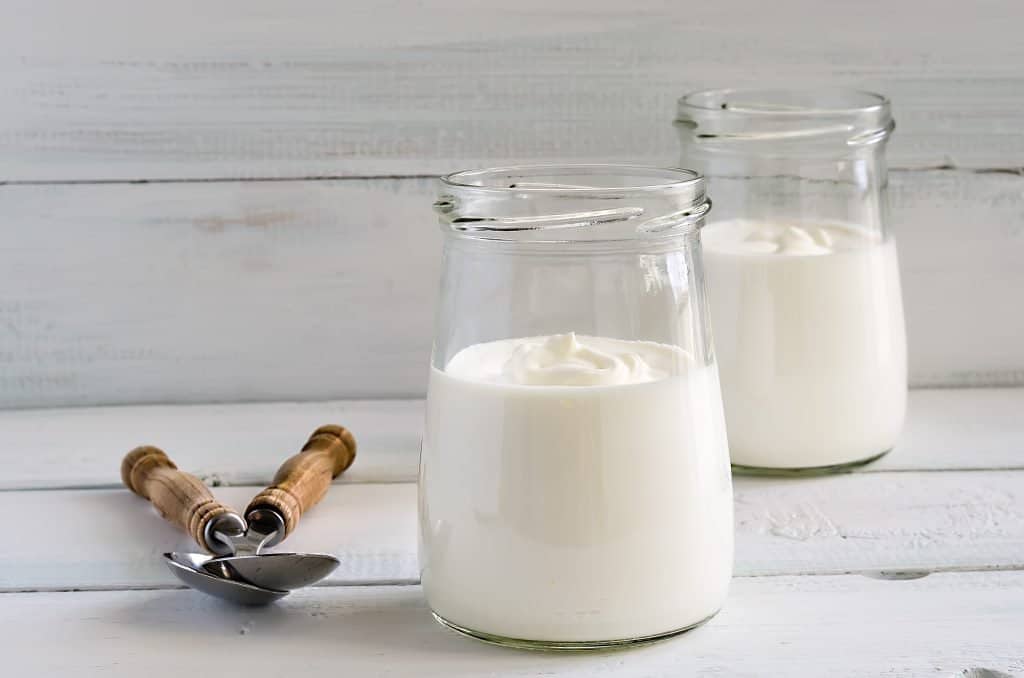 Yogurt is a fantastic source of protein and probiotics, which are important for digestive health. It's also rich in calcium and vitamin D, making it great for bone health.
The yogurt in this smoothie makes it extra creamy and refreshing. Plus, the probiotics can help keep your gut healthy while you're enjoying a delicious smoothie!
The recipe calls for regular yogurt or nondairy yogurt that is thinner and has a higher water content. If you choose Greek yogurt you will likely need to add a bit of liquid to help it blend (water or any type of milk will work).
_________________
Hazelnuts
Hazelnuts are a great source of healthy fats, protein, and fiber. They're also rich in vitamins and minerals, including vitamin E, which is an important antioxidant.
The hazelnuts in this smoothie add a delicious nutty flavor and a help to thicken the smoothie. They also provide plenty of nutrients and make the smoothie extra filling and satisfying to help hold you over until your next meal.
If you have a high speed blender you can throw in whole hazelnuts with no problem. If your blender isn't quite up to speed, try ground hazelnuts as called for in the recipe.
_________________
Cinnamon
Cinnamon is a great spice to include in any type of smoothie because it provides a nice flavor without adding too much sugar or other ingredients.
In this smoothie, cinnamon adds a subtle sweetness that makes the smoothie even more delicious. It also helps to bring out the natural flavors of the pear and yogurt.
_________________
How to Customize this Easy Pear Smoothie Recipe
There are many ways to customize this smoothie recipe depending on your tastes and preferences.
-Some great add-ins include fresh or frozen fruit such as strawberries, blueberries, raspberries, mangoes, banana, or any other type of fruit you enjoy.
-Make a spinach smoothie or other leafy greens by adding some fresh leaves – this boosts nutrition and will give you an awesome green color for your smoothie.
-You can also try adding in a scoop of protein powder or substituting the hazelnuts for another type of nut (walnuts or almonds, for example) to get an extra boost of protein.
-Feel free to adjust the amount of cinnamon and hazelnuts in the recipe depending on your personal taste preferences. Or add a bit of honey, maple syrup or pear juice for extra sweetness.
-Add superfoods such as matcha, hemp seeds, or chia seeds for an extra nutritional boost.
-Add some fresh ginger for a pear ginger smoothie, which is amazingly delicious.
-You can also try experimenting with different types of yogurt to see which one you like best in this smoothie (plain Greek yogurt, coconut milk yogurt, etc.). You don't have to just use plain yogurt either – vanilla is especially delicious!
-This makes a thick, creamy smoothie or smoothie bowl. Feel free to add in extra liquid (almond milk, oat milk, dairy milk, water, etc) to get the consistency you desire.
Overall, this easy pear yogurt smoothie is a quick and delicious way to get your daily dose of fruits and veggies.
So if you're looking for a quick and easy smoothie that's packed with nutrition and flavor, give this recipe a try!
_________________
You'll Love These Other Delicious Smoothie Recipes:
Tips to Blend a Perfect Smoothie
Blending a smoothie is pretty simple, but here are a few tips to help ensure your smoothie turns out perfectly every time:
-Start by adding the liquid ingredients to your blender first. This will help the blades move more easily and prevent chunks from forming.
-Next, add in the softer fruits or vegetables. These will blend more easily than the harder ingredients.
-Finally, add in the harder fruits or vegetables, nuts, and other thick ingredients.
-If your smoothie is having trouble blending, add a bit more liquid until it reaches the desired consistency.
-Don't be afraid to experiment with different ingredient combinations to find your perfect blend!
_________________
Whether you're looking for a quick breakfast or an afternoon snack, this easy pear yogurt smoothie recipe is perfect! Just blend up these simple ingredients and enjoy a delicious, nutrient-rich beverage that's refreshing, satisfying, and perfect any time of day. So what are you waiting for? Give smoothies a try today!
Quick & Easy Pear Yogurt Smoothie
Just four simple ingredients will get you going with this quick and easy pear yogurt smoothie recipe.
Ingredients
1

ripe pear

1.5

cups

plain yogurt

1

tsp

ground hazelnuts

can use whole for high speed blender

cinnamon

to taste
Instructions
Mix yogurt and pears in blender. If using Greek yogurt, you will need some extra liquid here (start with .25 cup and go up if you need it).

Add in hazelnuts and cinnamon and blend.

Thin with liquid as needed and top with cinnamon as desired.
I hope you've enjoyed this recipe for an easy Pear Yogurt Smoothie and will give this a try soon!
Happy Blending!
Amanda