Berry Banana Psyllium Husk Smoothie
Disclosure: This post may contain affiliate links, meaning I get a commission if you decide to make a purchase through my links, at no cost to you.
If you're looking for a delicious and healthy way to start your day, look no further than this Berry Banana Psyllium Husk Smoothie. This smoothie is made with simple ingredients: raspberries, strawberries, banana, chia seeds, psyllium husk powder and coconut water or plain water.
And thanks to the addition of psyllium husk powder, this smoothie is full of fiber! So if you're looking for a quick and easy breakfast that can help move things long, give this smoothie a try!
Why I Love Adding Psyllium Husk to Smoothies
In my family, I'm the only one who struggles with occasional constipation and bloating (and, I'm also the only female in our group) and sometimes I find that a helping of fiber can really help move things along.
Adding psyllium husk to your smoothie is a great way to get extra added soluble fiber, but you have to be careful not to take too much and also to hydrate well, so drink plenty of water when taking psyllium husk supplements.
We will start with just 1 tsp in this recipe, and you can add more as you get used to it. It really is very important to drink lots of water when adding extra fiber to your diet, especially if you do it suddenly, so carry around a bottle of water with you during the day when taking psyllium. Drinking a lot of water also helps with constipation, too!
Ingredients in Our Psyllium Husk Smoothie Recipe
Raspberry
Raspberries are full of vitamin C, manganese and dietary fiber. They are also a good source of B vitamins like folate, niacin and vitamin B6.
They add a delicious taste to this smoothie and can be either fresh or frozen. We usually use fresh when they are in season or on sale and frozen the rest of the time. (You can also use a frozen blend of mixed berries in place of both the raspberries and strawberries.)
Strawberry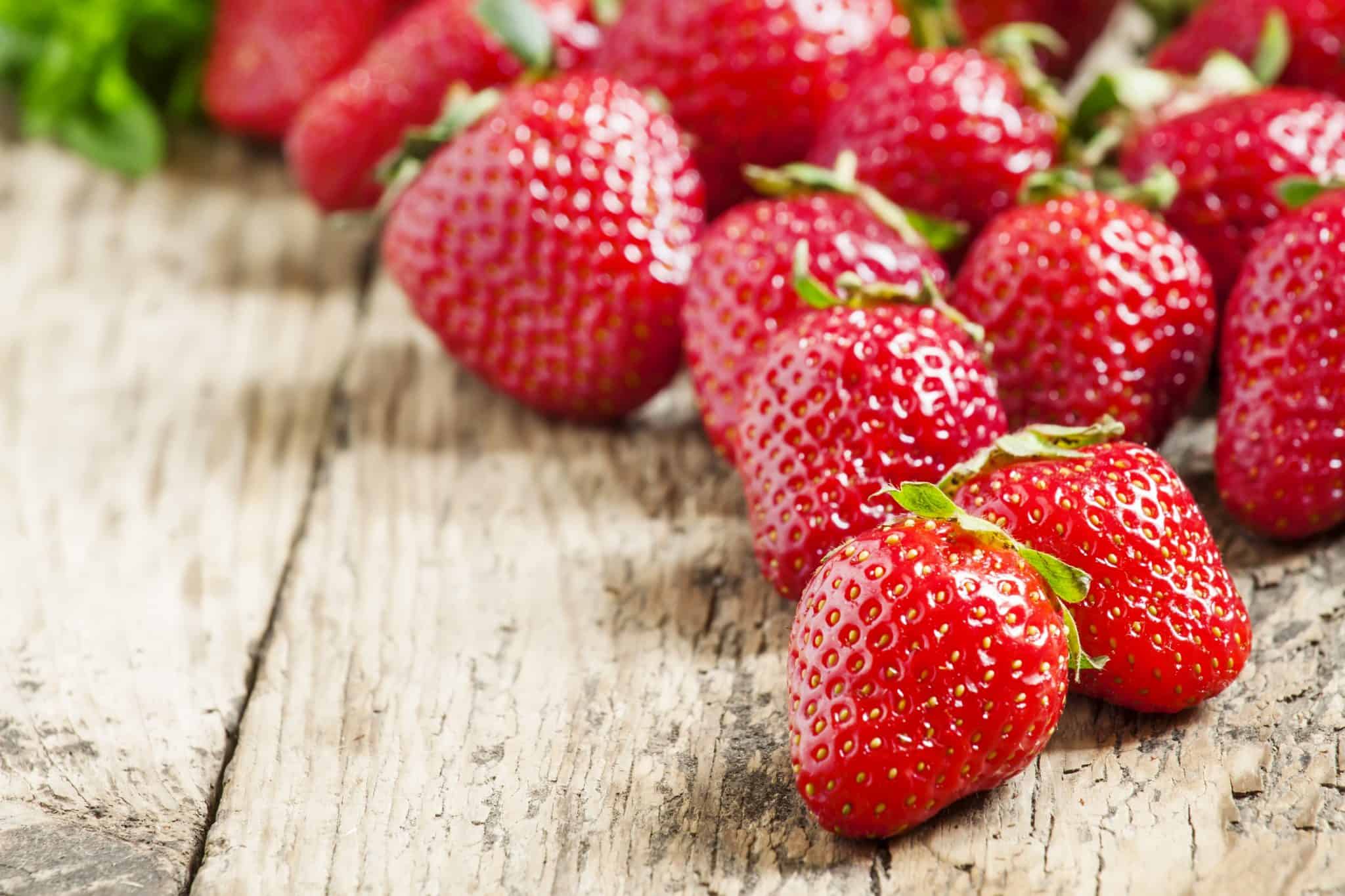 Strawberries are an excellent source of vitamin C and add sweetness and texture to our smoothie without many calories. They also add fiber, which is important in this smoothie.
Use fresh or frozen berries here as well. If using all frozen berries you might want to increase the liquid just a bit, and if using all fresh you might need an ice cube or two to help with texture.
Banana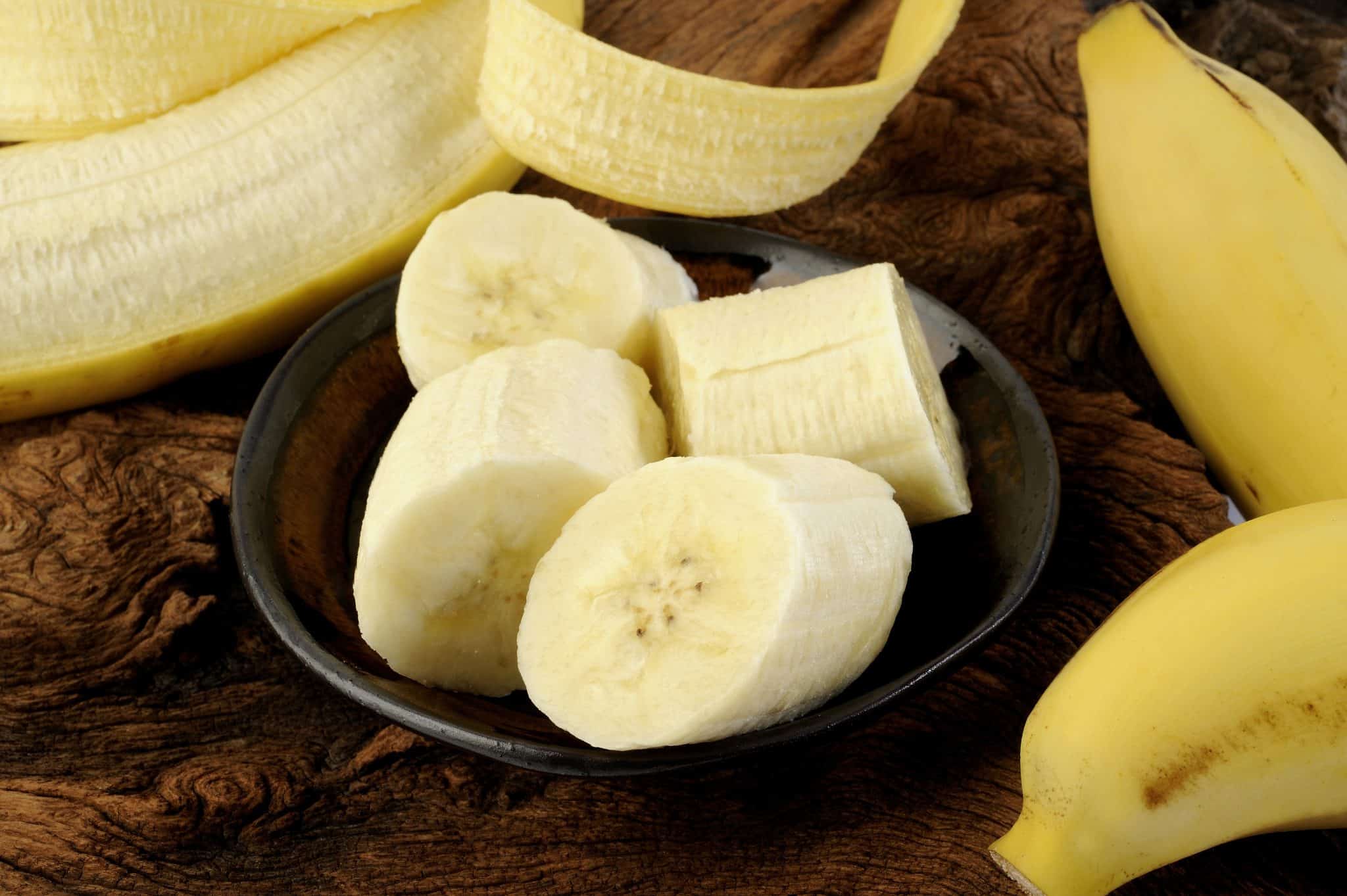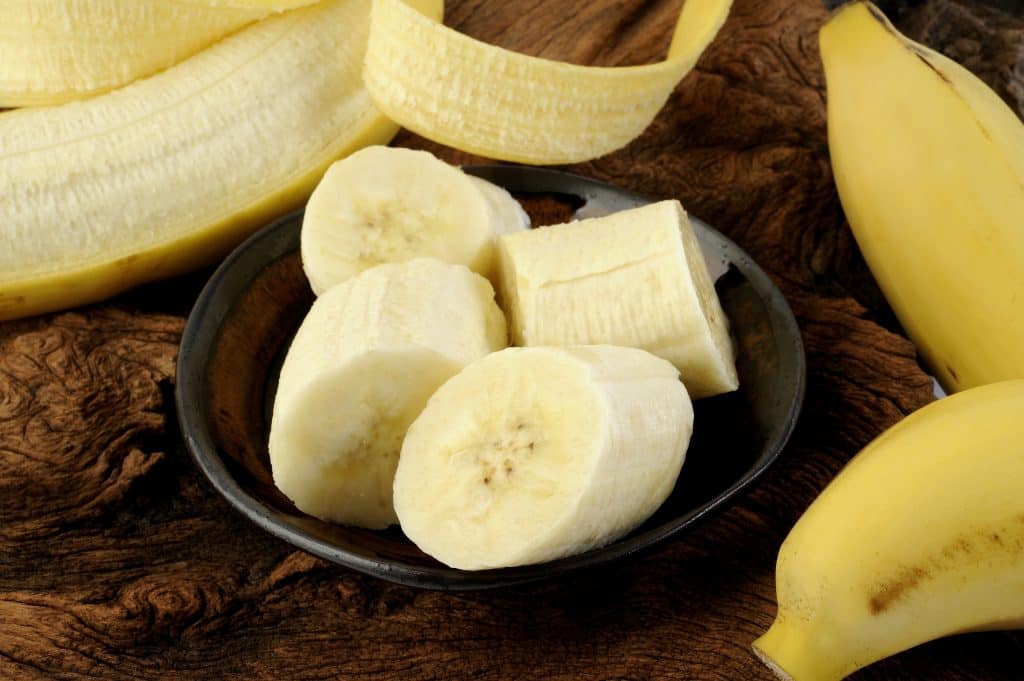 Bananas are a great addition to any smoothie because they add creaminess and sweetness without needing any added sugar. They also add some potassium, vitamin C and dietary fiber to our recipe.
We love using frozen bananas in smoothies, but if you don't have any on hand or want to avoid them for some reason, you could try adding a bit of pitted dates or some unsweetened applesauce to our recipe instead.
Chia Seeds
Chia seeds are a good source of omega-3 fatty acids, fiber and minerals like calcium, manganese and phosphorus. They add creaminess and texture to our smoothie without adding many calories.
They also are said to help clean out the colon, which is excellent paired with the psyllium husk.
Psyllium Husk Powder
Psyllium husk powder is a great natural source of dietary fiber made from ground psyllium husk. Just one teaspoon of this fiber supplement has about 3 grams of fiber, which is about 12% of the recommended daily value. Psyllium husk is also said to help clean out the colon and promote regularity.
Start with just a little psyllium powder. The 1 tsp we recommend for this smoothie is perfect to start with and you can gradually increase as needed. I've seen some smoothie recipes calling for a tablespoon (3 tsp) in one smoothie, but if you aren't used to high fiber smoothies this could upset your system. Use what's best for you.
Coconut Water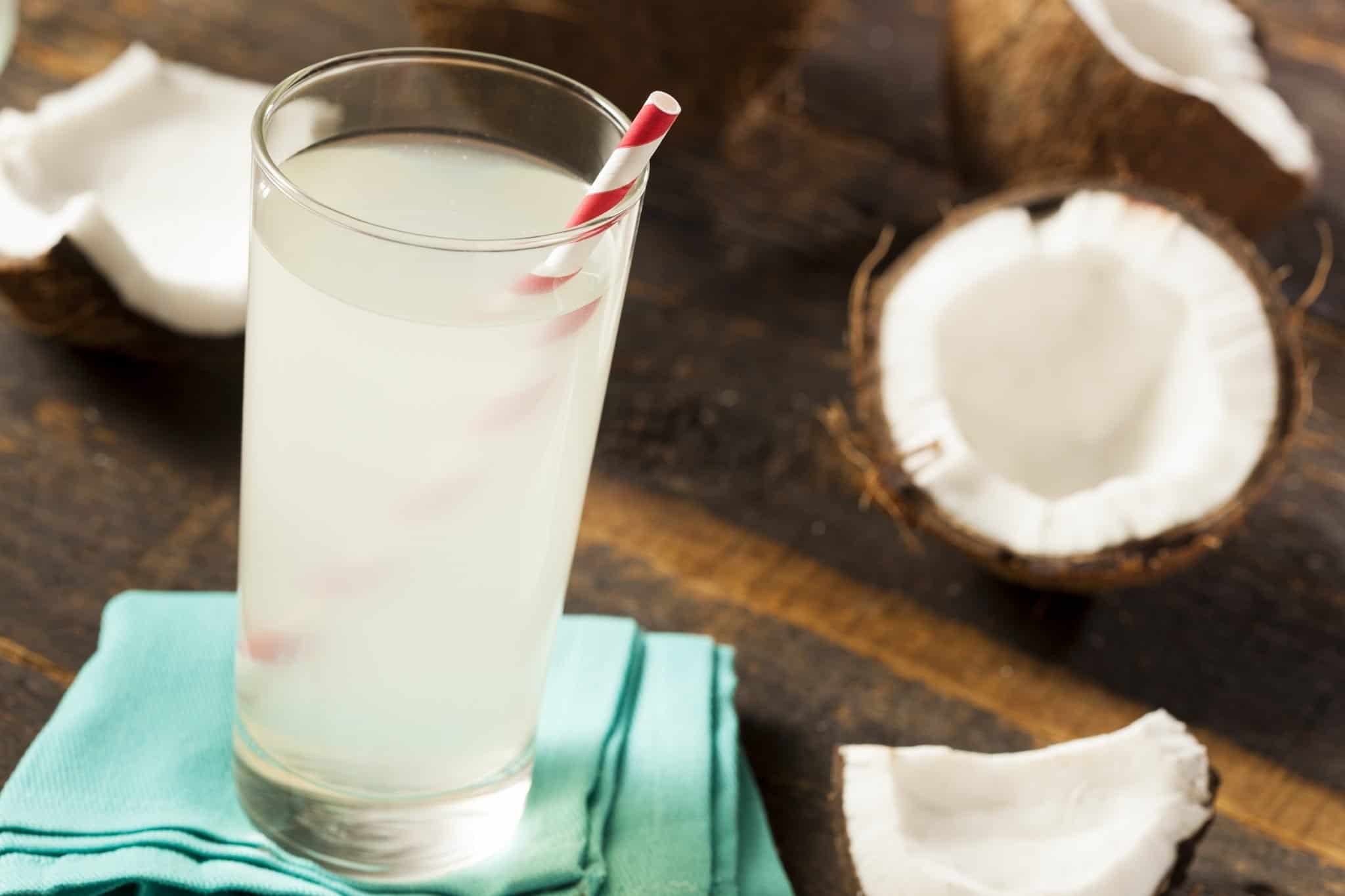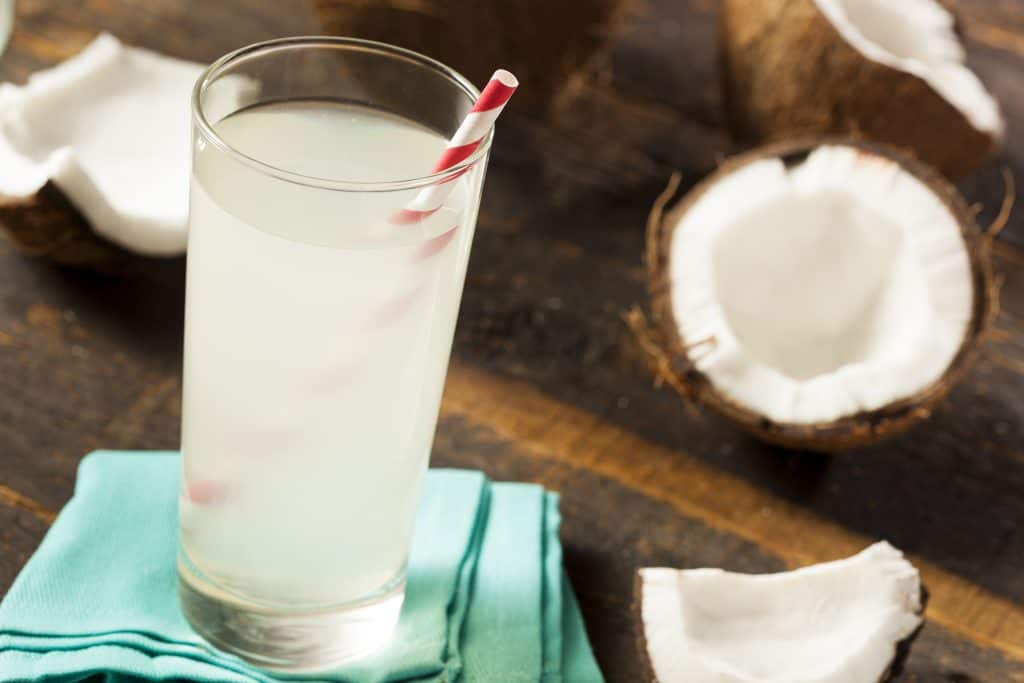 We like using coconut water in this recipe because it's a natural source of electrolytes and also has some potassium, calcium and magnesium. If you don't have any on hand or prefer not to use it, plain water will work just fine here.
How to Blend a Psyllium Husk Smoothie
Some people have reported problems with psyllium fiber clumping up in smoothies, but if you use enough liquid this shouldn't happen. If you find clumps, increase the amount of liquid or decrease the amount of psyllium. With 1 tsp you shouldn't notice an issue.
We like to use a high powered blender for our smoothies, like a Vitamix, because it does such a great job at blending everything evenly. If you don't have one don't worry, any blender will do the job here.
Just add all of your ingredients to the blender in the order listed and blend until smooth. If using frozen fruit you might need to add a little extra liquid or let it thaw out for a bit before blending.
Pour into glasses and enjoy right away!
You'll Love These Other Healthy Smoothie Recipes
How to Customize This Healthy Smoothie Recipe
Make it green: Add a handful of spinach or kale to the mix. You get a ton of great nutrition without a lot of calories.
Make it sweeter: Use other sweet fruit such as mango or pineapple, add a pitted date or two, or use honey, maple syrup or agave nectar. Even monk fruit or stevia work well, but we don't find we need any sweetener with all the fruit this smoothie provides.
Make it high in protein: Add a scoop of your favorite protein powder. We like vanilla with bananas and berries, but you can use any flavor you like. You could also use a nut butter such as peanut butter or almond butter or even Greek yogurt.
Change out the liquid: Use juice (orange juice or apple juice work well), plain filtered water, or even milk such as oat milk or unsweetened almond milk.
Add oats: Soak 1/4 cup of oats in the liquid for a few minutes before adding everything to the blender. This will add some extra fiber and make your smoothie more filling.
Berry Banana Psyllium Husk Smoothie
Enjoy a high fiber smoothie with the addition of psyllium husk powder.
Ingredients
1

cup

raspberries

(fresh or frozen)

1

cup

strawberries

(fresh or frozen)

1

medium

frozen banana

1

tsp

chia seeds

1

tsp

psyllium husk powder

1 1/2

cup

coconut water
Instructions
Add all ingredients to blender.

Blend on high speed until smooth.

Best consumed immediately. Enjoy!
Final Thoughts on our Easy Psyllium Husk Smoothie Recipe
This psyllium husk smoothie is an easy way to get more fiber in your diet. It's also perfect if you are looking for a natural colon cleanse smoothie recipe. Just make sure to start with a small amount of psyllium husk powder and increase as needed so you don't end up with any digestive issues.
If you give this recipe a try, we'd love to hear how it turned out! And don't forget to rate the recipe to let us know how you liked it. Enjoy!
Happy Blending!
Amanda