Easy Apple Raspberry Smoothie
Disclosure: This post may contain affiliate links, meaning I get a commission if you decide to make a purchase through my links, at no cost to you.
Who can resist a tasty apple raspberry smoothie? This classic flavor combination is not only refreshing on hot summer days, but it also has tons of nutrients and is a great way to help you get in your daily fruit intake. In this post, we share a recipe for making your own delicious apple raspberry smoothie, and we will also share some health benefits that come with drinking one. With just a few simple ingredients you can make this refreshing treat!
Why We Love This Raspberry Apple Smoothie
We are huge smoothie lovers in our house, and I've been using smoothies along with Weight Watchers to lose weight. I love to use this as a breakfast smoothie as it's easy to whip up in the morning. My kids love it for its fruity taste – and we even love to freeze it into smoothie pops!
Ingredients in Our Sweet Apple Smoothie
Raspberries
Raspberries are packed full of beneficial vitamins and minerals, such as vitamin C, fiber, manganese and potassium. Vitamin C is an important antioxidant that can help protect cells from potential damage caused by free radicals. Fiber helps to promote healthy digestion and regularity, while manganese aids in the development and repair of tissue. Potassium helps regulate fluid balance in the body and balances out salt levels.
We used fresh raspberries in our recipe, but feel free to use frozen raspberries if that's what you have on hand. When fresh berries aren't in season we will often use frozen and they give a wonderful texture to the smoothie.
Apple
Apples are packed with nutritients that can help keep your body healthy. Apples contain vitamins, minerals and antioxidants which can help keep you from getting sick, protect your heart, and support bone health. They are also a great source of dietary fiber and can help regulate blood sugar levels. Plus, they are low in calories so you can enjoy them guilt-free.
You will use one large apple for this recipe. You can use any variety of apple. If you are watching your sugar I would suggest a green apple, but if you want a sweeter smoothie go for a pink lady, honeycrisp, gala or fuji apple.
Green Tea
Green tea has been known for its amazing health benefits for centuries and it's also great for promoting weight loss. Green tea is heart healthy, can help prevent cancer, is great for detoxification and it naturally contains compounds called catechins which fight bacteria that cause cavities and bad breath and reduce plaque formation on teeth.
You can use any brand of green tea you like for this recipe. We buy ours at our local Kroger store and use the store brand. Just brew up a cup of green tea and let it cool to at least room temperature before adding to your smoothie.
Oats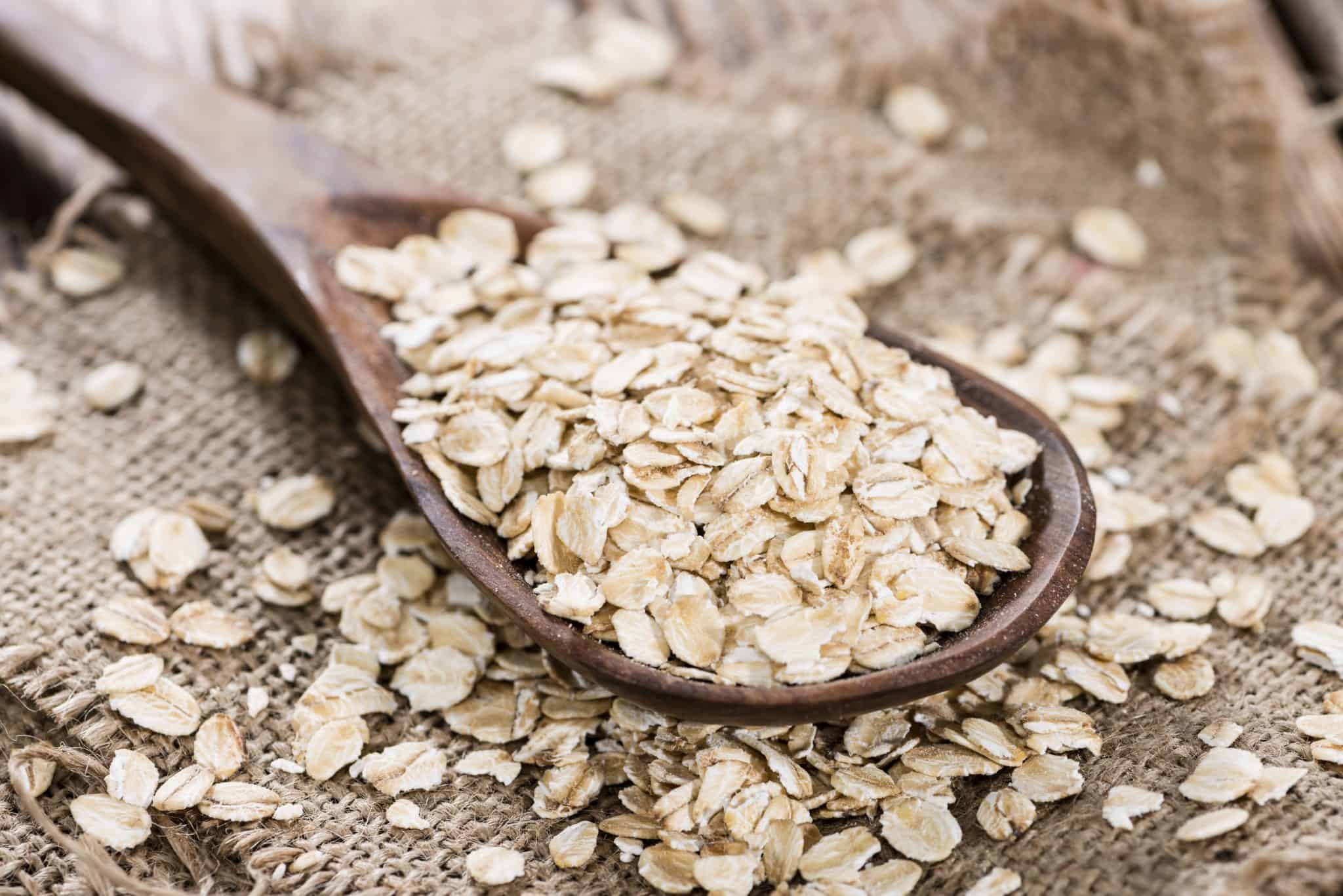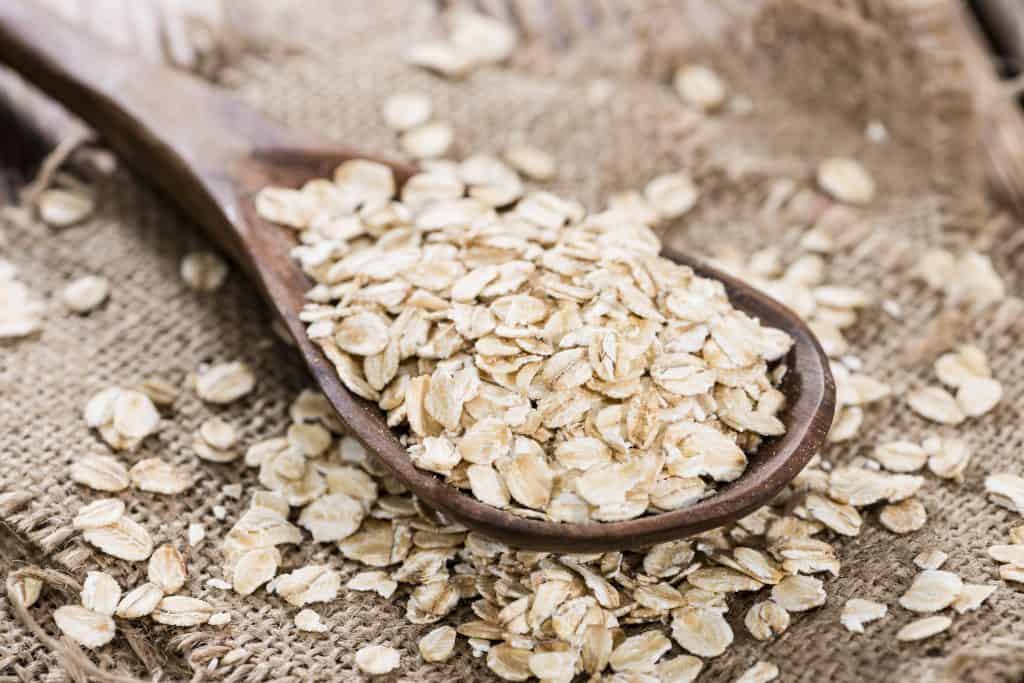 We added oats to this recipe to help feel full longer. Since I often use this as a breakfast smoothie I need some staying power, and oats are full of dietary fiber that can help tide you over until your next meal.
Use rolled oats (old fashioned oats) for best texture.
Lime Juice
Lime goes wonderfully with raspberry, and the lime juice really just gives it an extra layer of flavor. I love this refreshing combination, but feel free to leave this out if you don't have lime juice. You can also substitute with lemon juice or even a sweet juice like apple juice if you prefer.
Maple Syrup
This is optional and is added to taste. Personally I'm used to smoothies only sweetened with fruit and I love the taste of this smoothie without any sweetener, but if you are new to smoothies or just prefer sweeter ones feel free to add maple sryup to taste, or substitute with honey or agave nectar.
How to Blend a Delicious Raspberry Apple Smoothie Recipe
Making a delicious apple raspberry smoothie is easy! Start by gathering all of your ingredients, including raspberries, apples, green tea, oats, lime juice and maple syrup (if using).
Next, you'll need to prep the ingredients. Give the apples a wash and slice to remove core. The size you need to slice them depends upon the strength of your blender. I have a high powered blender so I slice in half, remove the core and toss it in. Before I got this blender I cut them into slices.
Next, measure out your raspberries, oats, lime juice and green tea and add them to the blender with the apple slices. Taste and add maple syrup as desired.
Once everything is prepped, blend everything until it is completely smooth. You can use more or less tea in order to reach your desired consistency. If you want something sweeter, add more apples or some maple syrup to taste. Finally squeeze in some freshly squeezed lime juice and give one last blend before serving in cold glasses with mint leaves for garnish (if desired).
You'll Love These Other Healthy Recipes for Our Favorite Smoothies
How to Customize This Healthy Smoothie Recipe
Add greens: Throw in a handful of kale, spinach, swiss chard or your favorite leafy green. This adds so many nutrients to this already refreshing beverage, and the only thing it really changes is the color (it goes from a ruby-colored drink to greenish, but it tastes the same!).
Change the fruit: Sometimes we make this with whatever fruit we have on hand: frozen blueberries, mango chunks, pineapple, etc. Feel free to experiment and change up the fruit.
Add superfoods: Throw in some chia seeds, Greek yogurt, supergreens powder, goji berries, acai, or any other superfood you enjoy.
Change the liquid: Don't want to use green tea? Other liquids we have had great success with are almond milk, oat milk, and coconut milk.
Add protein: Another great way to add staying power is with protein. Add Greek yogurt, protein powder or nut butter as another way to help keep you feeling full.
Apple Raspberry Smoothie
Enjoy a delicious smoothie any time of day with our easy apple raspberry smoothie recipe.
Ingredients
2

cups

raspberries

(fresh or frozen)

1

large

apple

(cored)

1

cup

brewed green tea

(cooled)

1

Tbsp

rolled oats

1

Tbsp

lime juice

maple syrup

(optional, to taste)
Instructions
Add all ingredients except maple syrup in blender.

Blend on high speed until smooth.

Add maple syrup to taste (optional) and enjoy!
Final Thoughts on Our Apple Raspberry Smoothie
I hope you'll give this smoothie recipe a try. It's one of our favorites for its simplicity and taste – not to mention the health benefits! If you enjoy fruit smoothies I think you're going to like this one.
Happy Blending!
Amanda