Easy Paleo Blueberry Smoothie
Disclosure: This post may contain affiliate links, meaning I get a commission if you decide to make a purchase through my links, at no cost to you.
If you're looking for a delicious and healthy way to start your day, look no further than this easy paleo blueberry smoothie. Made with just a few simple ingredients, this smoothie is perfect for busy mornings when you need something quick and nutritious on the go. So why not give it a try today?
What Makes a Smoothie Paleo?
In order to make a smoothie paleo, you'll need to use ingredients that stick close to the paleo diet guidelines. This means avoiding processed sugars and grains, as well as dairy products and grains. With this in mind, this smoothie is made with only natural ingredients like blueberries, banana, spinach, cashew milk, collagen protein powder, cinnamon and chia seeds.
Why We Love This Paleo Blueberry Smoothie
We love smoothies in our house and I'm a big fan of the Paleo diet. Even though I will add in dairy and grains from time to time in my diet, I like the Paleo diet. Eating unprocessed, whole foods has got to be good for you! This is a great breakfast smoothie because it has healthy fats from the chia seeds, protein from the collagen protein powder and lots of vitamins and minerals from the fruits. So if you need a quick breakfast consider a smoothie.
I also try to get as little processed food into my kids as possible (but I'm not that Mom that won't let them have birthday cake!). Recently I have also been making my own nondairy milk for my smoothies, and for this one I chose homemade chashew milk. It's so good!
Just a handful of simple ingredients will get you on your way with this smoothie, and, don't worry – you don't have to make your own nondairy milk! There are many great options on the market today.
Ingredients in Our Healthy Smoothie Recipe
Blueberries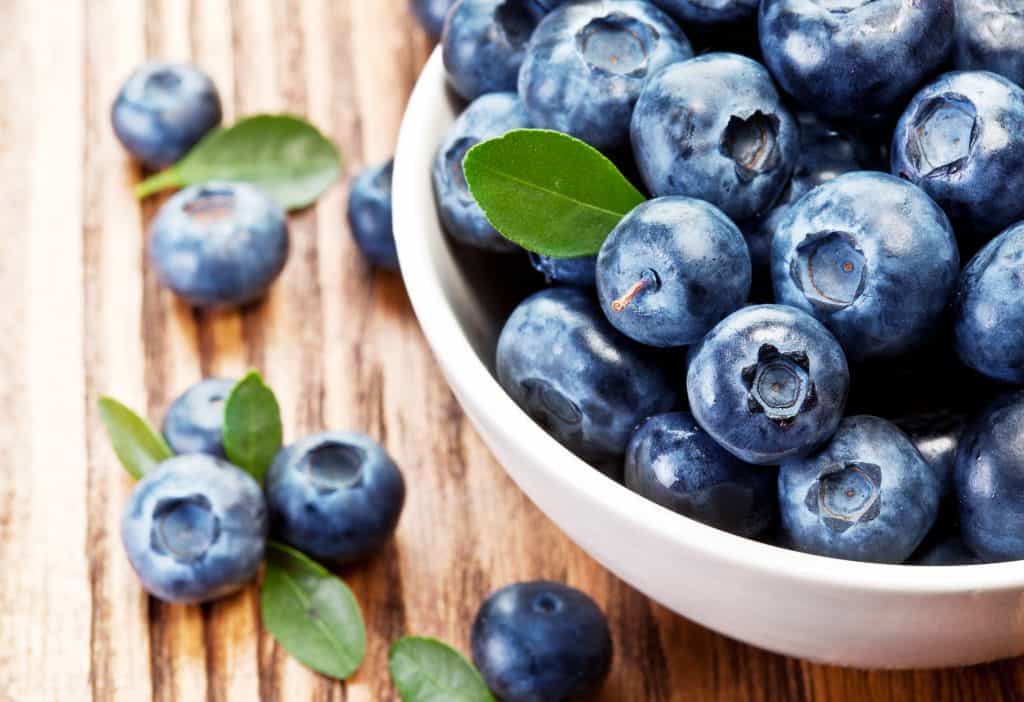 Blueberries are a powerhouse of nutrition, packed with essential vitamins and minerals. They have one of the highest antioxidant contents compared to other fruits, helping protect your cells from damage. The fiber content in blueberries helps promote a healthy gut, while also keeping you feeling fuller for longer. Plus, their natural sweetness makes them an ideal addition to smoothies.
You can use fresh or frozen blueberries for this smoothie. For the ones in the photos I used fresh blueberries because they were on sale and we had them in the fridge.
Banana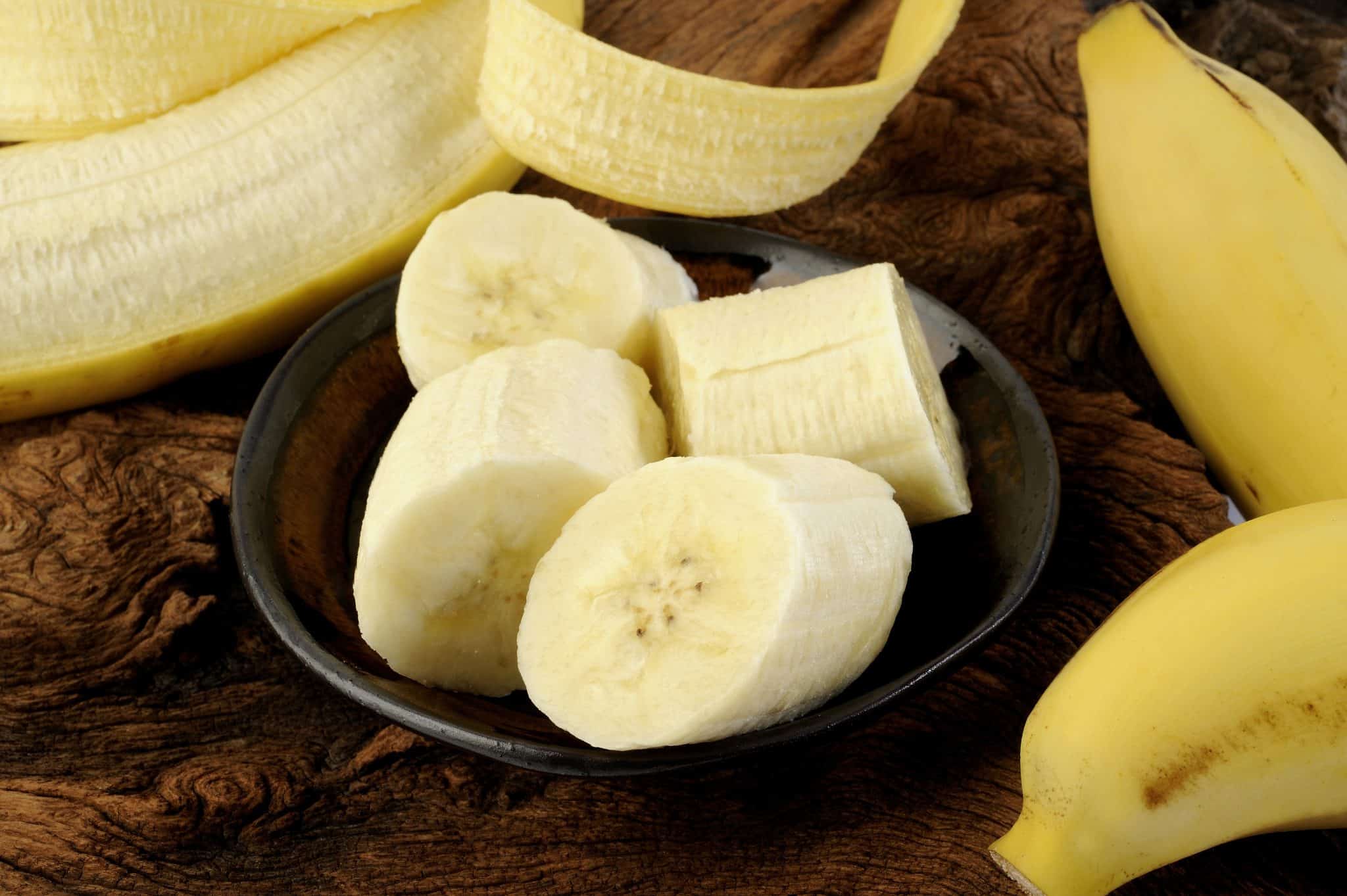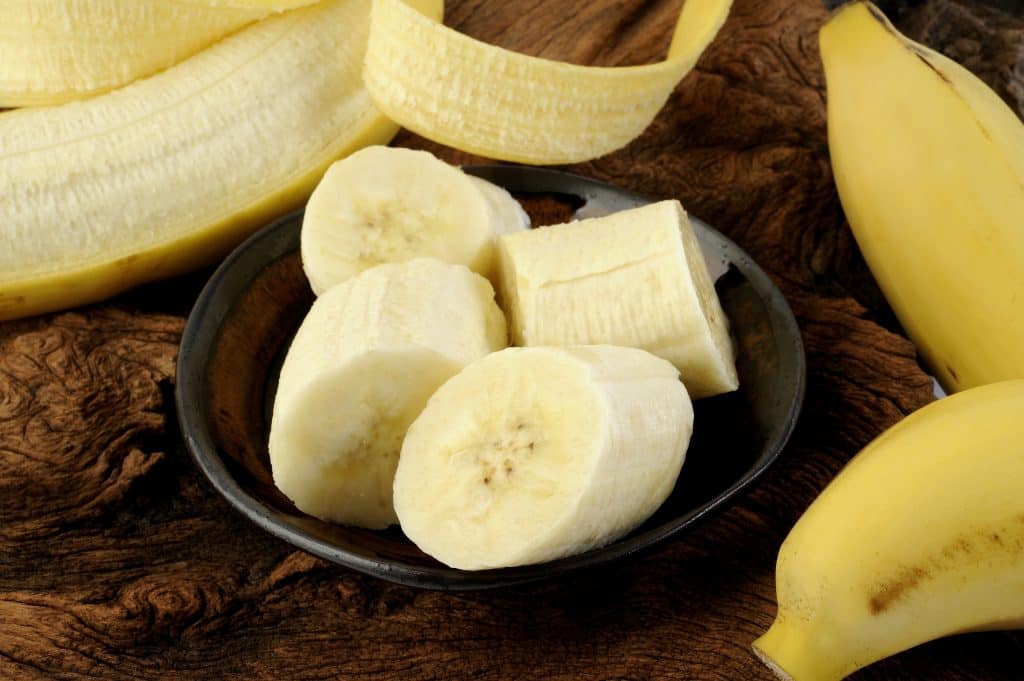 Bananas are an excellent sweetener for smoothies and also a great source of potassium – important for maintaining healthy blood pressure levels. They're also packed with vitamin B6, which helps convert food into energy.
Use a fresh or frozen banana for this recipe. For the ones in the photos I used a fresh banana since I had used up all of my frozen ones, but I added in some ice to try and give it a similar texture. Frozen bananas definitely work best for creamy smoothies.
Spinach
Spinach is loaded with vitamins, minerals, and antioxidants that can help protect against cell damage. It's also a great source of dietary fiber, which can help keep you feeling full for longer.
I used fresh spinach for this smoothie, as we almost always have a tub of baby spinach in the refrigerator, but it could easily be substituted with frozen spinach for a similar texture and taste.
Cashew Milk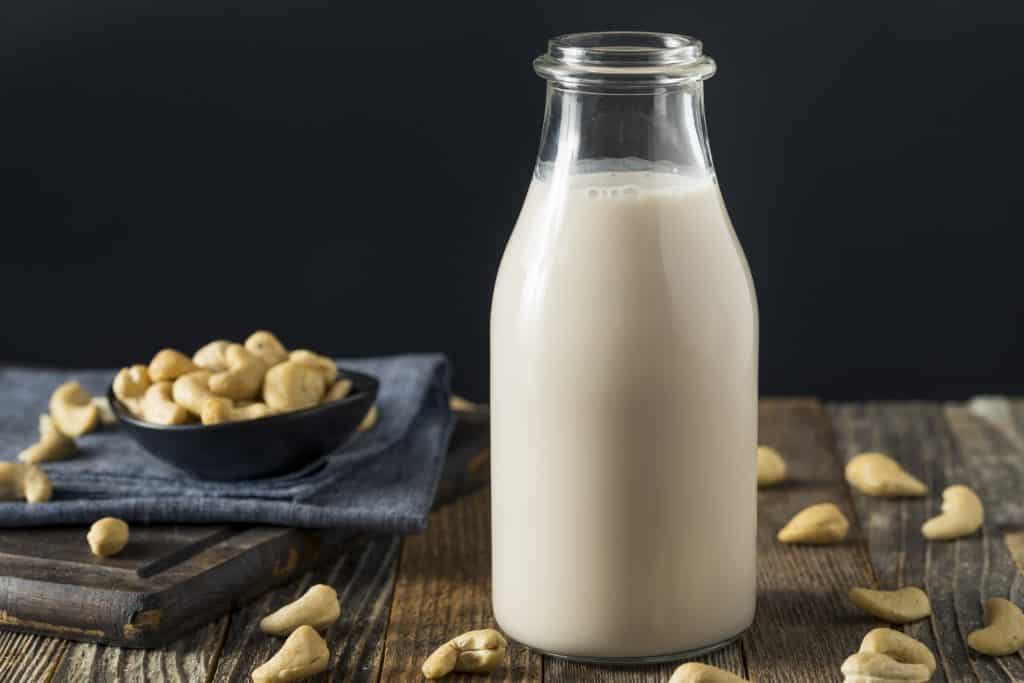 Cashew milk is a great choice if you're looking to make your own nondairy milk. It's a bit creamier than other nut milks and has a slightly sweet taste that pairs perfectly with the other ingredients in this smoothie.
I chose to make my own cashew milk for this recipe, as I find it tastes much better than store-bought brands. Plus, it's incredibly easy – all you need is cashews, water, and a blender.
Don't have cashew milk? No problem! You can use any nondairy milk of choice for this recipe: almond milk, oat milk (one of our favorites), coconut milk, etc.
If you don't want to use milk at all try filtered water, coconut water or even juice.
Collagen Protein Powder
Collagen protein powder is an excellent addition to smoothies as it helps promote healthy hair, nails, and skin. It's also a great source of amino acids that can help build muscle mass and aid in post-workout recovery.
I used an unflavored collagen protein powder for this smoothie as it pairs well with the other ingredients. I also think it adds a nice creamy texture.
Cinnamon
A sprinkle of cinnamon not only gives this smoothie a delicious flavor, but also provides numerous health benefits. It helps regulate blood sugar levels and has anti-inflammatory properties that can help promote a healthy digestive system.
Chia Seeds
Chia seeds are an excellent source of dietary fiber and omega-3 fatty acids, which can help reduce your risk of heart disease. They also have antioxidant properties that may help protect the cells in your body from damage. Plus, they make for a great addition to smoothies as they thicken the texture.
Chia seeds can also help you lose weight – so toss some in that smoothie!
How to Blend a Blueberry Chia Paleo Smoothie
Once you have all of your ingredients collected, it's time to blend the perfect smoothie. Add all of the ingredients into a blender and blend until smooth. For extra creaminess, add a few cubes of ice or some cold water if needed.
If your smoothie is too thin, try adding more chia seeds or frozen fruit and blend again. Let it sit for a few minutes for the chia to absorb some of the liquid. You can also try adding ice cubes and blending again.
If your smoothie is to thick, add some more plant-based milk and blend again.
You'll Also Love These Other Blueberry Smoothie Recipes
How to Customize Our Blueberry Banana Smoothie
Change up the flavor: Switch out other frozen fruits or fresh fruits for the blueberries and banana, add some lemon zest (which is delicious!), vanilla extract, or even coconut for a paleo blueberry coconut smoothie!
Add superfoods: Boost the nutrition with added superfoods such as maca, hemp seeds, bee pollen, or acai.
Try different proteins: As mentioned above, collagen protein is an excellent choice for this smoothie. You can also try adding plant-based proteins such as pea protein powder or rice protein powder for a vegan version of this smoothie.
Meal-prep: Make a bigger batch of this smoothie and store it in your refrigerator for up to 3 days or freeze for up to 2 months. Enjoy as an easy grab and go breakfast or snack!
Add more healthy fats: Add in Greek yogurt (coconut yogurt works well here) or a nut butter such as almond butter or peanut butter. Flax seeds are another great choice in addition to the chia seeds.
Make it sweeter: Add in dates, maple syrup or honey to taste if you feel it needs an added sweetener. Stevia and monk fruit work well as sweeteners, too.
Paleo Blueberry Smoothie
Enjoy a delicious and easy breakfast or snack with this paleo blueberry smoothie recipe.
Ingredients
1

cup

blueberries

(fresh or frozen)

1

medium

banana

(fresh or frozen)

1

cup

baby spinach

1

cup

cashew milk

(or other milk of choice)

1/4

tsp

cinnamon

(or to taste)

1

Tbsp

chia seeds

ice

(optional, if using all fresh fruit)
Instructions
Add all ingredients to blender, including ice if using all fresh fruit.

Blend on high speed until smooth.
Final Thoughts on Our Paleo Blueberry Smoothie Recipe
Enjoy your delicious paleo blueberry smoothie! With just a few simple ingredients, you can whip up a nutritious and tasty drink that will nourish your body and provide you with energy to get through the day.
If you want to customize the recipe, feel free to mix it up and add your own favorite ingredients. This smoothie is a great way to start the day or as an afternoon snack on-the-go with no added sugar, gluten free and it's Paleo-friendly – so don't forget to meal prep some ahead of time!
Happy Blending!
Amanda