Raspberry Chia Seed Smoothie Bowl
Disclosure: This post may contain affiliate links, meaning I get a commission if you decide to make a purchase through my links, at no cost to you.
If you're looking for a delicious and nutritious breakfast or snack, look no further than this raspberry chia seed smoothie bowl. It's made with just a few simple ingredients: raspberries, Greek yogurt, honey and chia seeds. You can top it with fresh fruit, coconut flakes, more chia seeds or hemp seeds, flax seeds, nut butter or any other favorite toppings of your choice for a filling treat!
Why We Love This Chia Seed Smoothie Bowl Recipe
We are huge smoothie lovers in our house, and my boys really enjoy a smoothie bowl for breakfast. They like that they can add their own toppings and eat it with a spoon instead of drinking their smoothies all the time.
This recipe is so simple and delicious. It's great as-is or you can customize it endlessly (we've provided some ideas below!). Because it's made with Greek yogurt it helps keep you feeling full longer than a smoothie bowl made with just fruits and vegetables, and it adds protein, an important nutrient.
Ingredients in Our Raspberry Smoothie Bowl
Raspberries
Raspberries, part of the rose family, are naturally sweet and delicious and an excellent source of vitamins, minerals, fiber and antioxidants. They are especially high in vitamin C, potassium and manganese, which makes them an important part of a healthy diet.
Raspberries have been linked to many potential health benefits including aiding in digestion, preventing chronic disease and improving heart health. Adding them to your smoothie bowl will give you a booster of antioxidants and vitamins. (1)
Use fresh or frozen raspberries in this recipe. We use fresh berries a lot, but sometimes they just aren't very sweet, and during those months we will buy frozen.
Chia Seeds
These tiny seeds are a great source of healthy fats, fiber, protein, vitamins and minerals. Chia seeds have been linked to a number of potential health benefits like improved digestion, better heart health and increased energy levels. (4)
They also help thicken the smoothie bowl and make it more filling. We like to add one tablespoon chia seeds per serving for this recipe, but feel free to adjust the amount based on your taste preferences.
Greek Yogurt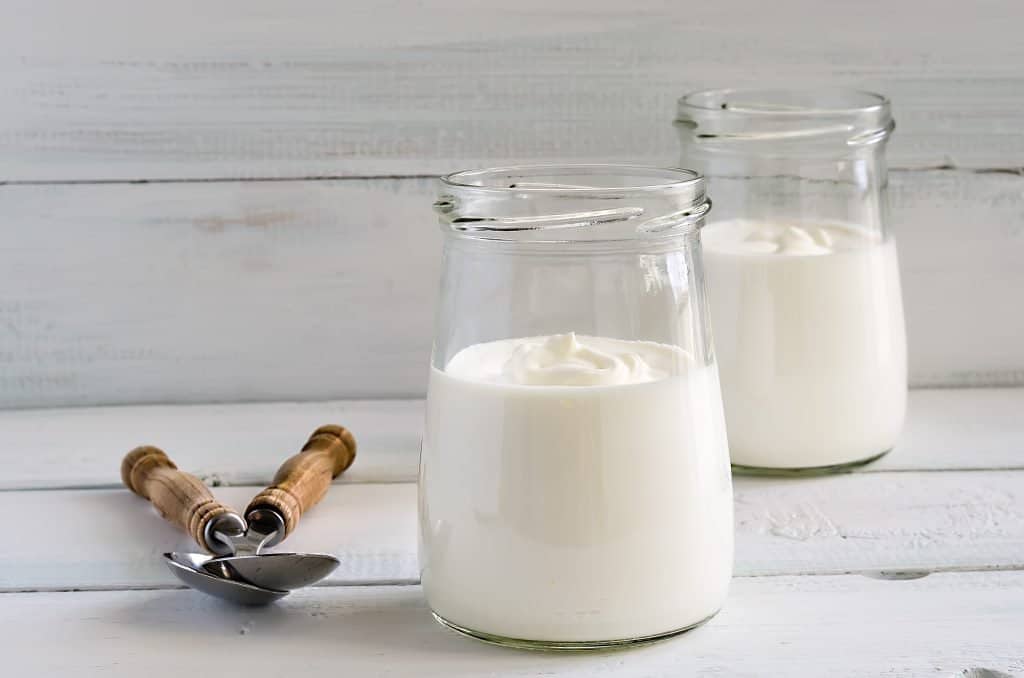 Adding Greek yogurt makes this smoothie bowl more filling and adds extra protein. Greek yogurt is also a good source of calcium, probiotics and vitamins B12, D and A. Research has linked it to a number of potential health benefits, such as improved digestion, stronger bones and better heart health. (2)
Use plain or low sugar vanilla to keep the sugars down in this recipe. Of course, if you are nondairy like my second son you can substitute with full-fat coconut cream or a vegan Greek yogurt alternative. These work well, too, and it's how we make this recipe for him.
Honey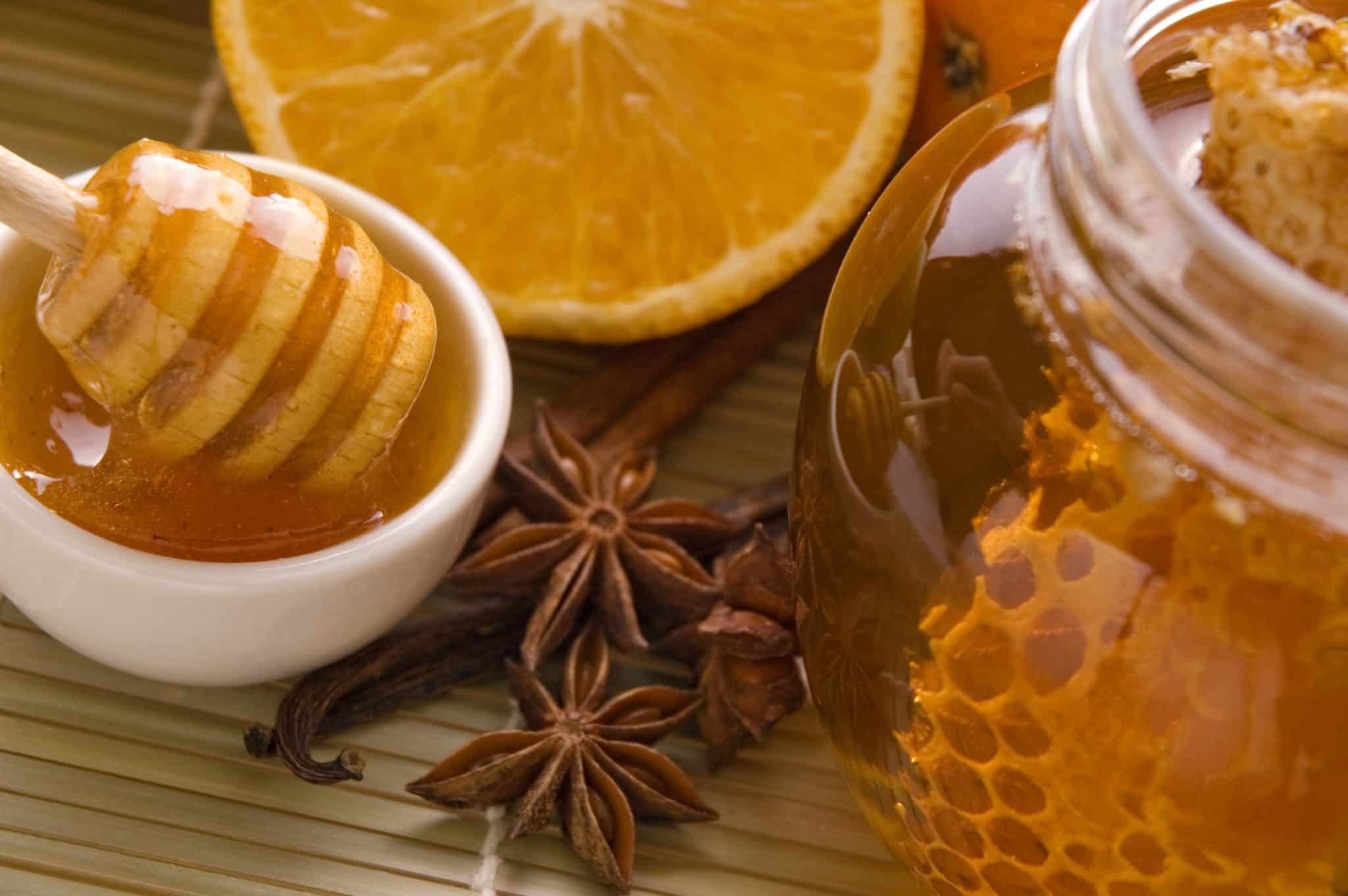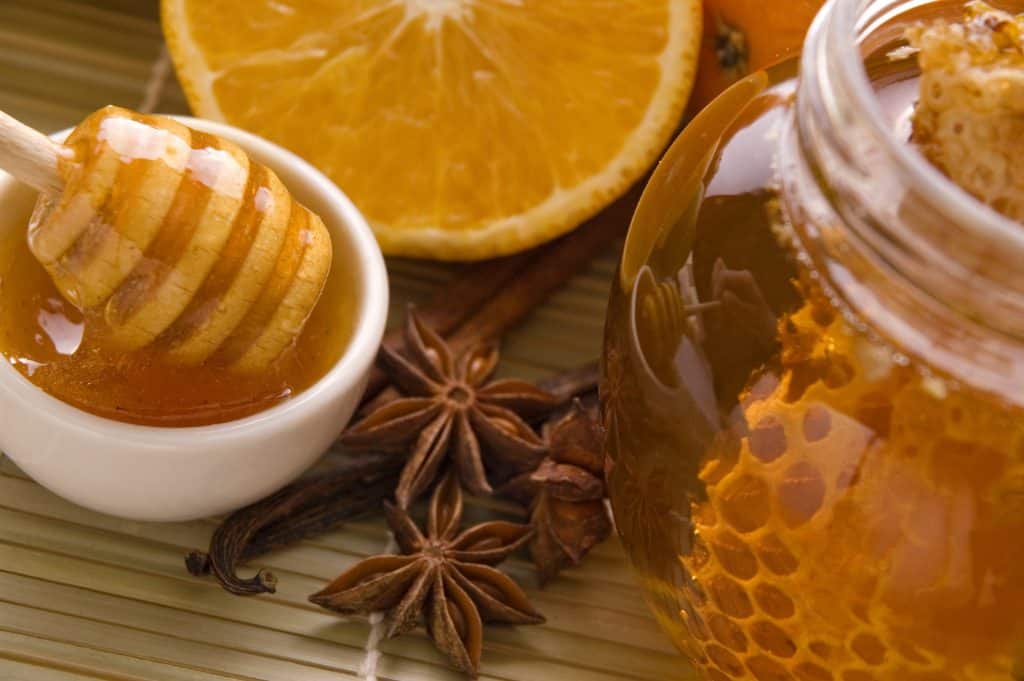 Honey adds natural sweetness to this smoothie bowl. Plus, it can act as an antioxidant and anti-inflammatory agent. It's also a great source of carbohydrates for energy and has been linked to improved brain and heart health. (3)
We like to use local raw honey in our smoothies, as regular store bought honey can have corn syrup in it. Plus, raw honey contains more enzymes and we like to shop local when possible. Use whatever honey you have on hand or substitute maple syrup or agave nectar. It's also okay to leave this out if the raspberries are sweet enough for your taste. (My kids like theirs sweeter)
Tips and Tricks to Blend a Perfect Thick Smoothie Bowl
Don't overblend.
Blend until the ingredients are combined, but still thick and creamy. Overblending may make your smoothie bowl too runny.
Add your liquids as needed.
This recipe only calls for Greek yogurt, but if you find that it's too thick to blend then only add other liquid as needed, and only a tablespoon at a time.
Chill before serving.
Smoothie bowls should be served chilled, so it's best to chill the ingredients before blending and then refrigerate it for a few minutes after you blend. This helps keep it thick and creamy. Using frozen fruit helps to give a nice thick texture as well.
Use a powerful blender.
A cheaper blender will have a harder time blending thick smoothie bowls, so it's best to use a high-speed blender. If you don't have one, you will need to stop the blender a few times and push the ingredients down with a rubber spatula.
This recipe is made in a couple of steps with a chia pudding mixture added to the rest of the bowl. You'll need to prep for this the night before, or if using as an afternoon snack make in the morning.
Other Smoothie Bowls You'll Love
How to Customize This Raspberry Chia Seed Smoothie Bowl
This smoothie bowl is delicious as-is, but feel free to top it with fresh fruit, coconut flakes, more chia seeds or hemp seeds, flax seeds, nut butter or whatever else you like. Have fun with it!
Enjoy and get creative!
Ultimately, use this recipe as a starting point to create your own twist on raspberry smoothie bowls. Here are some ideas:
Add leafy greens: Throw in a handful of kale, spinach or swiss chard for a nutrient boost without affecting the flavor much at all. Plus, you won't add many calories with these. Baby spinach is my personal favorite.
Swap the yogurt: Coconut milk or almond milk can be used in place of Greek yogurt. This will make it vegan and a bit lighter. We've also had success with a vegan Greek strawberry yogurt.
Play with spices: Add a pinch of cinnamon, ginger or turmeric to give your smoothie bowl an extra kick.
Make it sweeter: Add more honey or try a fresh banana or some pitted dates. Frozen bananas also add a wonderful texture.
Get creative with toppings: Toppings are where you can really customize this smoothie bowl. Get creative and have fun! Try sliced almonds, granola, bee pollen or pomegranate seeds for a unique twist. We also enjoy pepitas (pumpkin seeds), cacao nibs, homemade granola, mini dairy-free chocolate chips and sunflower seeds as toppings.
Add more protein: Feel free to add a scoop of protein powder or a nut butter such as peanut butter or almond butter.
Add superfoods: To amp up the nutrition of this smoothie bowl, add a tablespoon or two of superfoods such as flaxseed, chia seed, hemp seed, maca powder, matcha powder, supergreens powder or spirulina.
Change the fruit: Feel free to replace the raspberries with other fruit such as fresh blueberries, frozen mixed berries, mango, or even add a frozen acai packet.
Raspberry Chia Seed Smoothie Bowl
Enjoy a delicious and healthy breakfast or snack with our easy chia seed smoothie bowl.
Equipment
Measuring Equipment

Small bowl
Ingredients
2

Tbsp

chia seeds

1 1/2

cup

Greek yogurt

(divided)

1

cup

raspberries

1

Tbsp

honey
Instructions
In a small bowl, mix honey, 1 cup yogurt and chia seeds.

Cover and refrigerate overnight or at least 2 hours.

Blend raspberries and 1/2 cup yogurt on high speed until smooth.

When ready to assemble, add chia seed mixture to one half of bowl and raspberry yogurt smoothie to other half.

Add toppings of choice. We used walnuts, kiwi, raspberries, mint leaves and chia seeds.
Final Thoughts on Our Chia Seed Smoothie Bowl
We hope you enjoy this delicious and nutritious raspberry chia seed smoothie bowl. It's a simple recipe and a great way to start your day or have as an afternoon snack. Plus, it's easy to customize with whatever toppings or ingredients you prefer!
Happy Blending!
Amanda