Easy Healthy Nutella Smoothie Bowl
Disclosure: This post may contain affiliate links, meaning I get a commission if you decide to make a purchase through my links, at no cost to you.
Learn how to blend this easy, healthy Nutella smoothie bowl using only a few simple ingredients. It's nutritious and delicious – perfect for breakfast.
We love smoothie bowls in our home – especially my four boys. It's an easy, filling, very nutritious breakfast and they always just gobble it up.
The boys aren't too big on drinking smoothies like I am (I love a good smoothie recipe!), but they will eat smoothie bowls. I guess it reminds them of ice cream!
Whatever it is, I love knowing they aren't wolfing down cold cereal or having sugar-laden pastries for breakfast, so I definitely don't mind whipping out the ol' blender to make them a smoothie bowl. I often sneak some greens in there, too. Don't worry, they already know!
Why We Love This Nutella Smoothie Bowl
My kids are big on Nutella, and if I let them, they'll slather a ton on some toast and call it a breakfast. Delicious? Absolutely. Good for you? Not really.
With this smoothie bowl, a little Nutella goes a long way to give you that awesome chocolate hazelnut taste without quite as much sugar (although, let's face it, Nutella does have sugar in it!).
We can balance out the Nutella with other healthy ingredients. Today we'll show you how it's done.
Ingredients in our Chocolate Hazelnut Smoothie Bowl Recipe
Frozen banana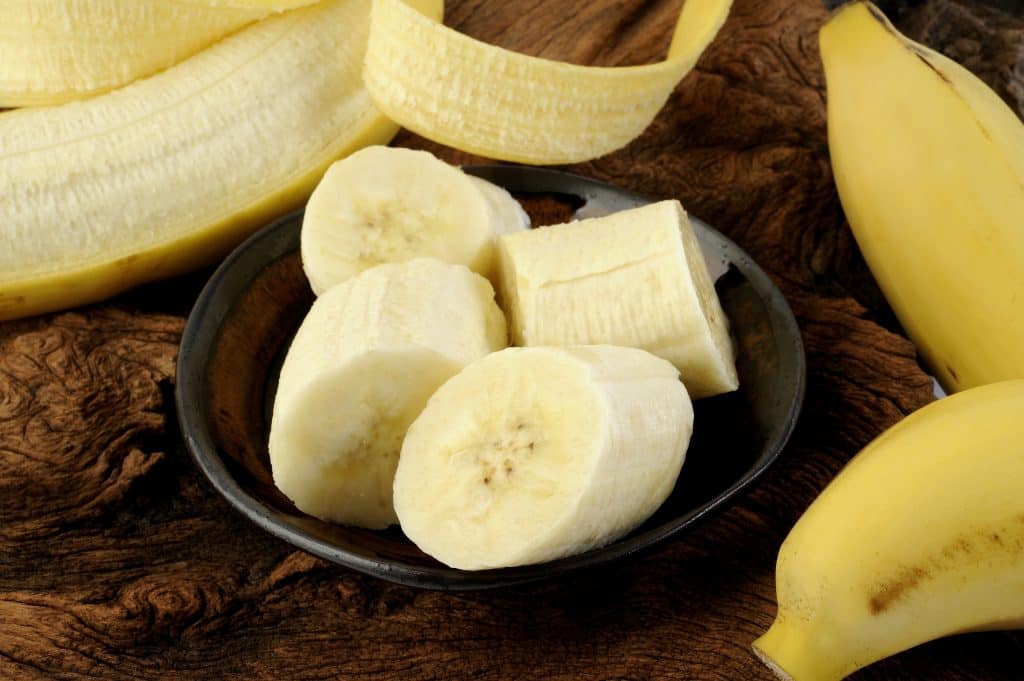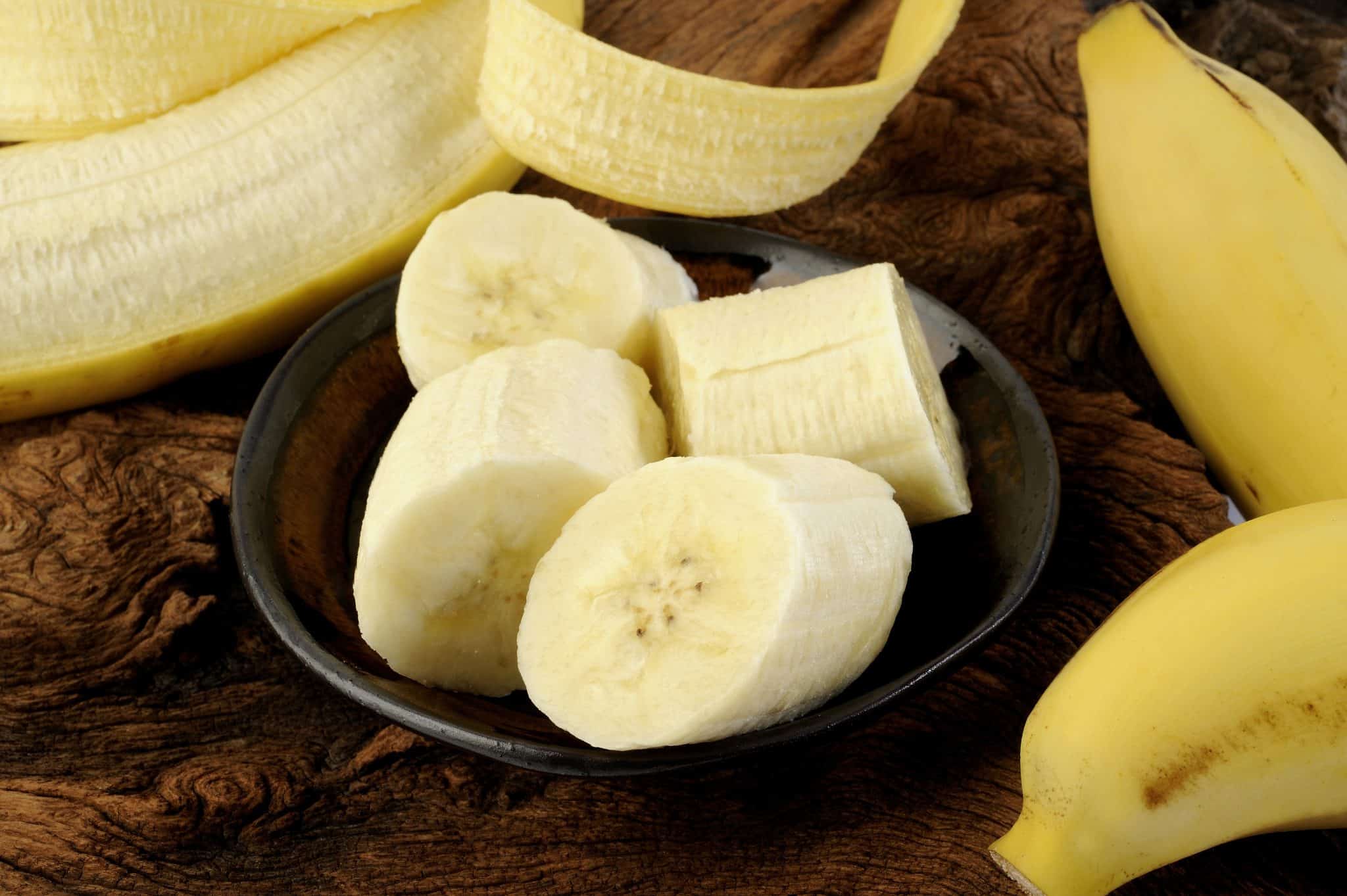 Bananas add sweetness and creaminess to this smoothie, especially frozen ones. I often toss bananas past their prime into the freezer (although not with the peel on like my kids tried to do!) and use them for smoothies. Saves money and they are ready when I need them.
_________________
Chia seed
The use of chia seeds helps thicken the smoothie bowl even more for a delectable, creamy bowl. They also add antioxidants, minerals, fiber, and omega-3 fatty acids!
_________________
Cocoa powder or cacao powder
You can use either of these in this recipe. I love to have cacao powder on hand but when I don't I use cocoa powder instead. If this isn't chocolatey enough for you, feel free to add more. I tend to err on the lighter side.
_________________
Avocado
Even though I don't like avocado, I do use it in smoothies and love the results. The chocolate hides the taste and you still get all the nutrients like healthy fats, vitamins and minerals – and you also get the extra creaminess an avocado provide.s
_________________
Nut butter such as peanut butter or almond butter
A little nut butter also helps with the thickness and creaminess of the smoothie bowl, plus it will help keep you full until your next meal. You can use peanut butter, almond butter, hazelnut butter or any nut butter you like.
_________________
Nutella (or other Chocolate Hazelnut Spread)
Well, yeah? You gotta have Nutella in a Nutella smoothie bowl, right? I mean, I guess you could just put a little on top but for that real Nutella flavor, let's add some into the mix. (And we won't judge if you slather it on top, either, okay?)
Since one of my sons can't have dairy we found a great vegan Nutella alternative on Amazon! Click here to check it out
_________________
Dairy free milk
We like to use a dairy free milk such as almond milk, hazelnut milk or coconut milk for our smoothies, but you can use any milk you like. I have one kiddo who can't have dairy, so we had to buy special vegan Nutella and make sure no regular milk ever gets in.
_________________
How to Customize Your Smoothie Bowls
1. Add Sweetener
Not sweet enough for you? No problem! Add in honey, stevia, or maple syrup to your smoothie. You can buy mango nectar at the store in the juice section.
Another way to sweeten up this smoothie bowl is to add in a sweeter fruit such as pineapple or mango to this healthy recipe.
_________________
2. Add in Other Super Foods
You can add other superfoods such as matcha, acai packet (make it an acai bowl) or even a hint of cayenne pepper to really help blast fat.
It's also great to add other berries or superfoods powders. There really is no right or wrong when customizing a smoothie bowl to your taste.
_________________
3. Add Some Greens
Ninety nine times out of a hundred I'll add greens to this smoothie bowl. Not a lot, just enough to give it the boost of added nutrition.
Spinach works especially well with this recipe as it hides perfectly in chocolate, so no one will ever know it's there.
_________________
4. Ways to Tone Down the Sweetness
If you've been into healthy eating and have avoided processed sugar for a while, you may find the Nutella too sweet.
You can easily back off the Nutella in your next bowl.
_________________
5. Add some Protein or Fat
It's easy to add in some protein powder (any kind you like, plant-based, whey protein, egg white protein, etc) or you can add in some Greek yogurt for some extra protein and to help you stay full longer.
_________________
Toppings for Your Chocolate Hazelnut Smoothie Bowl
These are some great toppings you can use to add flavor, crunch and interest to your smoothie bowls:
granola
coconut flakes
shaved dark chocolate or chocolate chips
Nutella (of course!)
cacao nibs
sliced banana or banana chips
fresh fruit (we like blueberry and sometimes pineapple) or frozen fruit (frozen berries are a favorite here!)
chopped hazelnut
_________________
How to Blend a Perfect Nutella Smoothie Bowl
This is how we blend smoothies and smoothie bowls at our house. We use a Nutribullet Pro or Vitamix for larger servings and they both do a wonderful job of blending all ingredients. If you find that your blender is having trouble blending, try adding greens and liquid first and blending, then adding the rest of the ingredients and blending again.
Step One: Add greens to blender if using.
I like to add my greens to the blender first. ( See how to measure leafy greens here )
Step Two: Add frozen banana, chia seeds, cocoa or cacao powder, avocado, nut butter and Nutella.
Add in all the other solid ingredients. It doesn't matter what order you put them in.
Step Three: Add dairy free milk.
The milk will seep in all the areas around the fruit and greens, so it will get to the blades.
Step Four: Blend!
Turn on that blender and let it do its thing! Make sure it's blended well for no surprise chunks.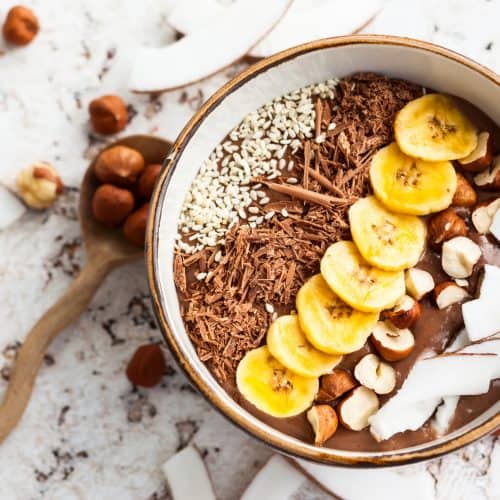 Easy Healthy Nutella Smoothie Bowl
Enjoy a healthy and delicious smoothie bowl with the addition of chocolate hazelnut. Yes, it has Nutella and yes, it's still healthy thanks to the banana, avocado and other ingredients.
Equipment
blender

High powered blenders work best, but are not required
Ingredients
1

frozen banana

1

Tbsp

chia seeds

1/2-1

Tbsp

1/2 Tbsp cocoa powder or 1 Tbsp cacao

1/2

avocado

1

Tbsp

nut butter

1

Tbsp

Nutella or other chocolate hazelnut spread

1/4-1/2

cup

dairy-free milk of choice

start with less and use more if needed

1/2

cup

greens

(optional)

Toppings of choice
Instructions
Add all ingredients to blender.

Pour into bowl and add toppings of choice.